Would the Trump Administration Resort to Selling the Dollar?
Talking Points:
Historically, the US has held a 'strong dollar' policy, but the Trump administration has shown willingness to break convention

Trade wars are being pursued to force trade negotiations, yet the lack of intended impact raises risk of the more extreme

Selling the dollar would have complicated results that would likely incur a permanent discount for the Greenback
What makes for a 'great' trader? Strategy is important but there are many ways we can analyze to good trades. The most important limitations and advances are found in our own psychology. Download the DailyFX Building Confidence in Trading and Traits of Successful Traders guides to learn how to set your course from the beginning.
A History of a 'Strong Dollar' Policy
Historically, the United States has maintained an official stance that it favors a strong Dollar. There is an agenda behind this stance beyond the assumption that the world's largest economy simply wants to be charitable to other countries that depend more heavily on their exports. Through a strong currency, there is a fortification in both the appeal of the country's assets and its general credit quality. That in turn promotes stability in the US Dollar which fosters a view that the currency represents a safe haven in times of turbulence, a reserve for global stability and an international medium for transaction that would otherwise be complicated by unreliable conversions. These various roles have driven the Greenback to its current position as the undisputed benchmark of the world. Yet, this position of dominance is not guaranteed. The US currency itself took over from the Pound around the first and second World Wars. Should the use of the Dollar dwindle, the side effects will evolve slowly but their influence would be systemic. The position of economic dominance, unprecedented influence over global affairs and the 'dividend' earned through its financial markets by virtue of its weight could slowly evaporate. This would be a costly sacrifice, but the current administration has made clear that few norms are so sacred as to preclude their use to pressure favorable results in negotiations.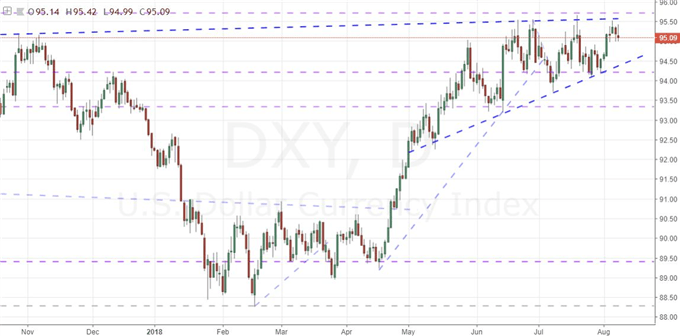 An Administration Willing to Break from Convention
At this point, it should be clear that the Trump administration is willing to pursue the unorthodox in policy in order to achieve its stated goals. Having embarked on a trade war, the government has broken from numerous administrations before it whereby the pursuit of global growth through trade offset most concerns over questionable trade practices by counterparts. It is this path that makes the shift to an outright currency engagement a more probable scenario. It is clear from the rapid escalation of tariffs against China – the most flagrant trade peer to flout the rules – that the United States is looking to force a favorable negotiation. Thus far, the Trump administration has implemented a virtual global import tax on global imports of steel and aluminum along with a targeted $34 billion in intellectual property targeted tariffs against China specifically. A further $16 billion in duties against this trade giant are due to kick in later this month. They have further added to the effort with a threat by suggesting $200 billion and even the entirety of Chinese imports into the country, and yet China defiantly meets the efforts with action or threat of like-for-like retaliation. That is not the supplication the US is seeking for negotiations. As China runs out of US imports to threaten, the effort is more likely to turn to even more unorthodox retaliation. That will likely lead the US to ramp up the pressure beyond simple taxes on imported goods. What's more, US President Trump has already accused China of pursuing current manipulation for an unfair advantage. That makes it an appealing option for a leader who tends to use policies he perceives being used against the United States against the instigator.
What Happens if the US Uses Devaluation as a Tool
If the world's most liquid currency, dominant means for transaction and primary reserve were to suddenly find itself prone to the whims of political intent; the implications for the global financial system would be troubling. For the US currency specifically, the effort would almost certainly result in a significant depreciation. In the short-term that would be a move owing to the 'success' of the government's policy. However, beyond that initial slide, the pressure would become a global charge. Global investors who invested in US assets in large part for the relatively high rate of returns to be found following the Fed's gradual policy tightening and the steady clip of growth will face a sudden risk in the form of volatile exchange rate risk. Deeper pools of capital holding US reserves (central banks, wealth funds, pensions, etc) will be prompted to accelerate plans to diversify away from heavy concentration in top credit US assets. The intent to balance heavy exposure to US Treasuries and thereby the US economy and financial system has been in place since the Great Financial Crisis when the fallout from the subprime housing market seemed to sink capital markets around the world. Yet, making such a systemic shift in a world of distortionary monetary policy was not easy. That said, any reservations these groups may have to make a change would be quickly superseded by such a currency war overture. This would be a permanent discount for the Dollar (not just a pullback to eventually rebound) and the resting level of volatility behind the currency would naturally settle much higher. We discuss the current 'strong Dollar' policy in the US, the possible motivations for abandoning it and the implications for the market in this Quick Take Video.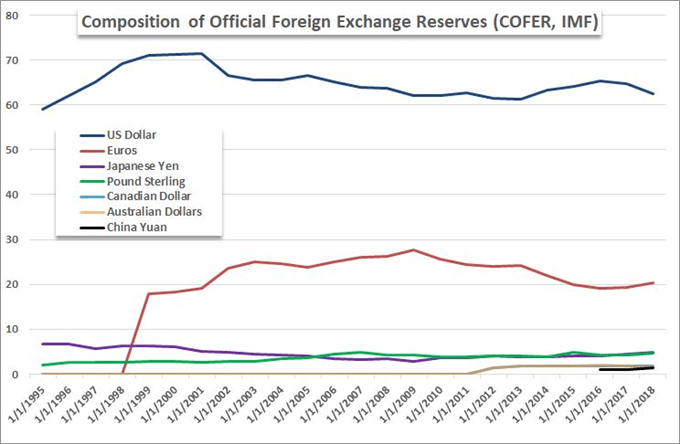 US Sanctions Against Iran May Spark 1970s-Style Oil Crisis Fears
TALKING POINTS – Iran, Sanctions, CRUDE Oil, Trump, Emerging markets
US

oil

export

sanctions against Iran will be enforced on November 4

th

Net-importers in emerging markets likely to suffer from higher prices

1970's oil crisis, embargo may haunt markets as Trump buckles down
The Trump administration's trade wars and economic nationalism have caused severe volatility for most of 2018. The White House also withdrew from the 2015 multilateral Iran nuclear deal – known as the Joint Comprehensive Plan of Action – in May, and has re-imposed sanctions. The most devastating will be an oil embargo that is scheduled to be take effect on November 4th.
In the 1970's, the US imposed an oil embargo against Iran that led to a surge in prices. The jump in energy costs radically affected markets. The US – which at the time was coming on the heels of massive public spending programs– had its inflationary pressure skyrocket.
The administration's public spending agenda, coupled with the sanctions against Iran, echo a dangerously similar narrative the world saw 39 years ago.
1979 OIL CRISIS
In 1979 – amid the turmoil of the Iranian Revolution – political radicals stormed the US Embassy and took 52 Americans hostage. In response, US President Jimmy Carter froze billions of dollars' worth of Iranian assets in the United States and enforced an oil embargo.
The decrease in oil exports – adding to growing fears of further disruptions – caused prices to climb. Adjusted for inflation, the price per barrel stood at around $55 in 1978. In 1979, the cost skyrocketed to $97 and peaked at $122 in 1980. In 1981, the hostages were released and the price began to fall.
See our full interactive history of trade wars here.
Some economists and historians argue that "precautionary demand" was an influential contributing factor to the increased cost of oil. This same fear may be rearing its ugly ahead again today.
2018 OIL EMBARGO ON IRAN
After unilaterally pulling out of the nuclear deal – due to allegations that Iran was not cooperating with the International Atomic Agency – the Trump administration hit Tehran with two waves of sanctions. The first included a ban on any transactions involving the US Dollar, gold, precious metals, aluminum, steel, commercial passenger aircraft and coal. The White House has also banned imports of Iranian carpets and foodstuffs.
The second wave will be the oil embargo. Trump warned that anybody who conducted business in the Iranian market would face "severe consequences". The ban requires that all importers have to immediately cut off their supply from Iran by November 4th. Any countries that violate the ban face the possibility of sanctions. The EU responded by pledging to protect European firms by activating a blocking statute established in 1996. It allows European businesses to operate under US sanctions without incurring any penalties.
The EU's defiance to the US adds to the growing tension between allies amid the escalating trade wars. The sanctions also empower hardliners in the Iranian government. This makes the possibility of repairing relations and easing international tension much more difficult.
EFFECT ON MARKETS
If the US imposes sanctions or tariffs against the EU for conducting business with Iran, they will almost certainly retaliate. In that event, sentiment-linked assets are likely to suffer and anti-risk currencies like the Japanese Yen or Swiss Franc will probably rise.
Euro Falling on Trump's Iran Sanctions Announcement
Crude oil has reached a four-year high, with the Brent benchmark trading at around $84/barrel. Rising prices are damaging for net importers in emerging markets. If Trump digs his heels in and commits to limiting Iran's oil exports, emerging markets are likely to suffer.
Indonesian Rupiah and South African Rand vs the Dollar and Rising Oil Prices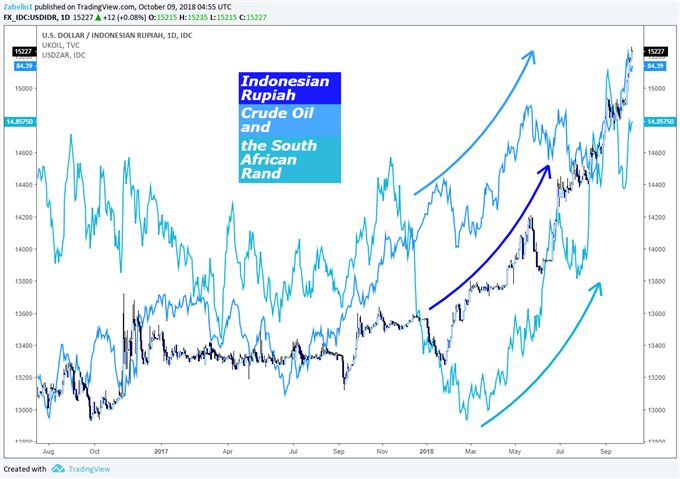 TRADING RESOURCES
— Written by Dimitri Zabelin, Jr Currency Analyst for DailyFX.com
To contact Dimitri, use the comments section below or @ZabelinDimitrion Twitter
GBP/USD Gaps Lower on Brexit Stall, Eyes CPI and Carney Speech
Talking Points:
GBP/USD's downside momentum continues dominant downtrend for majority of 2018

Key economic data and BOE

Gov.

Carney

's speech

may further influence the British Pound
Find out what retail traders' British Pound buy and sell decisions say about the coming price trend!
The British Pound fell against the US Dollar during weekend trading as Brexit negotiations between the United Kingdom and the European Union hit an impasse. UK Prime Minister Theresa May's Brexit Secretary Dominic Raab and EU Chief Negotiation Michael Barnier were unable to reach an agreement on a draft treaty, leading PM May to label the deal a "non-starter". Barnier later mentioned that some key issues remain open, including the Irish backstop.
GBP/USD 1-Hour Chart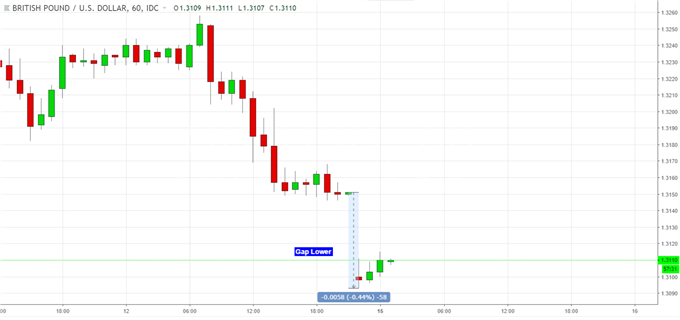 This is the latest in ongoing Brexit turmoil, and could possibly bode ill for the Sterling's recent upside momentum. If a deal is not reached, the United Kingdom would exit the EU and be subject to World Trade Organization rules, potentially causing declines in GBP. Furthermore, longstanding political uncertainty and tensions regarding Brexit have caused the GBP to weaken for the majority of this year. Furthermore, an increasingly hawkish Federal Reserve and haven demand amidst EM contagion fears and trade wars have caused the greenback to strengthen, intensifying the currency pair's bearish action since April 2018.
GBP/USD Daily Chart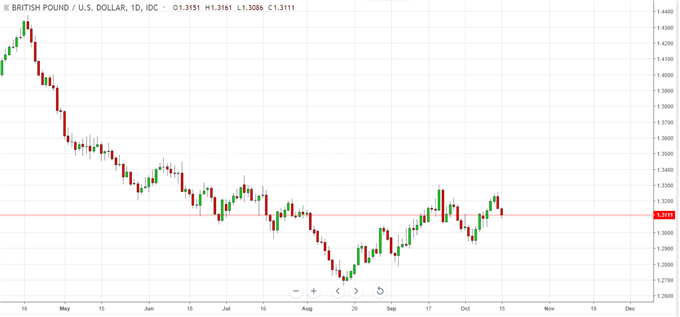 Looking ahead, this is a week of high economic activity for the British Pound. On Wednesday, the UK Statistics Office will release consumer inflation data for the month of September. In addition, Bank of England Governor Mark Carney is set to give a speech on Thursday, with forward guidance possibly dictating next moves for the Pound. However, ongoing Brexit negotiations will continue to take center stage and overshadow economic data's influence on the Sterling. Developments upcoming summit of European Union leaders focusing on Brexit could cause volatility shocks to the currency pair.
GBP/USD Trading Resources
— Written by Megha Torpunuri, DailyFX Research Team
Unsteady Risk Trends Increase Scrutiny on China, Italy and Brexit
Market participants will return with caution this week. Following the rout in speculative assets from shares to emerging markets to Yen crosses, there is an understandable tension amongst investors. In this environment troubling news in trade wars, Chinese growth, Euro-area stability or any number of key themes can readily find traction.
New Zealand Dollar Forecast – New Zealand Dollar May Look Past CPI, Focus on Stocks, USD & Fed
Any signs that the Fed could remain hawkish despite the global stock selloff could reignite USD at the expense of NZD, this may overshadow gains on an upbeat local CPI data.
Japanese Yen Forecast – Speculation for Above-Neutral Fed Rate to Curb USD/JPY Weakness
Fresh developments coming out of the U.S. economy may curb the recent selloff in USD/JPY as Federal Reserve officials see a risk for above-neutral interest rates.
Oil Forecast – Oil Demand Forecasts Cut After Risk Rout Leads to Worst Week Since May
After trading to four year highs to open the month, Crude has come off the highs along with risk sentiment, but you crude appears to have fundamental support that could keep bulls confident.
British Pound Forecast – Heightened Risk Doesn't Reward Position-Taking This Week
It may be uncomfortable but sitting on the fence is the best place to be ahead of next week's Brexit updates and EU Summit
US dollar Forecast – US Dollar May Find Renewed Strength in FOMC Meeting Minutes
The US Dollar may find renewed strength after last week's confounding drop as minutes from September's FOMC meeting signal officials' intent to press on with rate hikes
Gold Forecast – Gold Price Outlook Finally Impacted by Safe Haven Demand
Gold was the beneficiary of safe haven demand this week after the Dow lost over 1,300 points in just two days.
Australian Dollar Forecast – Australian Dollar Held Up Last Week, May Not Do So Again
The Australian Dollar held up quite well to the intensification of one or two factors which have stymied it this year. Don't rely on that continuing
Chinese Yuan Forecast: Yuan May Extend Loss on China's Q3 GDP, Eyes on PBOC for Reference
China's weak economic growth could add more bearish momentum to the Yuan; at the same time, Chinese regulators may try to avoid extreme volatility.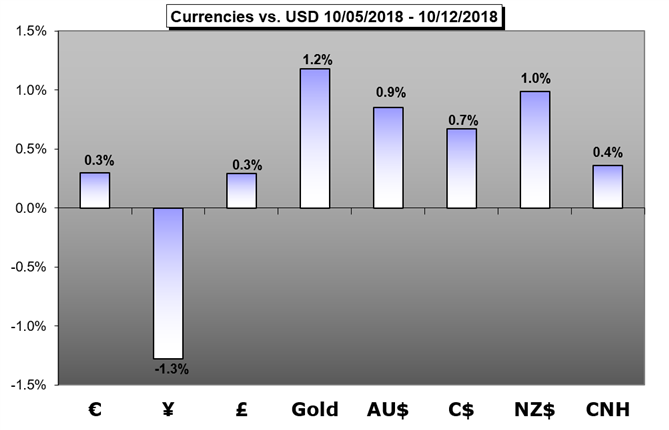 See what live coverage is scheduled to cover key event risk for the FX and capital markets on the DailyFX Webinar Calendar.
See how retail traders are positioning in the majors using the IG Client Sentiment readings on the sentiment page.