Would the Trump Administration Resort to Selling the Dollar?
Talking Points:
Historically, the US has held a 'strong dollar' policy, but the Trump administration has shown willingness to break convention

Trade wars are being pursued to force trade negotiations, yet the lack of intended impact raises risk of the more extreme

Selling the dollar would have complicated results that would likely incur a permanent discount for the Greenback
What makes for a 'great' trader? Strategy is important but there are many ways we can analyze to good trades. The most important limitations and advances are found in our own psychology. Download the DailyFX Building Confidence in Trading and Traits of Successful Traders guides to learn how to set your course from the beginning.
A History of a 'Strong Dollar' Policy
Historically, the United States has maintained an official stance that it favors a strong Dollar. There is an agenda behind this stance beyond the assumption that the world's largest economy simply wants to be charitable to other countries that depend more heavily on their exports. Through a strong currency, there is a fortification in both the appeal of the country's assets and its general credit quality. That in turn promotes stability in the US Dollar which fosters a view that the currency represents a safe haven in times of turbulence, a reserve for global stability and an international medium for transaction that would otherwise be complicated by unreliable conversions. These various roles have driven the Greenback to its current position as the undisputed benchmark of the world. Yet, this position of dominance is not guaranteed. The US currency itself took over from the Pound around the first and second World Wars. Should the use of the Dollar dwindle, the side effects will evolve slowly but their influence would be systemic. The position of economic dominance, unprecedented influence over global affairs and the 'dividend' earned through its financial markets by virtue of its weight could slowly evaporate. This would be a costly sacrifice, but the current administration has made clear that few norms are so sacred as to preclude their use to pressure favorable results in negotiations.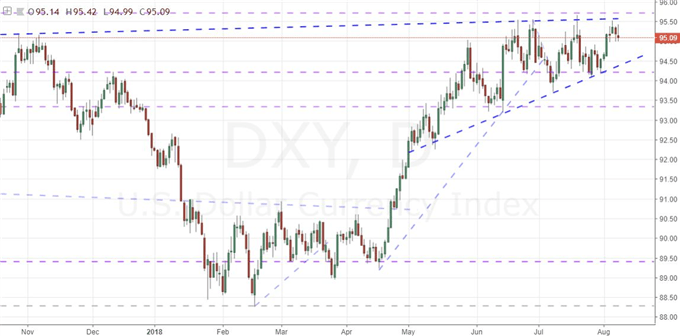 An Administration Willing to Break from Convention
At this point, it should be clear that the Trump administration is willing to pursue the unorthodox in policy in order to achieve its stated goals. Having embarked on a trade war, the government has broken from numerous administrations before it whereby the pursuit of global growth through trade offset most concerns over questionable trade practices by counterparts. It is this path that makes the shift to an outright currency engagement a more probable scenario. It is clear from the rapid escalation of tariffs against China – the most flagrant trade peer to flout the rules – that the United States is looking to force a favorable negotiation. Thus far, the Trump administration has implemented a virtual global import tax on global imports of steel and aluminum along with a targeted $34 billion in intellectual property targeted tariffs against China specifically. A further $16 billion in duties against this trade giant are due to kick in later this month. They have further added to the effort with a threat by suggesting $200 billion and even the entirety of Chinese imports into the country, and yet China defiantly meets the efforts with action or threat of like-for-like retaliation. That is not the supplication the US is seeking for negotiations. As China runs out of US imports to threaten, the effort is more likely to turn to even more unorthodox retaliation. That will likely lead the US to ramp up the pressure beyond simple taxes on imported goods. What's more, US President Trump has already accused China of pursuing current manipulation for an unfair advantage. That makes it an appealing option for a leader who tends to use policies he perceives being used against the United States against the instigator.
What Happens if the US Uses Devaluation as a Tool
If the world's most liquid currency, dominant means for transaction and primary reserve were to suddenly find itself prone to the whims of political intent; the implications for the global financial system would be troubling. For the US currency specifically, the effort would almost certainly result in a significant depreciation. In the short-term that would be a move owing to the 'success' of the government's policy. However, beyond that initial slide, the pressure would become a global charge. Global investors who invested in US assets in large part for the relatively high rate of returns to be found following the Fed's gradual policy tightening and the steady clip of growth will face a sudden risk in the form of volatile exchange rate risk. Deeper pools of capital holding US reserves (central banks, wealth funds, pensions, etc) will be prompted to accelerate plans to diversify away from heavy concentration in top credit US assets. The intent to balance heavy exposure to US Treasuries and thereby the US economy and financial system has been in place since the Great Financial Crisis when the fallout from the subprime housing market seemed to sink capital markets around the world. Yet, making such a systemic shift in a world of distortionary monetary policy was not easy. That said, any reservations these groups may have to make a change would be quickly superseded by such a currency war overture. This would be a permanent discount for the Dollar (not just a pullback to eventually rebound) and the resting level of volatility behind the currency would naturally settle much higher. We discuss the current 'strong Dollar' policy in the US, the possible motivations for abandoning it and the implications for the market in this Quick Take Video.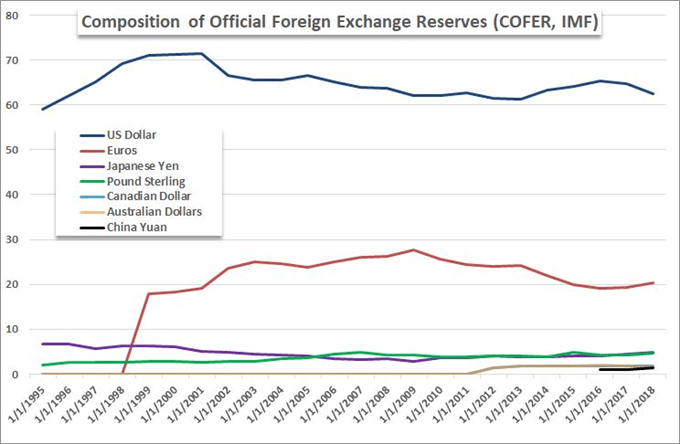 Asian Stocks Hold Up As Markets Look To Fed, US Dollar Gains Too
Asian Stocks Talking Points:
Stock markets made modest gains to start a new week

Hopes for a dovish Fed seem to be lifting the market

However, there are numerous potential worries below the surface
Find out what retail foreign exchange investors make of your favorite currency's chances right now at the DailyFX Sentiment Page
Asian stocks were cautiously higher on Monday as investors looked with hope to this week's Federal Reserve monetary policy meeting. There is some sense that the US central bank will steer a dovish path into 2019, with perhaps fewer interest rate hikes in prospect than have been seen this year.
Still, there was plenty of caution around too. The Bank of International Settlements said that recent market selloffs may not be an isolated event, with more volatility likely as monetary policy is normalized. The Nikkei 225 managed to gain 0.7% Monday afternoon, with Shanghai and Hong Kong up by 0.1% apiece. The ASX 200 added 1%, with bank stocks leading the way.
The Australian stock benchmark remains under clear pressure on its daily chart but a key short-term support zone between this year's lass two significant lows continues to hold the bears in check.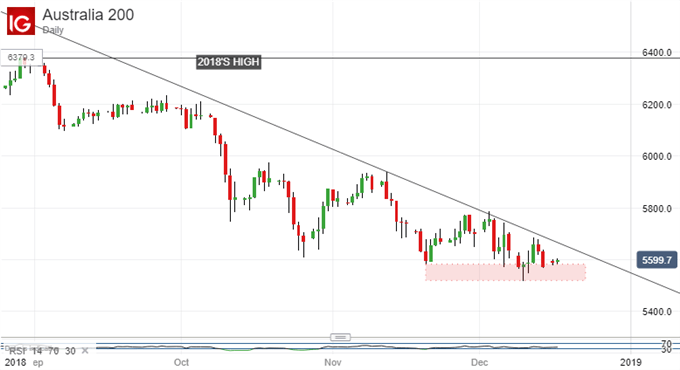 Foreign exchange markets seemed a little gloomier than their equty counterparts, with haven currencies such as the US Dollar and Japanese Yen benefitting at the expense of more clearly growth-linked units. The US Dollar index hovered near 19-month highs.
That Dollar strength took a modest toll on gold, while crude oil prices were hit by worries about likely future demand level. These worries come in the wake of weaker than expected economic numbers from both China and the US in recent weeks.
Monday's remaining economic data schedule is a little sparsely populated. The final eurozone Consumer Price Index for November is coming up though. Then the focus will move across the Atlantic and on to the house building market. Canadian existing home sales figures are due as is the housing market index from the US National Association of Home Builders.
Resources for Traders
Whether you're new to trading or an old hand DailyFX has plenty of resources to help you. There's our trading sentiment indicator which shows you live how IG clients are positioned right now. We also hold educational and analytical webinars and offer trading guides, with one specifically aimed at those new to foreign exchange markets. There's also a Bitcoin guide. Be sure to make the most of them all. They were written by our seasoned trading experts and they're all free.
— Written by David Cottle, DailyFX Research
Follow David on Twitter@DavidCottleFX or use the Comments section below to get in touch!
Australian Dollar Bulls Might Get A Little Help From The Fed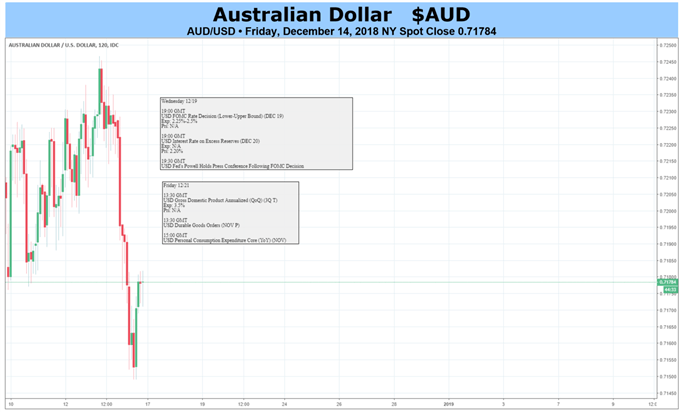 Fundamental Australian Dollar Forecast: Bullish
The US Federal Reserve is likely to dominate AUD/USD trade this week

It will give its December policy call on Wednesday

Any sign of a more relaxed policy view will continue to support the Aussie, despite that currency's own utter lack of interest rate support
Find out what retail foreign exchange traders make of the Australian Dollar's prospects right now, in real time, at the DailyFX Sentiment Page
The Australian Dollar's revival of fortunes against its US cousin goes on, underpinned as it has been since its November beginnings by two key factors.
The first is hope for a trade rapprochement between Washington and Beijing. China is the prime customer of Australia's vast raw-material export machine, while the US is an indispensable partner for Canberra on security matters. So, Australia has much to gain from a trade thaw between the two global giants. More indeed than any other third country, arguably.
And no doubt trade headlines, if they come, will move the Aussie this week. But their timing is impossible to predict. Federal Reserve monetary policy meetings meanwhile are timed with scrupulous regularity. One is coming up early on Wednesday, Australian time.
That brings us to the second AUD/USD prop. Much of the pair's recent vigor has been rooted in the thesis that US rates may not rise as much in 2019 as investors had previously thought. This seems reasonable. Economic uncertainties abound, from Brexit to rising US deficits and clear signs of economic slowdown around the world. Moreover, the Fed has already raised rates eight times from their financial crisis lows. A pause for reflection could be easily justified.
So the Australian Dollar market will likely be stuck like all others while it waits to see what the Fed has to say on Thursday.
It's certainly worth pointing out that the Australian Dollar will lack interest rate support even if the US central bank does chart a more cautious monetary course into 2019. Aussie futures markets now see no increase to the country's own record-low, 1.50% Official Cash Rate for at least eighteen months ahead.
Still, if the Fed delivers its expected December rate hike but then suggests it's going to hold off for a while then AUD/USD will probably hold up and may make further gains.
It's a bullish forecast this week.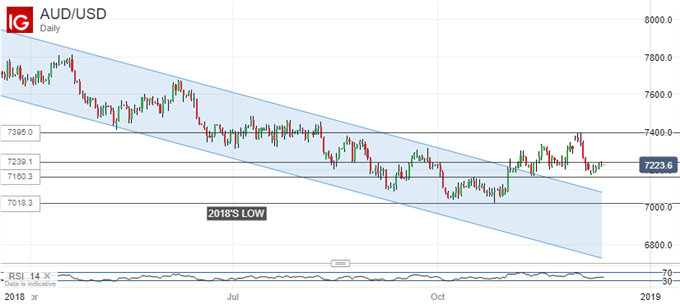 Chart Source: IG.com
Resources Australian Dollar for Traders
Whether you're new to trading or an old hand DailyFX has plenty of resources to help you. There's our trading sentiment indicator which shows you live how IG clients are positioned right now. We also hold educational and analytical webinars and offer trading guides, with one specifically aimed at those new to foreign exchange markets. There's also a Bitcoin guide. Be sure to make the most of them all. They were written by our seasoned trading experts and they're all free.
— Written by David Cottle, DailyFX Research
Follow David on Twitter @DavidCottleFX or use the Comments section below to get in touch!
Dow Awaits Fed, FTSE Looks to EU No-Deal Data. CAC to Protests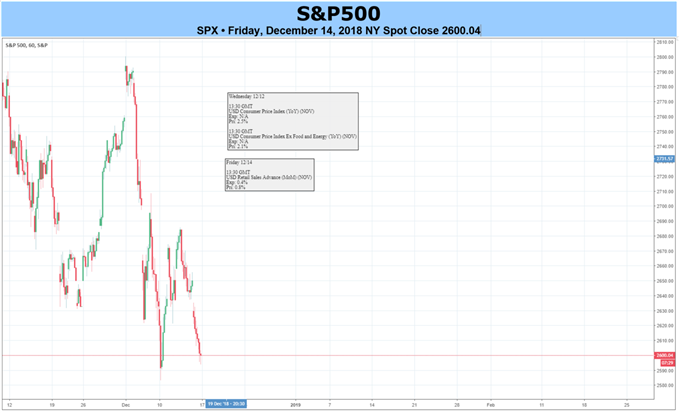 Equity Fundamental Forecast: Bearish
Fed to issue rate decision on Wednesday, followed by a press conference with potential to spur the Dow

FTSE will look to Brexit and the BOE decision with a watchful eye on events across the channel

CAC concerned with protests and reaction from Brussels on budgetary infractions
Global Geopolitical Concerns Weigh
This past week saw a mixed bag of trading days. A trade war breakthrough on Tuesday spurred markets but most gains were forfeited before the close. The latter half of the week erased any earlier gains as the major US indices sold off Friday. The outlook for global equities remains bearish on a lack of upside potential and persistent threats from Brexit, the Italian budget debate and similar concerns arising in France. One area with upside potential is the Fed's decision on Wednesday.
Dow, S&P 500 Await Fed Decision
The Fed is scheduled for their final rate decision Wednesday. At present CME Fed Funds futures have the probability of a hike at 77.5%. With a hike largely priced in, the real price action will arise from Chairman Powell's discussion with the press afterwards. The Q&A will allow Mr. Powell to expand upon his view for rate hikes in 2019 and given a series of dovish comments in recent weeks, could make the case for a bullish reaction in US equities.
Learn about the differences between the Dow, Nasdaq, and S&P 500.
CME FedWatch Tool (Chart 1)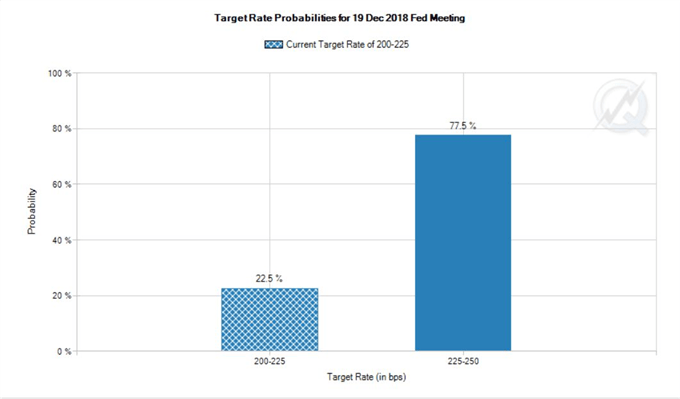 FTSE 100 Looks to EU's No-Deal Documents, Bank of England Rate Decision
The FTSE 100 will again await Brexit news. On Wednesday the European Union is scheduled to release documents regarding their preparation for a no-deal Brexit. If their findings are particularly bleak, expect a slump in the FTSE along with the other European indices.
Brexit Impact on GBP: How the Pound Might Move After Parliamentary Vote
The FTSE will also look to the Bank of England. With virtually no chance the bank hikes their interest rate, any reaction will come from commentary on the case for future hikes. Expect this event to be overshadowed by the Brexit news and the Fed.
FTSE 100 Price Chart (2) Daily, Year-to-Date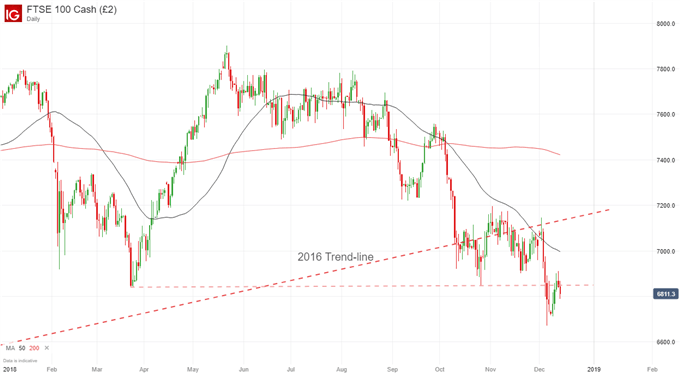 CAC 40 Gets Stung
The French equity index will eye the ongoing yellow-vest protests. Already the movement has secured concessions from French President Emmanuel Macron, but the movement's leaders say the protest will continue into next week. The tax cuts and wage increases offered by President Macron will draw the eye of the European Commission along with the French people.
See the other economic events in the week ahead with our Economic Calendar.
France may now find itself in a position like Italy with an unacceptable budget to GDP ratio and could face the ire of European Commission President Jean-Claude Juncker. The civil unrest and budgetary overspending will undoubtedly weigh on the French index and could spread across the continent as the bloc attempts to reel in its members.
CAC 40 Price Chart (3) Daily, Year-to-Date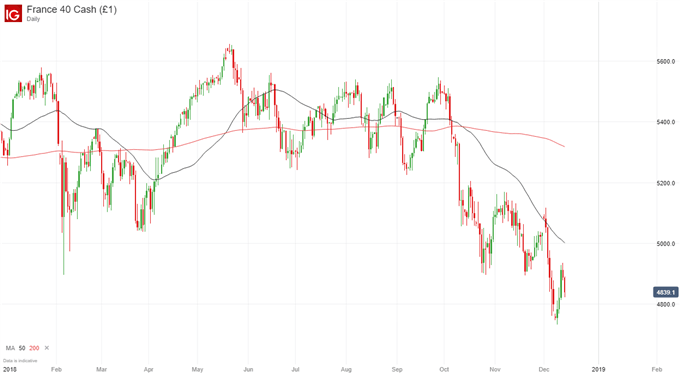 Bearish on Equities? Learn some successful bear market trading strategies and techniques.
As with last week, trade wars remain in the picture. There are no scheduled events but talks between US and Chinese officials are ongoing. With that in mind, be wary of trade war developments that could impact your equity positions. There appears to be little upside potential in many equity markets, so the forecast for the week ahead remains bearish.
–Written by Peter Hanks, Junior Analyst for DailyFX.com
Contact Peter on Twitter at @PeterHanksFX
Other Weekly Fundamental Forecasts:
Japanese Yen Forecast – USD/JPY Rate Fails to Test Monthly-High Ahead of Fed Rate Decision
Oil Forecast – Crude Oil Prices Swamped by OPEC Cuts, Global Growth Fears, Fed
British Pound Forecast – A Complete Lack of a Cohesive Government Blights Sterling
US Dollar Forecast –US Dollar May Rise as the Fed Checks Slide in 2019 Rate Hike Bets