Would the Trump Administration Resort to Selling the Dollar?
Talking Points:
Historically, the US has held a 'strong dollar' policy, but the Trump administration has shown willingness to break convention

Trade wars are being pursued to force trade negotiations, yet the lack of intended impact raises risk of the more extreme

Selling the dollar would have complicated results that would likely incur a permanent discount for the Greenback
What makes for a 'great' trader? Strategy is important but there are many ways we can analyze to good trades. The most important limitations and advances are found in our own psychology. Download the DailyFX Building Confidence in Trading and Traits of Successful Traders guides to learn how to set your course from the beginning.
A History of a 'Strong Dollar' Policy
Historically, the United States has maintained an official stance that it favors a strong Dollar. There is an agenda behind this stance beyond the assumption that the world's largest economy simply wants to be charitable to other countries that depend more heavily on their exports. Through a strong currency, there is a fortification in both the appeal of the country's assets and its general credit quality. That in turn promotes stability in the US Dollar which fosters a view that the currency represents a safe haven in times of turbulence, a reserve for global stability and an international medium for transaction that would otherwise be complicated by unreliable conversions. These various roles have driven the Greenback to its current position as the undisputed benchmark of the world. Yet, this position of dominance is not guaranteed. The US currency itself took over from the Pound around the first and second World Wars. Should the use of the Dollar dwindle, the side effects will evolve slowly but their influence would be systemic. The position of economic dominance, unprecedented influence over global affairs and the 'dividend' earned through its financial markets by virtue of its weight could slowly evaporate. This would be a costly sacrifice, but the current administration has made clear that few norms are so sacred as to preclude their use to pressure favorable results in negotiations.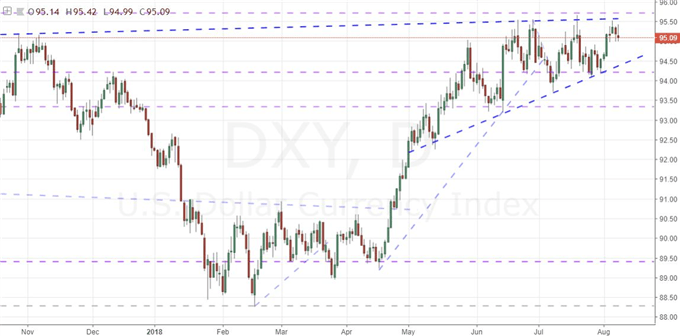 An Administration Willing to Break from Convention
At this point, it should be clear that the Trump administration is willing to pursue the unorthodox in policy in order to achieve its stated goals. Having embarked on a trade war, the government has broken from numerous administrations before it whereby the pursuit of global growth through trade offset most concerns over questionable trade practices by counterparts. It is this path that makes the shift to an outright currency engagement a more probable scenario. It is clear from the rapid escalation of tariffs against China – the most flagrant trade peer to flout the rules – that the United States is looking to force a favorable negotiation. Thus far, the Trump administration has implemented a virtual global import tax on global imports of steel and aluminum along with a targeted $34 billion in intellectual property targeted tariffs against China specifically. A further $16 billion in duties against this trade giant are due to kick in later this month. They have further added to the effort with a threat by suggesting $200 billion and even the entirety of Chinese imports into the country, and yet China defiantly meets the efforts with action or threat of like-for-like retaliation. That is not the supplication the US is seeking for negotiations. As China runs out of US imports to threaten, the effort is more likely to turn to even more unorthodox retaliation. That will likely lead the US to ramp up the pressure beyond simple taxes on imported goods. What's more, US President Trump has already accused China of pursuing current manipulation for an unfair advantage. That makes it an appealing option for a leader who tends to use policies he perceives being used against the United States against the instigator.
What Happens if the US Uses Devaluation as a Tool
If the world's most liquid currency, dominant means for transaction and primary reserve were to suddenly find itself prone to the whims of political intent; the implications for the global financial system would be troubling. For the US currency specifically, the effort would almost certainly result in a significant depreciation. In the short-term that would be a move owing to the 'success' of the government's policy. However, beyond that initial slide, the pressure would become a global charge. Global investors who invested in US assets in large part for the relatively high rate of returns to be found following the Fed's gradual policy tightening and the steady clip of growth will face a sudden risk in the form of volatile exchange rate risk. Deeper pools of capital holding US reserves (central banks, wealth funds, pensions, etc) will be prompted to accelerate plans to diversify away from heavy concentration in top credit US assets. The intent to balance heavy exposure to US Treasuries and thereby the US economy and financial system has been in place since the Great Financial Crisis when the fallout from the subprime housing market seemed to sink capital markets around the world. Yet, making such a systemic shift in a world of distortionary monetary policy was not easy. That said, any reservations these groups may have to make a change would be quickly superseded by such a currency war overture. This would be a permanent discount for the Dollar (not just a pullback to eventually rebound) and the resting level of volatility behind the currency would naturally settle much higher. We discuss the current 'strong Dollar' policy in the US, the possible motivations for abandoning it and the implications for the market in this Quick Take Video.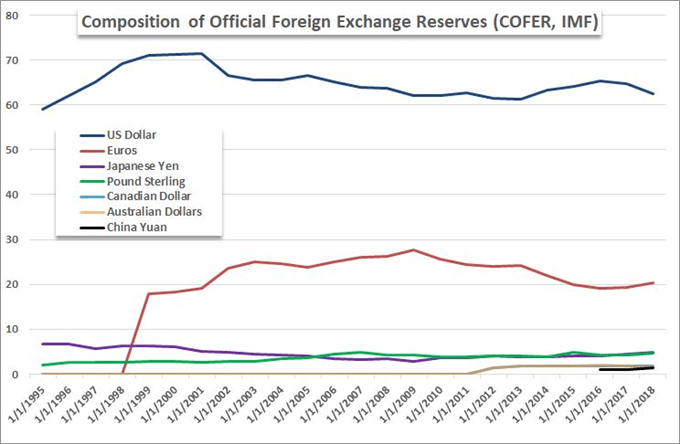 EURUSD Elliott Wave from February 2018 Concludes
EURUSD Elliott Wave at high probability the bottom is in
We began building our short EURUSD position in two separate occasions from April 10 at 1.2350 and April 26 at 1.2153 in anticipation of a developing bearish impulse wave. Though our first target of 1.1554 was hit on May 29, the bearish impulse wave appeared incomplete. As of May 29, we could count three of the five Elliott Wave impulse waves lower, which implied a fourth wave correction and fifth wave sell off still to come.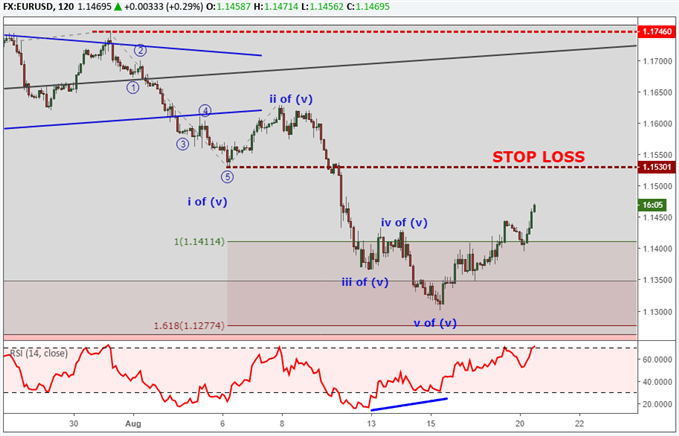 On August 6, we closed down half of the position (booking +791 pips) and tightened the stop loss on the remaining short EURUSD to 1.1750. We are now going to tighten the stop loss further as evidence is growing the bearish impulse wave from February 2018 has ended or is about to end with one more dip. Therefore, we are moving the stop loss on the remaining short EURUSD position to the August 6 low of 1.1530.
If EURUSD pops above 1.1530, then we will gladly book the remaining profits and head to the sidelines as EURUSD may be in the beginning stages of a multi-month rally that may drive to 1.17-1.22.
Elliott Wave Theory FAQ
What Elliott Wave is EURUSD in right now?
Our analysis points to a bearish impulse wave ending from February 2018 to August 15, 2018. This bearish impulse wave is likely wave 1 of a larger bearish impulse wave or wave A of a larger zigzag wave.
Our beginner and advanced Elliott Wave guides share with you typical waveforms and structure that include tips on how to trade with the waves.
Why do traders lose money?
Regardless of the style of analysis, many traders do lose money because they do not take the time to study the market and the effect of leverage. At DailyFX, we have studied millions of live trades and boiled our study down into a Traits of Successful Traders guide. You will find how leverage and human nature affects our trading so you can implement tactics like ones described in the trading idea above.
New to FX trading? We created this guide just for you.
—Written by Jeremy Wagner, CEWA-M
Jeremy Wagner is a Certified Elliott Wave Analyst with a Master's designation. Jeremy provides Elliott Wave analysis on key markets as well as Elliott Wave educational resources. Read more of Jeremy's Elliott Wave reports via his bio page.
Communicate with Jeremy and have your shout below by posting in the comments area. Feel free to include your Elliott Wave count as well.
Discuss this market with Jeremy in Monday's US Opening Bell webinar.
Follow on twitter @JWagnerFXTrader .
Australian Dollar May Get Some Respite If Only For Lack Of News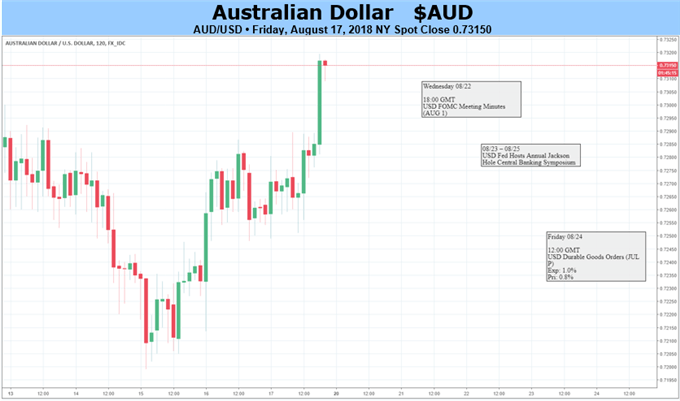 Fundamental Australian Dollar Forecast: Neutral
AUD Talking Points
The Australian Dollar remains in a pervasive downtrend against its US cousin

Interest rate differentials and twitchy risk appetite will probably ensure it stays ther

But this week could offer some pause
Find out what retail foreign exchange traders make of the Australian Dollar's prospects right now, in real time, at the DailyFX Sentiment Page
The Australian Dollar faces multiple sources of downward pressure but the coming week's light economic data schedule may offer it some probably temporary reprieve.
The widening interest rate differential in favor of the US Dollar does not appear to be going anywhere soon. Reserve Bank of Australia Governor Phillip Lowe testified before Parliament last week that, although the RBA still thinks the next move, when it comes, will be a rise, there's no near-term case for any such move.
Indeed local futures markets do not now price in any change to the record-low, 1.50% Official Cash Rate until at least the start of 2020.
But the Aussie's worries go a little deeper than simple rate comparisons. Risk aversion sparked first by global trade worries and then by thy collapse of the Turkish Lira has also weighed on the growth-linked currency. Morever, signs that the best of China's growth for the year may now be behind us have also done it no favours. Official industrial production and capital investment data out of China missed forecasts significantly last week. They were also the first look at figures for July, and suggested that 2018's second half may well be tougher than its first, with or without a trade settlement between Washington and Beijing.
So, given all of the above the Australian Dollar backdrop looks just about as gloomy as ever, especially as the markets also suspect that the RBA doesn't mind its weakness at all given how often it talks about a weaker currency making growth and inflation goals easier to hit.
But the week doesn't offer much in the way of Australian economic numbers. We will get the minutes of the last RBA monetary policy meeting. However, seeing as investors heard from the governor himself only a few days ago, scope for big moves on the minutes would seem very limited.
Make no mistake, the Australian Dollar is still biased lower against its US big brother, but it has been hit fairly hard in the last couple of weeks. The coming sessions could offer some breathing space and consolidation so it's a neutral call.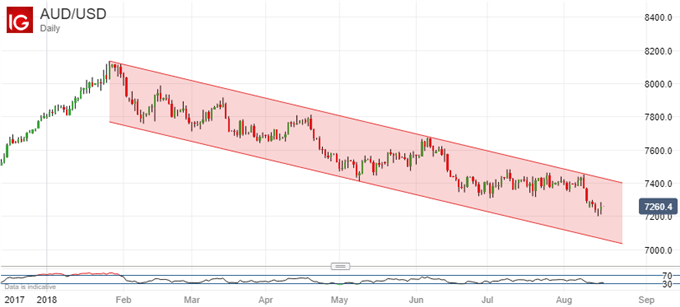 Resources for Traders
Whether you're new to trading or an old hand DailyFX has plenty of resources to help you. There's our trading sentiment indicator which shows you live how IG clients are positioned right now. We also hold educational and analytical webinars and offer trading guides, with one specifically aimed at those new to foreign exchange markets. There's also a Bitcoin guide. Be sure to make the most of them all. They were written by our seasoned trading experts and they're all free.
— Written by David Cottle, DailyFX Research
Follow David on Twitter@DavidCottleFX or use the Comments section below to get in touch!
Chinese Yuan, Hong Kong Dollar Eye on Central Banks' Defense At Key Levels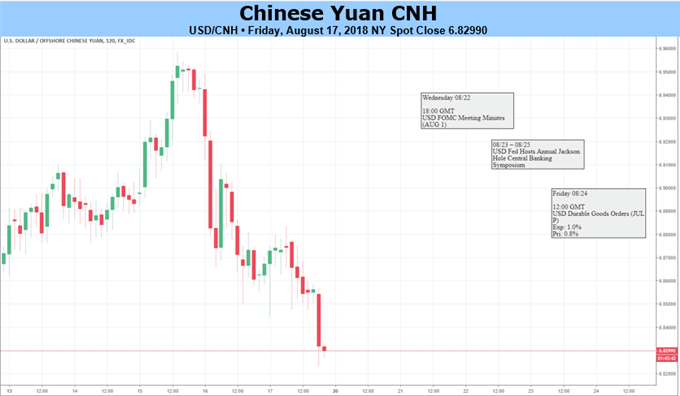 FUNDAMENTAL FORECAST FOR CNH: Neutral
How to trade news? Learn with DailyFX Free Trading Guides!
PBOC stepped in twice when the USD/CNH broke above 6.90, a key threshold below 7.0.

US-China Trade war and weak Chinese fundamentals add difficulties to support the Yuan.

USD/HKD touched the lower limit of 7.85, a level that HKMA will continue to defend.
The offshore Chinese Yuan gained against the U.S. Dollar this week after nine consecutive losses, amid the PBOC's further intervention to defend the Yuan. Overall, the Chinese currency rose against seven of the G10 currencies, except the CAD, JPY and NZD. The Hong Kong Dollar, used in one of China's autonomous territories, touched the lower band of its pegged currency regime and triggered local monetary authority's intervention. Looking forward, both currencies will continue to eye on policymakers for support, amid both internal and external pressure.
PBOC Watches USD/CNH's Key Levels of 6.9 & 7.0
China's Central Bank shut down channels for commercial banks to deposit or lend the Yuan to the offshore market through the free trade zone scheme, after the USD/CNH jumped above 6.90 on Wednesday. This basically tightened the offshore Yuan liquidity and increased the cost of Yuan short. Following the move, the USD/CNH fell back below 6.90.
USD/CNH 1-Week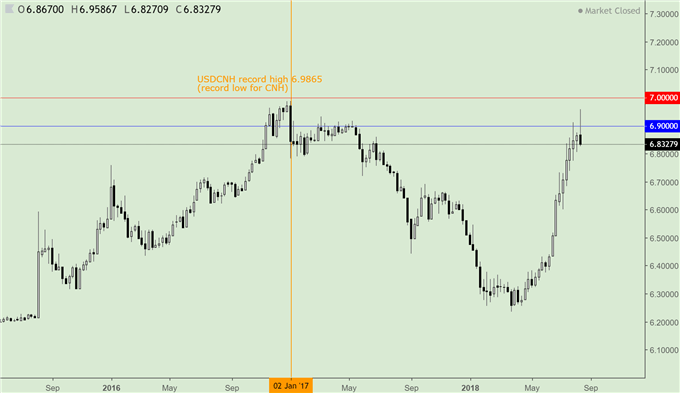 Two weeks, the PBOC hiked the reserve requirement ratio on FX forwards last week, after the USD/CNH hit above 6.90 for the first time in 15 months. Breaking above this level could spark further selling sentiment, as it approaches the record low level of 6.9865 for the Yuan. In addition, it leaves little buffer area before the rate can touch the critical psychological level of 7.0. The last time the Yuan at 7.0 was more than 10 years ago, even before the offshore Yuan exchange rate regime was introduced.
The PBOC has clearly stated in the Q2 report that it will counter against the excessive selling in the Yuan driven by sentiment. Coupled with resumed plunges in Chinese equities seen this week (Shanghai Composite Index dipped to 17-month low), calming markets will be one of the policymaker's top priorities next week. Besides the above two uncommon measures, the regulator issues the daily reference rate, which has been held below 6.90 as well.
Challenges to Defend the Yuan
Uncertainties around the US-China trade war remain. The two parties will resume negotiations in late August but both have become cautious, with only Vice Ministers attending the meetings; this is downgraded from Minister-level-and-above meetings seen in April and May, when the two sides failed to reach a consensus. At the same time, the tit-for-tat attacks are underway: US tariffs on $16 billion Chinese goods, the second batch of a total $50 billion, will enter effect on August 23; China's retaliation on the same amount of US goods will follow immediately. The uneased tensions in trade could dampen market sentiment in the Yuan.
China's fundamentals are less likely to help much either. The July Retail Sales and Industrial Production both dropped from the last month and below expectations, hinting weak consumption and production. In addition, Fixed Assets Investment, which is considered to expand at around the same rate of GDP, set a new record-low of 5.5% in July. Besides the domestic difficulties, the contagion of high volatility in emerging-market currencies seen recently has the Yuan at risk as well.
HKMA Eyes on USD/HKD's Key Level of 7.85
The USD/HKD touched 7.85, the lower limit for the Hong Kong Dollar's trading band under the current pegged exchange rate regime. In order to maintain the regime, Hong Kong Monetary Authority (HKMA), which serves as an independent central bank in Hong Kong Special Administrative Region, purchased a total of HK$16.8 billion during three consecutive days from August 14. This is equivalent to sell US$2.1 billion to the market.
Read More: A Tale of Two Currencies: Hong Kong Dollar and Chinese Yuan
The recent plunge in emerging market currencies was a trigger to the Hong Kong Dollar's weakness this week. Yet, the main contributor was the widened interest rate spread between the HKD and USD. Since the U.S. Fed began to increase rate in late March, the pressure on the Hong Kong Dollar has become intensified.
USD/HKD 1-Week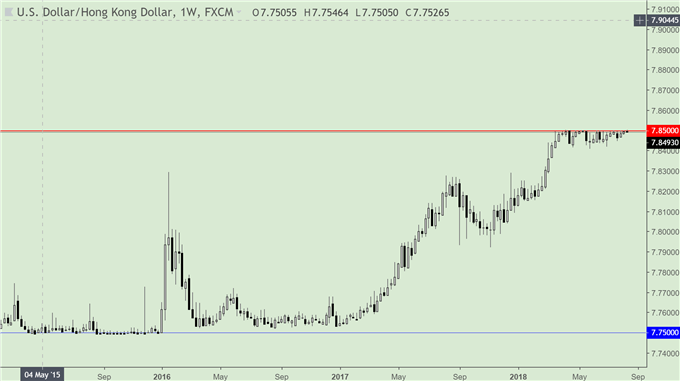 On April 12, the USD/HKD hit 7.85 for the first time in 35 years. This triggered HKMA's intervention for the first time since HKD's trading band of 7.75 to 7.85 was set in 2005. Since then, the monetary authority has stepped in 18 times and purchased a total of HK$87.1 billion (US$11.1 billion) from the market. This cost about 2% of Hong Kong's foreign reserves (US$424.3 billion, according to the July figure).
Next week, with the Jackson Hole meeting and FOMC minutes underway, the Hong Kong Dollar will likely continue to bear downward pressure, which means HKMA will need to continue to sell the USD and purchase the HKD to maintain the pegged exchange rate regime.
— Written by Renee Mu, Currency Analyst with DailyFX