When the Fed cuts rates without a recession, stocks always go higher
The Federal Reserve deciding to cut rates can be a great thing for the stock market, or a sign of trouble ahead — depending on the timing.
The first rate cut, when the economy isn't in a recession, leads to a stock market rally 100% of the time, according to data compiled by Fundstrat going back to 1971. But in the last two cycles, the Federal Reserve cuts didn't come in time, Tom Lee, Fundstrat Managing Partner and the Head of Research, said in a note to clients Wednesday.
"The last two rate cuts in 2001 and 2007 came too late, the U.S. was already in a recession," Lee said, adding that investors are "skeptical" because of it.
Lee, J.P. Morgan's former chief equity strategist, said there are two ways to measure whether or not the Fed cut benchmark interest rates too late. The first is to simply ask whether or not the U.S. economy is heading into a recession, but that is usually not certain at the time. Lee says you can also look at business cycle indicators like the Purchasing Managers Index, or PMI, which shows manufacturing, or the yield curve.
The question for investors going forward is whether the central bank changed its tune in time to prevent a recession. Investors cheered the chances or a rate cut Wednesday following testimony from Federal Reserve Chair Jerome Powell that bolstered the case for easier monetary policy in the U.S. The S&P 500 briefly broke above 3,000 for the first time, while the Nasdaq Composite and Dow Jones Industrial Average also hit all-time highs. Investors have now priced in a 100% probability of a Fed rate cut in July, according to the CME Group's FedWatch tool.
In Powell's prepared testimony to the House Financial Services Committee, he said U.S business investments have slowed "notably" recently as uncertainties over the economic outlook linger.
"Crosscurrents have reemerged," Powell said. "Many FOMC participants saw that the case for a somewhat more accommodative monetary policy had strengthened. Since then, based on incoming data and other developments, it appears that uncertainties around trade tensions and concerns about the strength of the global economy continue to weigh on the U.S. economic outlook."
Stocks won't bottom until panic gets more extreme: BofA
New charts from Bank of America-Merrill Lynch's Stephen Suttmeier suggest two things must happen before the stock market bottoms: The S&P 500 needs to fall another 5% and panic needs to get more extreme.
His first chart shows the S&P 500's decline, and the key levels to watch.
"The correction is going to continue," the firm's chief equity technical strategist told CNBC's "Futures Now " on Thursday. "You take a measured move of this trading pattern — one leg down, one leg up. It's gets you right down into that 2,750-2,740 range."
Suttmeier estimates it'll take weeks for stocks to find a floor, especially since the volatility is coming during the worst seasonal period of the year: August through October.
"We have plenty of resistance," he said. "We continue to stall right around this 2,940 level on the S&P."
Suttemeier's second chart reflects fear in the market through the 25-day put/call ratio, which follows put volume relative to call volume. According to Suttmeier, panic isn't widespread enough for stocks bottom.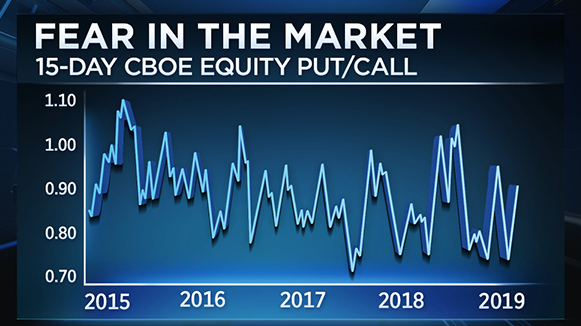 "Once you get above one in the 25-day put/call ratio, you can see this S&P bottom. And, that happens probably sometime in September," said Suttmeier. "We had fearful readings to start June. June was an up month, and we came into August very complacent."
On Friday, the S&P 500 rallied 1.4% to close at 2,888.68 and is almost 5% away from its all-time high.
There are now 175 online mattress companies—and you can't tell them apart
Samurai Messenger Service prepares to deliver a packaged mattress from the bed delivery company Casper in New York.
Yana Paskova | The Washington Post | Getty Images
Gone are the days of flopping onto mattress after mattress in a stuffy showroom floor.
Online mattress companies that ship to your front door say that finding the perfect bed might just take a few clicks. But experts warn that it's important to look beneath the sheets. They say many mattresses being sold are actually very similar — despite how they're marketed.
"The products that you're buying — there are many similarities and only some minor differences," said Seth Basham, an analyst at Wedbush Securities who covers the mattress industry. He said that the core of the mattresses at different companies often use the same foam. "The different layers — what goes on top of what, can differ. But the big difference is how they're being sold and marketed."
There are now around 175 bed-in-a-box companies in business, estimated Michael Magnuson, founder of mattress review site GoodBed.com. Their sales account for 12% of the $16.5 billion mattress industry, though only the top 10 companies make a significant dent, according to Basham. Among the major players are brands like Purple, Casper, Nectar, Leesa, and Tuft & Needle.
Mattress giants like Tempur Sealy and Serta Simmons should be nervous, said Peter Keith, an analyst at Piper Jaffray. Sales units on average at those companies have been down 5% over the past two years.
A survey by the International Sleep Products Association reported that 45% of mattresses purchased in last year were online, up from 35% for purchases in 2017.
Purple is the only public bed-in-a-box company, after it merged with a public investment shell company in 2018 at a valuation of $1.1 billion. Its stock has dropped 40% since the merger, and the company is currently valued at $355 million. Like many other bed-in-a-box companies, according to Basham, Purple has not yet seen a profit. In 2018, the company made $285 million in sales, and reported a net loss of $19.6 million.
Profit is hard to come by because the ease of forming an online mattress company makes the market competitive, according to Basham. "Barriers to entry are low, but barriers to profitability are high," he said. "It doesn't take that much to design a mattress, a marketing campaign, put up a website, and have one of these big companies like Carpenter do the fulfillment for you," he said, referring to one of the key mattress manufacturing companies.
A rolled up Purple mattress on a doorstep.
Source: Purple Innovations
Manufacturing ease
The majority of bed-in-a-boxes outsource their manufacturing, according to Magnuson from GoodBed.com. "None of these guys, with a few rare exceptions, make their own mattresses," he said. "They're literally calling around to producers saying, 'we need a finished product and here's what we think it should look like.' Sometimes, they don't even know what they want it to look like."
The companies that make their own mattresses include Brentwood Home, Brooklyn Bedding and Purple, Magnuson said. Many of the bigger bed-in-a-boxes do the research and development of the mattresses themselves, which differentiate how they feel. And companies like Tuft & Needle, Casper and Leesa have layers of foam with proprietary formulas, which means they're not the same as others.
Most of the outsourcing is to just four major manufacturers, according to Dan Schecter, senior vice president of sales and marketing at Carpenter. He said his company makes mattresses for 40% of the mattress industry at 60 factories throughout the country. That includes including roughly 14 bed-in-a-box brands, along with all the traditional players like Tempur Sealy.
"The customer comes to us … they say they want a mattress that does these things against the body, and they would like to have these features and advantages as part of their marketing story. We then create the mattresses that dovetail with what their vision is," he said.
Layla CEO Akrum Sheikh said companies that manufacture their own products are "at a disadvantage as they may find themselves being limited to the use of their own technologies and capabilities."
"In order for Layla customers to truly benefit from the product, we believe in a business model that combines utilizing licensed technology and abilities from multiple manufactures combined with our own proprietary inventions bundled up into one superior product," Sheikh said. "This model allows us to innovate and create without restrictions."
Schecter said the mattresses produced by Carpenter do not have the same foam formulations, and that the company only agrees to design and manufacture mattresses that are backed by science.
Purple emphasizes the science behind its mattresses, especially its "Smart Comfort Grid" layer, which it says helps to relieve pressure on your body during sleep. Eight Sleep is another company that's technology-oriented, and touts its mattresses' dual temperature control and sleep tracking app.
Innovations like these are helping brands to differentiate themselves, according to Keith.
"For a while there were a lot of similarities, but you're starting to see the bigger companies diversifying their offerings," he said. For example, some brands are now selling luxury and cheaper versions, or hybrid models that include both foam and springs.
Marketing confusion
But all the different offerings might just overwhelm consumers, said David Srere, co-CEO of ad agency Siegel+Gale.
"It's the amount of information. There's just too much," he said. "If you go online, not only do all of them look alike, but they're all talking about their different products. If I tell you that my mattress is special because it's infused with copper gel, does it mean anything to you?"
Layla, Sleep Science and Propel by Brooklyn Bedding all sell copper-infused mattresses. DreamCloud, Leesa, and Walmart-owned Allswell are just some of the brands offering hybrid mattresses.
Brentwood Home and Sleep Science were not immediately available for comment.
And the sameness between companies applies to their marketing and brand identities, too, according to Armin Vit, co-founder of graphic design firm UnderConsideration. He sees resemblances in the companies' colors, fonts and advertising messages. "You can see a similar approach," he said. "In my mind, Casper was the first, so I think they sort of set the tone. They did well, and others followed."
Casper, which was founded in 2014, was among the first bed-in-a-box company to gain widespread recognition. Their logo, which is navy blue with a sans-serif font, has similarities with Leesa's, launched in 2015, Nectar's, which was founded in 2016, and Purple's, also formed in 2016.
Vit said that the likeness of the logos and marketing might be intentional. "The goal is for something to look familiar," he said, because there's a chance consumers will mix up someone's mattress recommendation with another company's.
"It's not ideal, it's not the most creative or authentic thing to do, but it's kind of like getting sales and getting customers with confusion in the marketplace."
Each companies' messaging isn't much better. For example, Casper says its memory foam mattresses is for "those who want a 'just right' feel whether you sleep on your back, side or stomach," while the Nectar's mattress firmness is also "just right" and provides "optimal comfort and support — whether you sleep on your front, back, or side."
Vit said, "There's a certain comfort in doing what the successful company's doing. Someone takes the lead and everyone else says, 'Hey, that seems good, let's go there.' It's not exciting, but it's sort of smart."
British Airways' New York-London and other high revenue airline routes
British Airways airoplane Boeing B747-400 in the sky above clouds.
hady Khandan | ullstein bild | Getty Images
In case the suites and lobster at the front of the plane didn't give it away, a new ranking shows how high-paying travelers rule the skies.
The routes that make the most money are those frequented by business travelers, where airlines have been scrambling to add high-end seats at both four- and sometimes five-digit prices.
British Airways' nonstop flights between New York's John F. Kennedy International Airport and London's Heathrow Airport brought in nearly $1.2 billion in revenue in the 12 months ended in March 2019, far and away more than any other route in the world, according to data released this week by aviation statistics firm OAG.
Other high-revenue routes include the less than 90-minute hop on Qantas connection between Melbourne and Sydney, which made the largest Australian carrier $861 million over that period, and United Airlines service between San Francisco and Newark. That flight generated $689 million. Following that was American Airlines' Los Angeles-JFK route, which  brought in nearly $662 million.
In an industry with slim profit margins that scarcely leave the single digits, airlines pour resources into such high-revenue routes, adding new seating because they know they attract corporate accounts and other high spenders.
"Those airlines who have [those routes] will defend them at all costs," said OAG executive vice president John Grant. "They'll fight for those passengers and not cancel them."
Airlines are also trying to get passengers to pay for premium seats, rather than give them away with free upgrades, and they're getting much better at it.
Delta Air Lines last month said it is selling more than 60% of its first class seats, up from about 13% in 2011 — bad news for anyone expecting a free upgrade. The airline is also getting less than half of its revenue from the coach cabin, compared with about two-thirds six years ago, it said late last year.
JetBlue Airways plans to start service to London from New York and Boston in 2021, using its Mint class to court travelers away from entrenched rivals on the lucrative routes with cheaper premium-class lie-flat seats.
U.S. airlines have also taken a cue from their international competitors in adding a new class in between standard coach and business class known as premium economy, which for a higher fare gets travelers earlier boarding, a roomier seat, a larger entertainment screen and higher-end food, among other perks.
American Airlines earlier this month said it finished the installation of premium economy seats on its wide-body fleet. Prices vary but a premium economy seat can fetch almost three times more than a regular economy ticket. For example, a round trip between New York and London in early September on American was $704 while a premium economy ticket was $1,908.