What to expect with earnings, Friday's jobs report
A slew of companies have reported earnings in the past week, but the busiest week of reports is still ahead, CNBC's Jim Cramer said.
News that the domestic economy grew by 3.2% in the first three months of 2019, faster than the expected 2.5%, helped move the Dow Jones Industrial Average and Nasdaq Composite up more than 0.30% and the S&P 500 north 0.47%, he said.
"But make no mistake about it. We are in the heart of earnings season right now, and that is what's really driving the action," the "Mad Money" host said.
More results are set to come out next week, including the jobs report for the month of April.
Here's what Cramer will be watching on the market next week:
Monday: Disney's 'Endgame,' Alphabet
Disney: While Disney isn't expected to report quarterly earnings until the following week, the box office numbers for "Avengers: Endgame" will roll in on Monday. Cramer said he has never seen a more anticipated sequel, or such a stock rise, as the entertainment conglomerate heads into the potential $1 billion weekend opening.
"The run was breathtaking, and I bet Disney can keep climbing if "Endgame" beats the billion-buck bar," he said. "Otherwise, yeah, let's accept the fact that after this run could be ripe for a little profit-taking."
Alphabet: Google's parent delivers quarterly earnings after the market closes. Cramer said he is expecting an upside surprise, and investors want to find out how ad sales are going and how much can be made from YouTube's premium subscriptions.
"I also want to find out if Google Cloud can really rival Amazon Web Services … and Microsoft Azure, another great player," he said. "It's a very important quarter."
Tuesday: Apple, General Electric, General Motors, Advanced Micro Devices
Apple: The iPhone maker will host a conference call with shareholders after the bell. Installed base data is more important than phone sales, as the company creates a new identity and digs its feet into the subscription economy, Cramer said.
"I am concerned that there's too many Johnny-come-latelies in this stock – camp followers who bought it north of $200, it closed at $204 – and these summer soldiers, these sunshine patriots, they won't be satisfied no matter what Apple says, " he said. "So don't pay too much attention to the action. Pay attention to the substance."
General Electric: The once-dominant manufacturing conglomerate reports earnings in the morning.
"I think CEO Larry Culp is doing an incredible job, I'm one of his biggest backers, but he's not Hercules, and these stables still need a lot of cleaning," Cramer said. "This is the quarter where Culp needs to find a way out of the power box."
General Motors: GM releases earnings data before the market opens.
"I expect a lot of money to pour into GM because last night, as I predicted here, Ford delivered a huge upside surprise, " he said. "That could be a very mistaken extrapolation."
Advanced Micro Devices: Shareholders will hear from the chipmaker at the end of trading. Investors will learn from the call if Intel's challenges are isolated, Cramer said.
"In many cases, Intel's pain could be AMD's gain — I think they could be taking major market share," he said. "We're gonna find out when we listen to CEO Lisa Su's tale of the semiconductor tape."
Wednesday: CVS, Estee Lauder
CVS: CVS gives earnings results before the bell.
"We're gonna find out how that Aetna merger's working," Cramer said. "Maybe that can get the stock moving away from its 52-week low where it seems to be a denizen."
Estee Lauder: The cosmetics company has an earnings call before trading opens. Cramer expects CEO Fabrizio Freda to put on a clinic.
"If you want to know what makes for a great conference call, listen to Estee Lauder, because a great conference call often means a great stock from a great company searching for you," he said.
Thursday: Dow Chemical,
Dow Chemical: The chemical maker will have its first earnings call since spinning off from DowDuPont earlier this month. The stock has a roughly 5% yield.
"Dow's former parent also reports. I think you're actually getting a gift with Dow's very safe dividend," Cramer said.
Friday: April employment data
Non-farm payrolls: The U.S. Labor Department will release employment data for the month of April. Cramer expects the numbers to be strong, but worries it could trigger analysts to call for the Federal Reserve to adopt a hawkish monetary policy again.
"Don't listen to these people," Cramer said. "Stick to your knitting."
WATCH: Cramer delivers his game plan for the week ahead
Disclosure: Cramer's charitable trust owns shares of Apple, Alphabet, Dow Inc, CVS, and Walt Disney, Microsoft, and Amazon.
Questions for Cramer?
Call Cramer: 1-800-743-CNBC
Want to take a deep dive into Cramer's world? Hit him up!
– Jim Cramer Twitter – Facebook – Instagram
Questions, comments, suggestions for the "Mad Money" website? madcap@cnbc.com
The charts show Amazon's stock can break through record highs: Cramer
Shares of Amazon plunged for a third-straight trading day on Monday, and it may have opened up the kind discount that investors are looking for, according to the charts.
CNBC's Jim Cramer, citing analysis from chart analyst Caroly Boroden, said the stock is on a positive trend that could carry it back above the $2,000 level in due time. Since reporting a second-quarter profit miss last week, the equity has shed nearly 4.5%, but it has a chance to catapult past its record high, says Boroden, who heads FibonnacciQueen.com
"Boroden says that the larger pattern here is still bullish, pointing to much higher prices down the road," the "Mad Money" host said. "After the stock's recent pullback, she thinks you're getting a rare buying opportunity in Amazon."
Boroden, a Cramer colleague at RealMoney.com, predicts the stock could be gearing up to rally to about $2,073, a more than 8% upside from Monday's close. In order for that to happen, the stock must hold above a group of support levels in the $1,880 and $1,890 ranges, Cramer explained.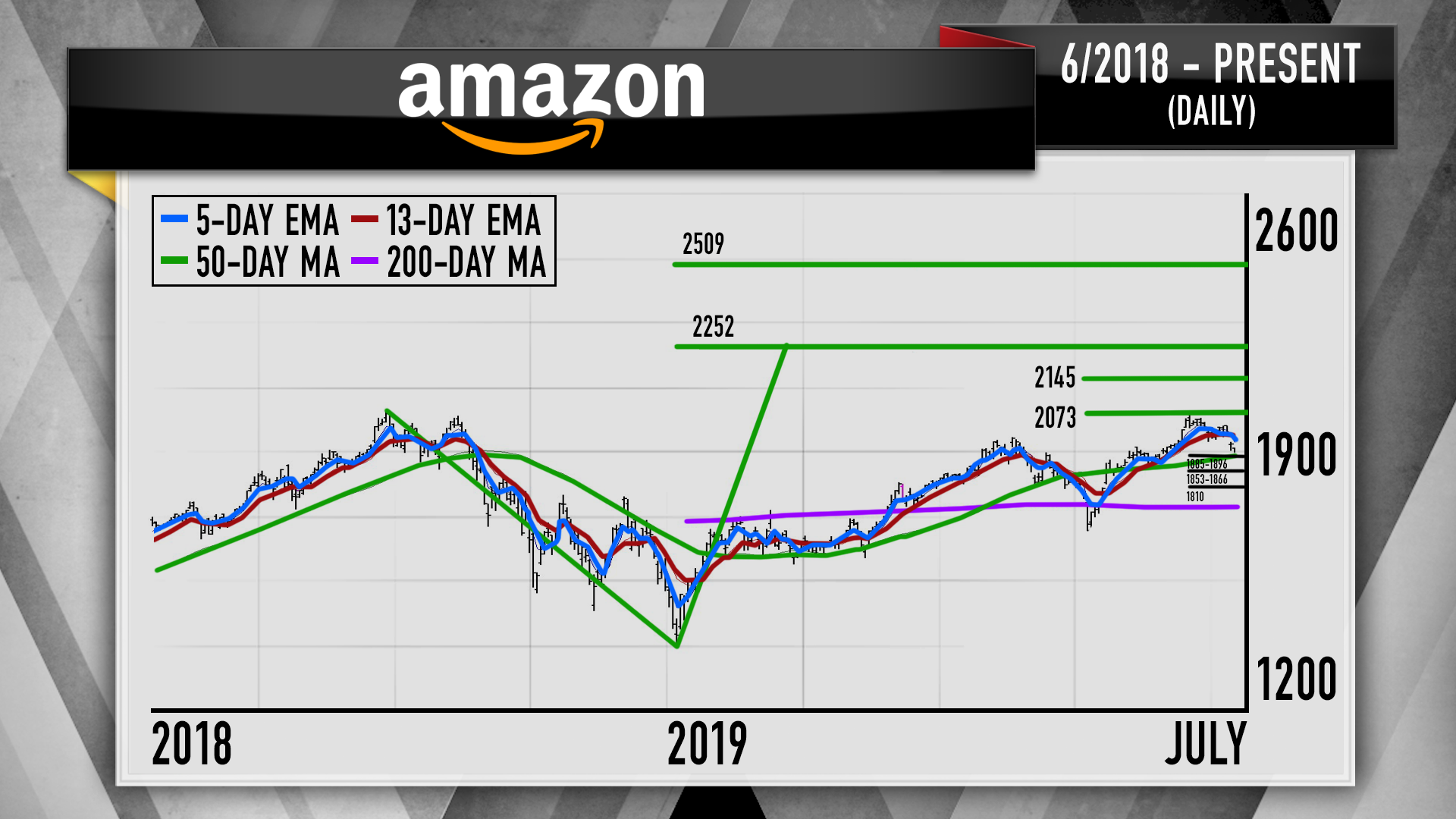 On Monday, shares of Amazon started trading at $1,930, bottomed near $1,890 and recovered some to end the session above $1,912. If the stock falls below the aforementioned levels of support, Boroden says it has additional support to lean on at about $1,860, Cramer said.
Boroden's long-term price target for Amazon, based on past rallies, is $2,145. In the best case scenario, she thinks the stock could climb as high as $2,509, Cramer said. For that to happen, she says, the stock's five-day exponential moving average has to rise above the 13-day exponential moving average on the same daily chart, the host added.
"That crossover is the Fibonacci Queen's buy trigger because it tells you when a stock has gotten its groove back," Cramer said. "Of course, if Amazon breaks down below Boroden's last floor of support at $1,810, that means she's wrong and she says you got to throw in the towel. I think she's going to be right."
WATCH: Cramer goes off the charts on Amazon, Alphabet and the Nasdaq 100
Disclosure: Cramer's charitable trust owns shares of Alphabet and Amazon.
Questions for Cramer?
Call Cramer: 1-800-743-CNBC
Want to take a deep dive into Cramer's world? Hit him up!
– Jim Cramer Twitter – Facebook – Instagram
Questions, comments, suggestions for the "Mad Money" website? madcap@cnbc.com
If the Fed cuts rates, this is a must-own stock
CNBC's Jim Cramer said Friday that the steel cycle is making a turn and Nucor will be the best way to play the market.
In recent weeks, the big steelmaker twice increased the price of flat-rolled steel that summed up to $80 per ton, and that's how the turn in the group tends to start, the "Mad Money" host said.
"That's the up-cycle. I've been waiting for it and it should allow gigantic steel producers like Nucor, the largest in America, to make an enormous amount of money when it goes right, surprising both the analysts and the market," he said.
Service centers, he explained, found they had a glut of steel supply when the economy began to slow in late 2018. Companies responded to President Donald Trump's move to slap tariffs on Chinese imports, and stem the flow of cheap steel into the country from China, by building up inventory. Too much supply later in the year caused steel prices to fall, Cramer said.
However, the inventory has been worked off over the past six months, and it's evident in Nucor's price hikes on basic steel, he continued. Nucor is also building more plants to prepare for higher grade steels, he added.
An interest rate cut from the Federal Reserve, which many Wall Street investors are anticipating, will be a big boost in the economy, the host said.
"That's why Nucor's a buy here, and if we get a couple of rate cuts, it will be a must-own stock," Cramer said. "Nucor's got better risk-reward, making it the best way to play the new, Fed-induced, presidential-endorsed steel cycle that I think is beginning right now."
Get his full thoughts here
Cramer's game plan
Wall Street is preparing for a big week of earnings that will offer a better read of the apparent economic slowdown, Cramer said.
During Friday's session, the Dow Jones Industrial Average slid nearly 69 points. The S&P 500 and Nasdaq Composite also slipped 0.62% and 0.74%, respectively, as the market digested a full week of the latest quarterly results. The two latter indexes posted their worst weeks since May.
"You need to understand that we're about to embark on the busiest week of the year for industrial earnings," the "Mad Money" host said. "We'll be flooded with new information, and if you can't handle it or handle all the noise … this might be the perfect week to take your summer vacation."
See what Cramer's expects in earnings next week here
Special delivery
The GrubHub website on an iPhone.
Andrew Harrer | Bloomberg | Getty Images
GrubHub is too tough to own, even if the online food delivery company delivers a surprisingly good quarterly report in the coming weeks, Cramer said.
Amazon, the notorious industry disruptor, in June shut down its 4-year-old Amazon Restaurants project that delivered plates to Prime members in 20 U.S. cities.
"The bottom line is that Amazon's getting out of the food delivery space — that doesn't change anything, " the host said. "GrubHub's still facing relentless competition. I think it's way too risky to own here."
Read more here
Cramer's lightning round: The autos aren't so hot, but Ally is fine
In Cramer's lightning round, the "Mad Money" host zips through his thoughts about callers' stock picks.
Workiva: "There are now so many cloud-based mobile companies that I have to take a breather and do work on this."
Tegna: "I don't really want to get bigger in the entertainment business, TV business, at this very moment."
Ally Financial: "This is a financial that's doing quite well. It's funny because the automotive market isn't that hot, but they're well-run, it's doing well. I mean look, I'm more of a JP Morgan, Bank of America guy, but I'm not going to disagree. This one's doing quite well. "
Disclosure: Cramer's charitable trust owns shares of Amazon and JP Morgan Chase.
Questions for Cramer?
Call Cramer: 1-800-743-CNBC
Want to take a deep dive into Cramer's world? Hit him up!
– Jim Cramer Twitter – Facebook – Instagram
Questions, comments, suggestions for the "Mad Money" website? madcap@cnbc.com
IBM earnings prove company paid the right price for Red Hat
CNBC's Jim Cramer on Thursday broke down why IBM's $34 billion price tag to buy Red Hat was worth the cost.
Paying $190 a share for the open-source software, the October deal came at a 63% premium in part. Cramer argued that premium is understandable because IBM was not the only bidder. In late 2018, Red Hat revealed that there were three other bidders without naming names. CNBC previously reported an offer from Alphabet's Google was entertained, and Stifel analyst Brad Reback also said that Google, Amazon and Microsoft engaged in discussions.
"It was a competitive situation, people, so IBM paid what they had to pay to get the job done," the "Mad Money" host said. "But, honestly, that 63% number it's a little misleading, frankly."
The premium isn't quite as hefty when compared to Red Hat's average share price last year, Cramer said. At the time the agreement was announced, Red Hat traded at $116 per share. The stock, on averaged, sold for under $142 a share in 2018, which instead comes in at a 34% premium, he said. The deal closed earlier this month.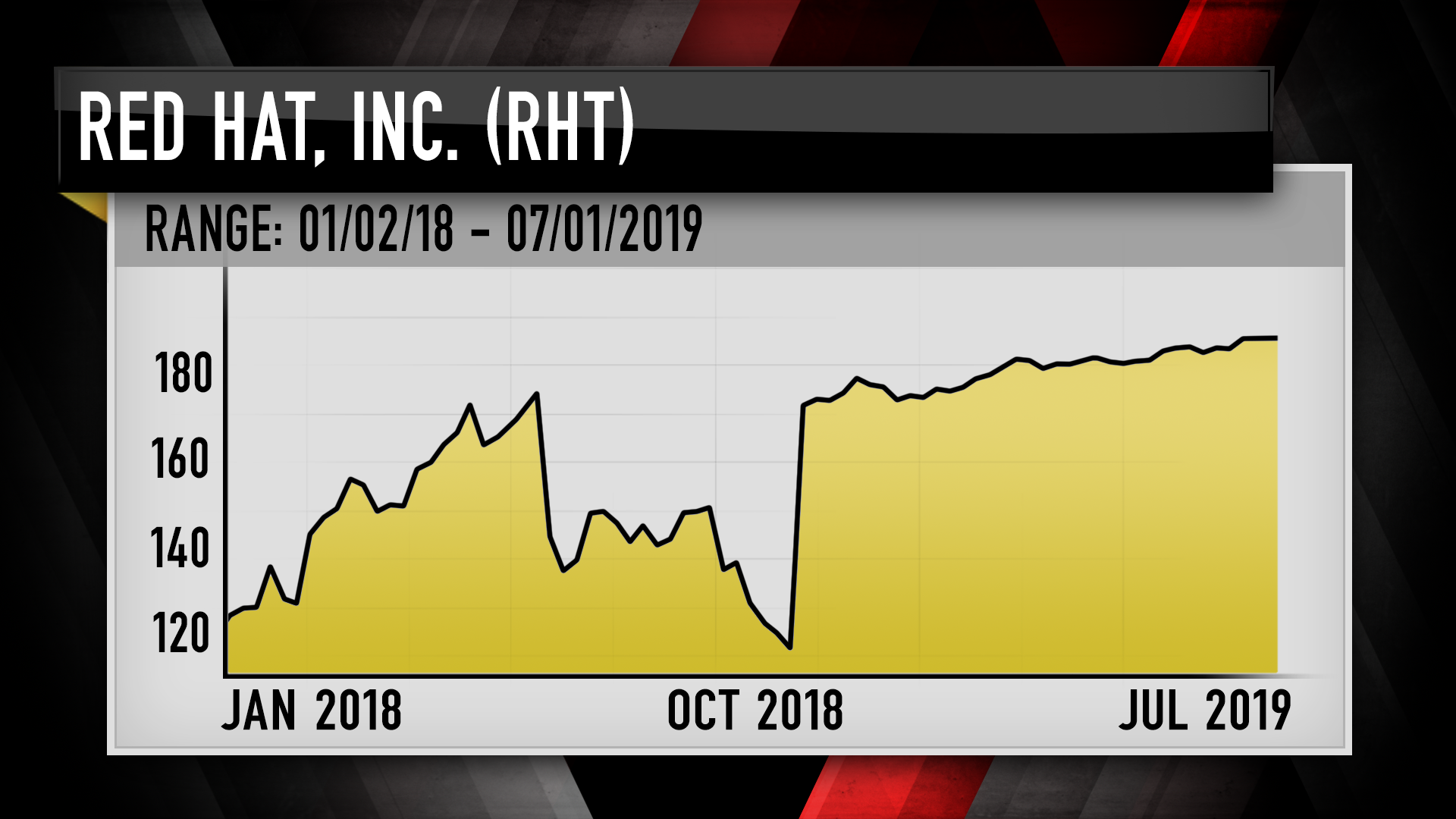 Since the deal was announced in October, the rest of Cramer's "cloud king" basket of hot cloud-based tech stocks, which once included Red Hat, have increased market cap as a group by 54%. They also trade, on average, for 54-times next year's earnings, the host said. IBM, however, paid 46-times for Red Hat, he noted.
"If anything, I've got to tell you, based on these comparisons, you could argue that they underpaid for this company," Cramer said. "In other words, I don't think they overpaid versus what this business was really worth."
Big Blue, which made a name for itself selling computer hardware, pivoted into the cloud-based software business as a way to boost revenue growth, he said. Artificial intelligence and analytics is also a part of the focus. The company wants to offer a platform to manage hybrid cloud IT infrastructure, and Red Hat is a solution, he said. Red Hat, which will keep its identity and leadership as a subsidiary, lets IBM combine on-site private servers with third-party cloud computing.
IBM has been working to catch up to Amazon and Microsoft in cloud infrastructure. At the time of the acquisition, CEO Ginni Rometty called it a "fair price" to become the "number one hybrid cloud provider."
Red Hat is critical, Cramer said, seeing that IBM reported a second quarter earnings beat but cloud sales were up 9%, down from 16% the quarter prior and 18% in 2018. Revenue came in line with Wall Street's expectations, although it fell 4% year-over-year.
Red Hat was not included in the numbers.
"I think these results more than vindicate IBM's decision to pay $34 billion" for the company, he said. "They needed a change of direction and that's what Red Hat gives them. It's why I still think the stock is still worth owning here even up here after this nice day."
WATCH: Cramer breaks down Red Hat's price tag
Disclosure: Cramer's charitable trust owns shares of Alphabet, Amazon and Alphabet.
Questions for Cramer?
Call Cramer: 1-800-743-CNBC
Want to take a deep dive into Cramer's world? Hit him up!
– Jim Cramer Twitter – Facebook – Instagram
Questions, comments, suggestions for the "Mad Money" website? madcap@cnbc.com