USDJPY and EURUSD Counter Trend Patterns Appear Incomplete
Using Elliott Wave theory our analysis for USDJPY and EURUSD is that we may see shorter-term USD weak moves to retrace a portion of the 2018 USD rally.
The video above is a recording of a US Opening Bell webinar from June 11, 2018. We focused on USDJPY and EURUSD as they are offering some of the clearer patterns with forex trading.
USDJPY Elliott Wave Pattern may be incomplete to the downside
For the past couple of weeks, we have been discussing how the USDJPY patterns look weak and that counter trend patterns are at work.
Though USD/JPY reached our initial target zone for a correction by falling to 108.11 on May 29, we believe the correction to the downside is incomplete.
The rise in USDJPY witnessed last week may be the 'b' wave of a bearish Elliott Wave zigzag pattern. If that is the case, then USDJPY may correct further to retest the 108 low and possibly push 107.
If USDJPY does proceed through this zigzag pattern, then we can anticipate another five-wave move (possibly a bearish impulse wave) beginning from nearby levels. This bearish outcome will be more probable on a dip below 109.08 as that would create overlap with the May 30 high.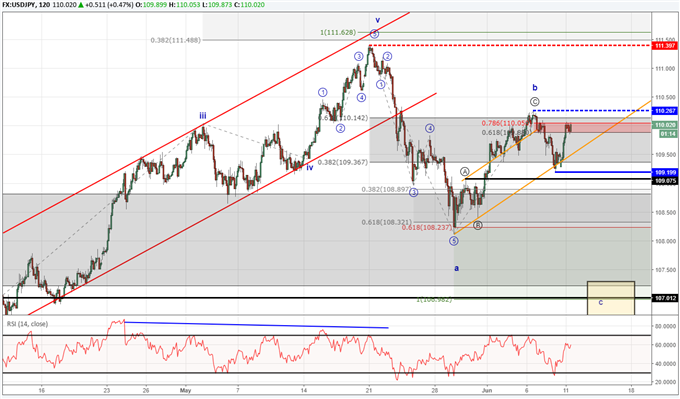 There is an alternative Elliott Wave count we are following as well which is bullish. The bullish alternative suggests the low is in place and USDJPY is rallying in a wave of similar size or Fibonacci proportions to the March to May 2018 up trend. This would imply multi-hundred pip move to the upside. For the time being, this is lower probability but if USDJPY bleeds into the 111 handle, we will reconsider its structure.
EURUSD Elliott Wave Chart Hints at a small relief rally
Last week we discussed how counter trends patterns are working in EURUSD and that a relief rally to 1.18-1.20 was the higher probability move. On June 7, EURUSD did make it to 1.1840, which is in the low end of the cited range. Based on the structure of the move higher, it appears as though the wave is incomplete.
From an Elliott Wave perspective, we are considering this wave higher to be the fourth wave of a five-wave bearish impulse. Therefore, the bump higher is considered a temporary move to alleviate the oversold pressures created at the end of May.
Though not anticipated, if EURUSD does move above 1.2154, then we will consider the Elliott Wave pattern to be less bearish and more sideways in nature. Should this occur, it would elevate the potential for an 'X' wave triangle and increases the probability of a near term retest of 1.25.
We have been short EURUSD with our first short entry at 1.2350 and our 2nd short entry at 1.2153 as prices hit our first target of 1.1554 on May 29. The Elliott Wave patterns still point towards lower levels over the medium term though several short-term patterns point to 1.18-1.20.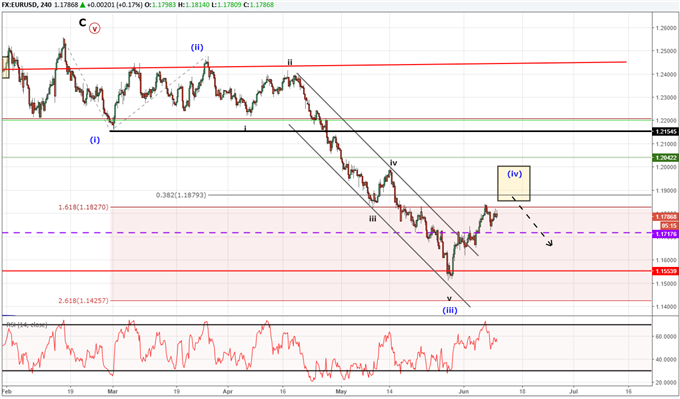 The Elliott Wave pattern for gold prices suggest higher levels to come
Gold prices have traded nowhere fast. Using Elliott Wave Theory to assess the higher probability pattern, it appears as though gold prices are grinding in a sideways small degree wave two. This would suggest that a bullish wave three of an impulse is about to begin.
Once all five waves of the bullish impulse are in place, we believe that will put the final additions on the 'Y' wave of this complex move higher. Therefore, a bullish move above $1365 and possibly into the $1400's is not out of the question for gold.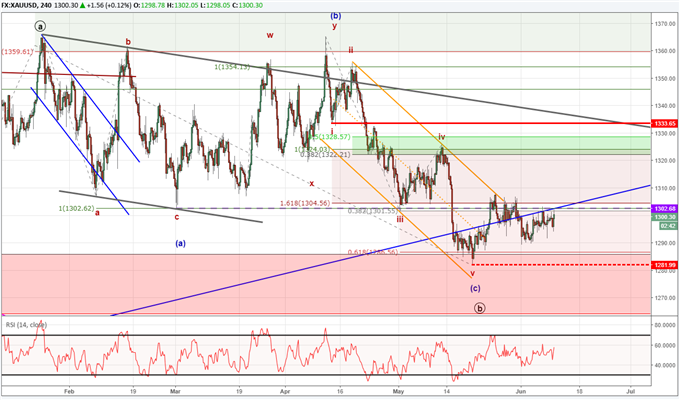 Elliott Wave Theory FAQs
What are Elliott Wave impulse waves?
According to Elliott Wave Theory, the market moves five waves in the direction of the near term trend followed by a three wave counter trend wave. An impulse wave is one of two types of motive waves that denotes trend direction. Therefore, if we see a bearish impulse waveform, then after a three-wave counter trend wave, we can anticipate at least one more bearish motive wave.
If you are seeking further study into Elliott Wave Theory, read about our expert tips in our beginners and advanced trading guides.
After reviewing the guides above, be sure to follow future Elliott Wave articles to see Elliott Wave Theory in action.
What is the biggest mistake traders make?
Regardless of the style of analysis, many traders do lose money because they do not take the time to study the market and the effect of leverage. At DailyFX, we have studied millions of live trades and boiled our study down into a Traits of Successful Traders guide. You will find how leverage and human nature affects our trading so you can be better prepared for the next correction.
Elliott Wave Theory can be applied to a variety of highly liquid markets. FX is one of my favorite markets to apply the Elliott Wave principle. Learn more about trading FX with this guide specifically designed for you.
You might also be interested in…
*What is a triangle pattern in Elliott Wave Theory and how do you trade it?
*Forex Education: Trading Elliott Wave Complex Corrections
—Written by Jeremy Wagner, CEWA-M
Jeremy Wagner is a Certified Elliott Wave Analyst with a Master's designation. Jeremy provides Elliott Wave analysis on key markets as well as Elliott Wave educational resources. Read more of Jeremy's Elliott Wave reports via his bio page.
Communicate with Jeremy and have your shout below by posting in the comments area. Feel free to include your Elliott Wave count as well.
Discuss these markets with Jeremy in Monday's US Opening Bell webinar.
Follow me on Twitter at @JWagnerFXTrader .
US Sanctions Against Iran May Spark 1970s-Style Oil Crisis Fears
TALKING POINTS – Iran, Sanctions, CRUDE Oil, Trump, Emerging markets
US

oil

export

sanctions against Iran will be enforced on November 4

th

Net-importers in emerging markets likely to suffer from higher prices

1970's oil crisis, embargo may haunt markets as Trump buckles down
The Trump administration's trade wars and economic nationalism have caused severe volatility for most of 2018. The White House also withdrew from the 2015 multilateral Iran nuclear deal – known as the Joint Comprehensive Plan of Action – in May, and has re-imposed sanctions. The most devastating will be an oil embargo that is scheduled to be take effect on November 4th.
In the 1970's, the US imposed an oil embargo against Iran that led to a surge in prices. The jump in energy costs radically affected markets. The US – which at the time was coming on the heels of massive public spending programs– had its inflationary pressure skyrocket.
The administration's public spending agenda, coupled with the sanctions against Iran, echo a dangerously similar narrative the world saw 39 years ago.
1979 OIL CRISIS
In 1979 – amid the turmoil of the Iranian Revolution – political radicals stormed the US Embassy and took 52 Americans hostage. In response, US President Jimmy Carter froze billions of dollars' worth of Iranian assets in the United States and enforced an oil embargo.
The decrease in oil exports – adding to growing fears of further disruptions – caused prices to climb. Adjusted for inflation, the price per barrel stood at around $55 in 1978. In 1979, the cost skyrocketed to $97 and peaked at $122 in 1980. In 1981, the hostages were released and the price began to fall.
See our full interactive history of trade wars here.
Some economists and historians argue that "precautionary demand" was an influential contributing factor to the increased cost of oil. This same fear may be rearing its ugly ahead again today.
2018 OIL EMBARGO ON IRAN
After unilaterally pulling out of the nuclear deal – due to allegations that Iran was not cooperating with the International Atomic Agency – the Trump administration hit Tehran with two waves of sanctions. The first included a ban on any transactions involving the US Dollar, gold, precious metals, aluminum, steel, commercial passenger aircraft and coal. The White House has also banned imports of Iranian carpets and foodstuffs.
The second wave will be the oil embargo. Trump warned that anybody who conducted business in the Iranian market would face "severe consequences". The ban requires that all importers have to immediately cut off their supply from Iran by November 4th. Any countries that violate the ban face the possibility of sanctions. The EU responded by pledging to protect European firms by activating a blocking statute established in 1996. It allows European businesses to operate under US sanctions without incurring any penalties.
The EU's defiance to the US adds to the growing tension between allies amid the escalating trade wars. The sanctions also empower hardliners in the Iranian government. This makes the possibility of repairing relations and easing international tension much more difficult.
EFFECT ON MARKETS
If the US imposes sanctions or tariffs against the EU for conducting business with Iran, they will almost certainly retaliate. In that event, sentiment-linked assets are likely to suffer and anti-risk currencies like the Japanese Yen or Swiss Franc will probably rise.
Euro Falling on Trump's Iran Sanctions Announcement
Crude oil has reached a four-year high, with the Brent benchmark trading at around $84/barrel. Rising prices are damaging for net importers in emerging markets. If Trump digs his heels in and commits to limiting Iran's oil exports, emerging markets are likely to suffer.
Indonesian Rupiah and South African Rand vs the Dollar and Rising Oil Prices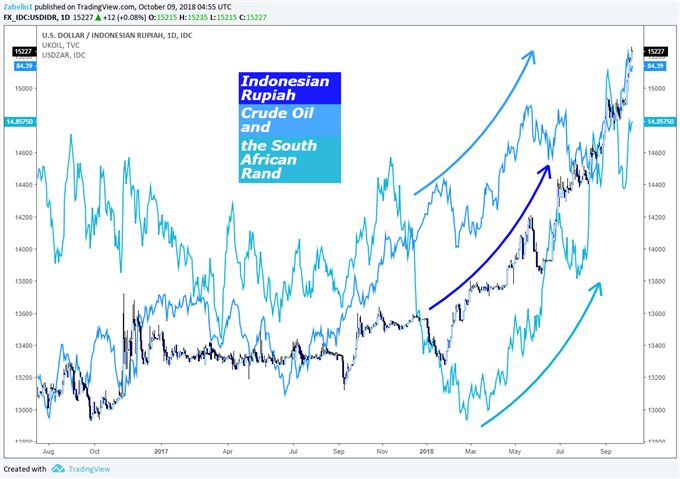 TRADING RESOURCES
— Written by Dimitri Zabelin, Jr Currency Analyst for DailyFX.com
To contact Dimitri, use the comments section below or @ZabelinDimitrion Twitter
GBP/USD Gaps Lower on Brexit Stall, Eyes CPI and Carney Speech
Talking Points:
GBP/USD's downside momentum continues dominant downtrend for majority of 2018

Key economic data and BOE

Gov.

Carney

's speech

may further influence the British Pound
Find out what retail traders' British Pound buy and sell decisions say about the coming price trend!
The British Pound fell against the US Dollar during weekend trading as Brexit negotiations between the United Kingdom and the European Union hit an impasse. UK Prime Minister Theresa May's Brexit Secretary Dominic Raab and EU Chief Negotiation Michael Barnier were unable to reach an agreement on a draft treaty, leading PM May to label the deal a "non-starter". Barnier later mentioned that some key issues remain open, including the Irish backstop.
GBP/USD 1-Hour Chart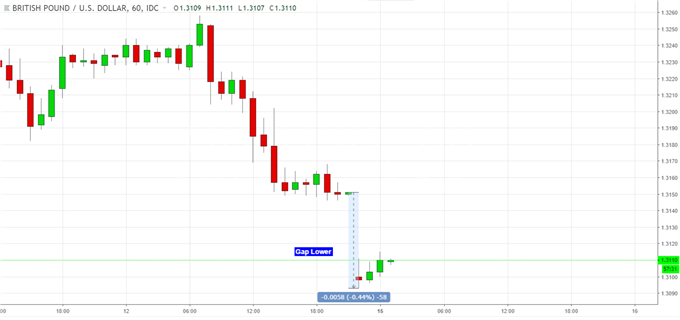 This is the latest in ongoing Brexit turmoil, and could possibly bode ill for the Sterling's recent upside momentum. If a deal is not reached, the United Kingdom would exit the EU and be subject to World Trade Organization rules, potentially causing declines in GBP. Furthermore, longstanding political uncertainty and tensions regarding Brexit have caused the GBP to weaken for the majority of this year. Furthermore, an increasingly hawkish Federal Reserve and haven demand amidst EM contagion fears and trade wars have caused the greenback to strengthen, intensifying the currency pair's bearish action since April 2018.
GBP/USD Daily Chart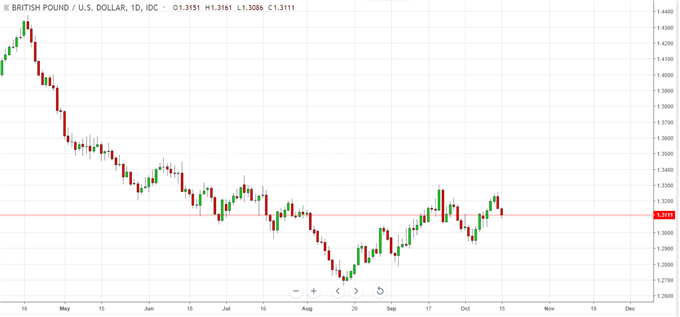 Looking ahead, this is a week of high economic activity for the British Pound. On Wednesday, the UK Statistics Office will release consumer inflation data for the month of September. In addition, Bank of England Governor Mark Carney is set to give a speech on Thursday, with forward guidance possibly dictating next moves for the Pound. However, ongoing Brexit negotiations will continue to take center stage and overshadow economic data's influence on the Sterling. Developments upcoming summit of European Union leaders focusing on Brexit could cause volatility shocks to the currency pair.
GBP/USD Trading Resources
— Written by Megha Torpunuri, DailyFX Research Team
Unsteady Risk Trends Increase Scrutiny on China, Italy and Brexit
Market participants will return with caution this week. Following the rout in speculative assets from shares to emerging markets to Yen crosses, there is an understandable tension amongst investors. In this environment troubling news in trade wars, Chinese growth, Euro-area stability or any number of key themes can readily find traction.
New Zealand Dollar Forecast – New Zealand Dollar May Look Past CPI, Focus on Stocks, USD & Fed
Any signs that the Fed could remain hawkish despite the global stock selloff could reignite USD at the expense of NZD, this may overshadow gains on an upbeat local CPI data.
Japanese Yen Forecast – Speculation for Above-Neutral Fed Rate to Curb USD/JPY Weakness
Fresh developments coming out of the U.S. economy may curb the recent selloff in USD/JPY as Federal Reserve officials see a risk for above-neutral interest rates.
Oil Forecast – Oil Demand Forecasts Cut After Risk Rout Leads to Worst Week Since May
After trading to four year highs to open the month, Crude has come off the highs along with risk sentiment, but you crude appears to have fundamental support that could keep bulls confident.
British Pound Forecast – Heightened Risk Doesn't Reward Position-Taking This Week
It may be uncomfortable but sitting on the fence is the best place to be ahead of next week's Brexit updates and EU Summit
US dollar Forecast – US Dollar May Find Renewed Strength in FOMC Meeting Minutes
The US Dollar may find renewed strength after last week's confounding drop as minutes from September's FOMC meeting signal officials' intent to press on with rate hikes
Gold Forecast – Gold Price Outlook Finally Impacted by Safe Haven Demand
Gold was the beneficiary of safe haven demand this week after the Dow lost over 1,300 points in just two days.
Australian Dollar Forecast – Australian Dollar Held Up Last Week, May Not Do So Again
The Australian Dollar held up quite well to the intensification of one or two factors which have stymied it this year. Don't rely on that continuing
Chinese Yuan Forecast: Yuan May Extend Loss on China's Q3 GDP, Eyes on PBOC for Reference
China's weak economic growth could add more bearish momentum to the Yuan; at the same time, Chinese regulators may try to avoid extreme volatility.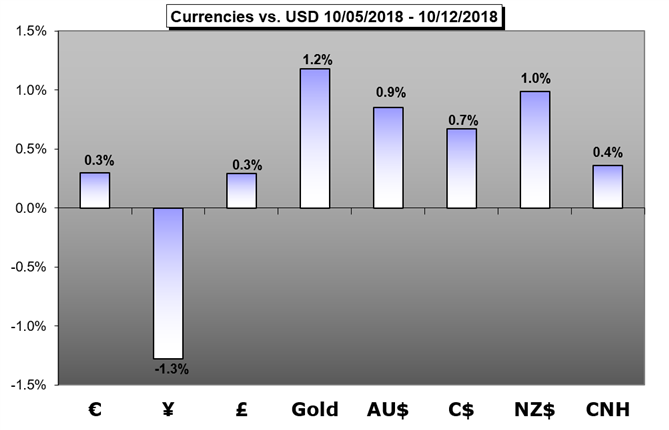 See what live coverage is scheduled to cover key event risk for the FX and capital markets on the DailyFX Webinar Calendar.
See how retail traders are positioning in the majors using the IG Client Sentiment readings on the sentiment page.