USDJPY and EURUSD Counter Trend Patterns Appear Incomplete
Using Elliott Wave theory our analysis for USDJPY and EURUSD is that we may see shorter-term USD weak moves to retrace a portion of the 2018 USD rally.
The video above is a recording of a US Opening Bell webinar from June 11, 2018. We focused on USDJPY and EURUSD as they are offering some of the clearer patterns with forex trading.
USDJPY Elliott Wave Pattern may be incomplete to the downside
For the past couple of weeks, we have been discussing how the USDJPY patterns look weak and that counter trend patterns are at work.
Though USD/JPY reached our initial target zone for a correction by falling to 108.11 on May 29, we believe the correction to the downside is incomplete.
The rise in USDJPY witnessed last week may be the 'b' wave of a bearish Elliott Wave zigzag pattern. If that is the case, then USDJPY may correct further to retest the 108 low and possibly push 107.
If USDJPY does proceed through this zigzag pattern, then we can anticipate another five-wave move (possibly a bearish impulse wave) beginning from nearby levels. This bearish outcome will be more probable on a dip below 109.08 as that would create overlap with the May 30 high.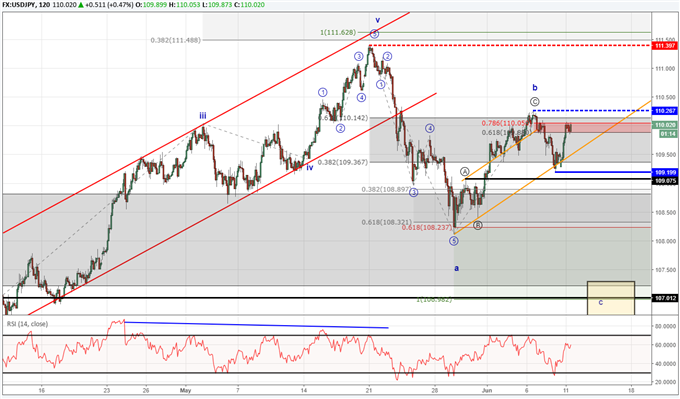 There is an alternative Elliott Wave count we are following as well which is bullish. The bullish alternative suggests the low is in place and USDJPY is rallying in a wave of similar size or Fibonacci proportions to the March to May 2018 up trend. This would imply multi-hundred pip move to the upside. For the time being, this is lower probability but if USDJPY bleeds into the 111 handle, we will reconsider its structure.
EURUSD Elliott Wave Chart Hints at a small relief rally
Last week we discussed how counter trends patterns are working in EURUSD and that a relief rally to 1.18-1.20 was the higher probability move. On June 7, EURUSD did make it to 1.1840, which is in the low end of the cited range. Based on the structure of the move higher, it appears as though the wave is incomplete.
From an Elliott Wave perspective, we are considering this wave higher to be the fourth wave of a five-wave bearish impulse. Therefore, the bump higher is considered a temporary move to alleviate the oversold pressures created at the end of May.
Though not anticipated, if EURUSD does move above 1.2154, then we will consider the Elliott Wave pattern to be less bearish and more sideways in nature. Should this occur, it would elevate the potential for an 'X' wave triangle and increases the probability of a near term retest of 1.25.
We have been short EURUSD with our first short entry at 1.2350 and our 2nd short entry at 1.2153 as prices hit our first target of 1.1554 on May 29. The Elliott Wave patterns still point towards lower levels over the medium term though several short-term patterns point to 1.18-1.20.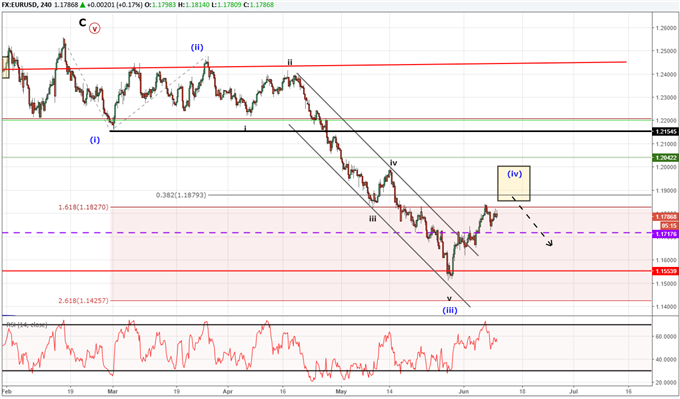 The Elliott Wave pattern for gold prices suggest higher levels to come
Gold prices have traded nowhere fast. Using Elliott Wave Theory to assess the higher probability pattern, it appears as though gold prices are grinding in a sideways small degree wave two. This would suggest that a bullish wave three of an impulse is about to begin.
Once all five waves of the bullish impulse are in place, we believe that will put the final additions on the 'Y' wave of this complex move higher. Therefore, a bullish move above $1365 and possibly into the $1400's is not out of the question for gold.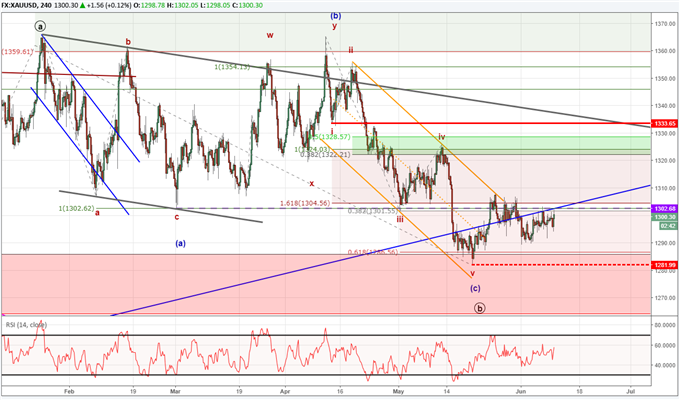 Elliott Wave Theory FAQs
What are Elliott Wave impulse waves?
According to Elliott Wave Theory, the market moves five waves in the direction of the near term trend followed by a three wave counter trend wave. An impulse wave is one of two types of motive waves that denotes trend direction. Therefore, if we see a bearish impulse waveform, then after a three-wave counter trend wave, we can anticipate at least one more bearish motive wave.
If you are seeking further study into Elliott Wave Theory, read about our expert tips in our beginners and advanced trading guides.
After reviewing the guides above, be sure to follow future Elliott Wave articles to see Elliott Wave Theory in action.
What is the biggest mistake traders make?
Regardless of the style of analysis, many traders do lose money because they do not take the time to study the market and the effect of leverage. At DailyFX, we have studied millions of live trades and boiled our study down into a Traits of Successful Traders guide. You will find how leverage and human nature affects our trading so you can be better prepared for the next correction.
Elliott Wave Theory can be applied to a variety of highly liquid markets. FX is one of my favorite markets to apply the Elliott Wave principle. Learn more about trading FX with this guide specifically designed for you.
You might also be interested in…
*What is a triangle pattern in Elliott Wave Theory and how do you trade it?
*Forex Education: Trading Elliott Wave Complex Corrections
—Written by Jeremy Wagner, CEWA-M
Jeremy Wagner is a Certified Elliott Wave Analyst with a Master's designation. Jeremy provides Elliott Wave analysis on key markets as well as Elliott Wave educational resources. Read more of Jeremy's Elliott Wave reports via his bio page.
Communicate with Jeremy and have your shout below by posting in the comments area. Feel free to include your Elliott Wave count as well.
Discuss these markets with Jeremy in Monday's US Opening Bell webinar.
Follow me on Twitter at @JWagnerFXTrader .
A Complete Lack of a Cohesive Government Blights Sterling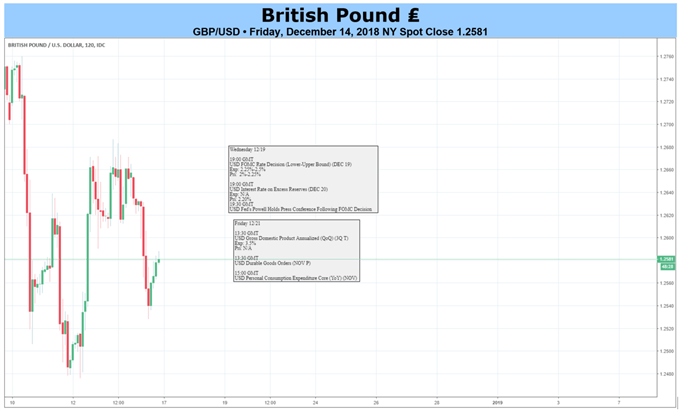 Fundamental Forecast for GBP: Neutral
Sterling (GBP) Talking Points:
No Meaningful Vote. No Leadership. No EU Concessions. No Brexit.

Year-end market conditions make Sterling positions foolhardy.
The DailyFX Q4GBP Forecast is available to download.
In current market conditions, and with the total lack of a cohesive Brexit plan, trading Sterling is nigh on impossible to recommend from a risk- reward stance, leaving our outlook neutral even though the path of least resistance for the British Pound is pointing lower.
Over the past week, the meaningful vote in Parliament for PM May's Brexit plan was cancelled, the Prime Minister won a vote of confidence – although 117 of her party voted against her – and her visit to Brussels to ask for more concessions to help solve the Irish backstop impasse were roundly rejected by the EU.
As we stand there are a few scenarios that may play out in the short-term, nearly all damaging for the British Pound. The calls for the PM to resign may be listened to by Theresa May, unlikely but still a possibility – the opposition may call for her to step-down, more likely but the Labour Party is currently divided on its Brexit stance – the EU offers some meaningful concessions to help the bill get through Parliament, again highly unlikely – no agreement and the UK goes to WTO rules, looking possible – and finally another Brexit Referendum, a view now gaining traction and a real possibility. While a second Brexit Referendum, and a likely win for Remain, would boost Sterling, the run-up to this break with democracy will weigh heavily on the British Pound.
In a nutshell – if a Government is unable to lead and inspire confidence, putting a value on its currency is impossible.
GBPUSD Four-Hour Price Chart (October – December 14, 2018)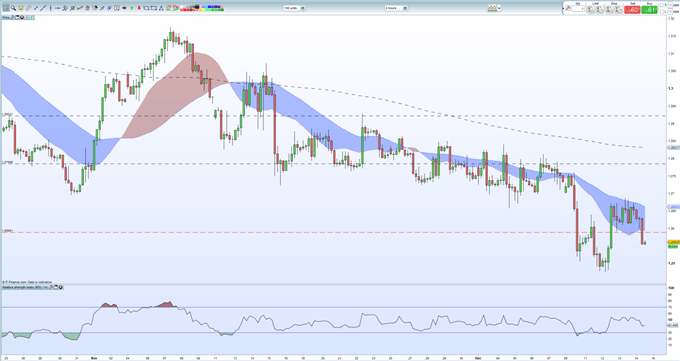 IG Client Sentiment data show 62.8% of traders are net-long GBPUSD. We typically take a contrarian view to crowd sentiment, and the fact traders are net-long suggests that GBPUSD prices may continue to fall. However, the combination of recent daily and weekly positional changes give us a mixed trading bias.
— Written by Nick Cawley, Analyst
To contact Nick, email him at nicholas.cawley@ig.com
Follow Nick on Twitter @nickcawley1
Other Weekly Fundamental Forecasts:
Japanese Yen Forecast – USD/JPY Rate Fails to Test Monthly-High Ahead of Fed Rate Decision
Oil Forecast – Crude Oil Prices Swamped by OPEC Cuts, Global Growth Fears, Fed
Is Gold Posed to Lose its Luster?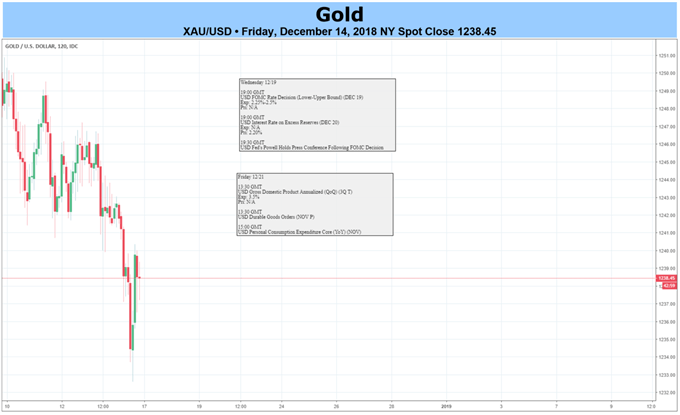 GOLD PRICE FUNDAMENTAL FORECAST: NEUTRAL
Talking Points:
Gold's recent bullish breakout may come under pressure despite strong safe-haven demand

A strong US Dollar notching year-to-date highs to limit further advances in gold

Prospect of a Federal Reserve rate hike pause could shoot the precious metal higher
GOLD PRICE FUNDAMENTAL FORECAST: NEUTRAL
Over the last 5 days of trading, XAUUSD declined 0.72% as investors anxious over slowing global growth sent the US Dollar higher. Although risk-off sentiment should send the precious metal higher, gains in the Greenback overpowered bullish bids for gold. A higher US Dollar makes purchasing gold denominated in America's currency relatively more expensive thus limiting upside.
Looking to next week, focus will shift to the Federal Reserve as markets await the highly anticipated decision by the central bank's Federal Open Markets Committee on monetary policy. Markets are currently pricing a 77 percent chance that the Fed will raise its benchmark policy interest rate for the fourth time this year according to the futures market implied probability.
In general, Gold has an inverse relationship with interest rates due to the precious metal not yielding any cash flows like debt instruments. Higher rates result in weakened demand for the commodity as alternative assets such as US Treasuries provide a higher rate of return. If the Fed surprises markets and pauses next week or makes any material downward change to the Fed's dot-plot, gold could ascend quickly on back of lower future interest rate expectations.
Eyes will also closely watch for the release of several key economic indicators out of America next week. If actual results miss expectations, risk-off sentiment should continue and further boost demand for gold. However, fears over a slowing global economy will incite further rotation of capital from stocks to bonds with investors flocking to the safety of US Treasuries.
For a list of global economic events and data releases, check out our real-time Economic Calendar.
As international buying of Uncle Sam's bonds increases, foreigners must convert their currency into US Dollars. This drives up demand for the Greenback which becomes a headwind for gains in gold due to the inverse relationship between the two assets.
A third key driver to take note of that will determine gold's next move higher or lower will be the performance of the Chinese Yuan. As the damaged Asian economy continues to experience downward pressure amid worsening economic data due to the ongoing trade war with the United States, the Dollar may appreciate further against its Chinese counterpart.
The importance of USDCNY to gold is seen in their strong negative correlation. Trade talks between the world's largest economic powerhouses will largely drive returns for the currencies with the CNY benefiting from any progress President Xi can make with President Trump towards de-escalation tension or reaching a deal.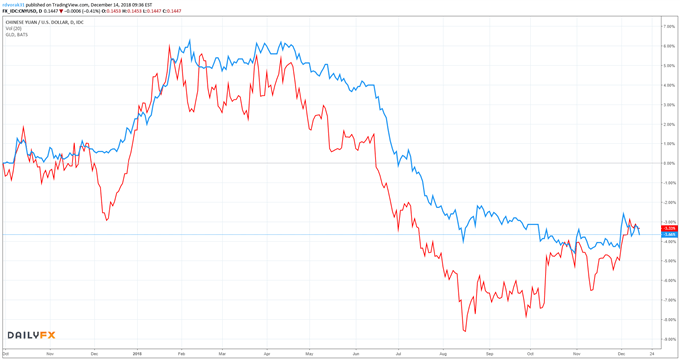 Due to the mixed event risks and waning bullish technical indicators, the forecast for XAU will be neutral over the week of December 17. Take a look at client sentiment for insight on client positioning and trader bearish or bullish biases.
–Written by Rich Dvorak, Junior Analyst for DailyFX
–Follow Rich on Twitter for real time market updates @RichDvorakFX
Other Weekly Fundamental Forecasts:
Japanese Yen Forecast – USD/JPY Rate Fails to Test Monthly-High Ahead of Fed Rate Decision
Oil Forecast – Crude Oil Prices Swamped by OPEC Cuts, Global Growth Fears, Fed
British Pound Forecast – A Complete Lack of a Cohesive Government Blights Sterling
US Dollar Forecast –US Dollar May Rise as the Fed Checks Slide in 2019 Rate Hike Bets
Euro Shorts in Charge on Tri-break
EUR/USD Technical Highlights:
Triangle finally broke, has Euro rolling downhill

November low, Nov '17 t-line initially targeted

Must be cautious once at support, may put in floor
Let us help you. DailyFX has guides ranging from forecasts to trade ideas to education all in one location – DailyFX Trading Guides.
Triangle finally breaks, has Euro rolling downhill
Friday's breakdown finally put the Euro outside of the triangle it had been forming over the course of the past month. It's been an anticipated event, but confirmation was needed first before running with a more aggressive short bias.
Looking lower there is support not too far away. First up is the November low at 11215, followed by the lower trend-line extending over from November of last year; resides around roughly 11180. The way EUR/USD has been trading we'll want to pay close attention to how it reacts once support is met.
The moves over the past few months haven't been sustained for very long and this could be another unsustainable drive lower. With that in mind, from a tactical standpoint if the Euro starts to turn up from one of the aforementioned levels then it may be best to call it a wrap as a quick counter-trend bounce could develop.
If, however, selling pressure increases and a break below support unfolds, then perhaps a little momentum may kick in towards near 11100 or worse. It seems unlikely we will see too much power given not only the Euro's behavior in past months but also because there is only about a week left in the year of full market participation before we go into 'holiday' mode. However, even as such, watch and follow the price action first.
Traders are generally long EUR/USD, see the IG Client Sentiment page to see how this acts as a contrarian indicator and is supportive of lower prices.
EUR/USD Daily Chart (Levels, lines to watch)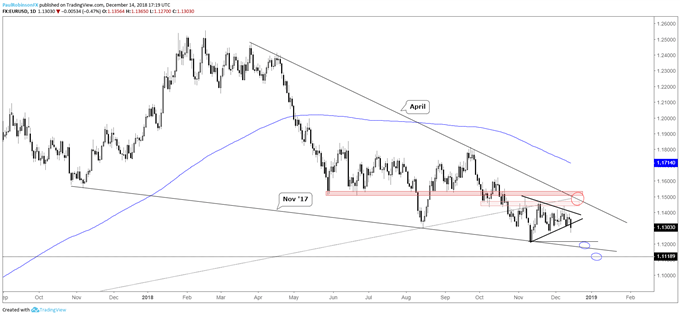 EUR/USD 4-hr Chart (Triangle broke Friday morning)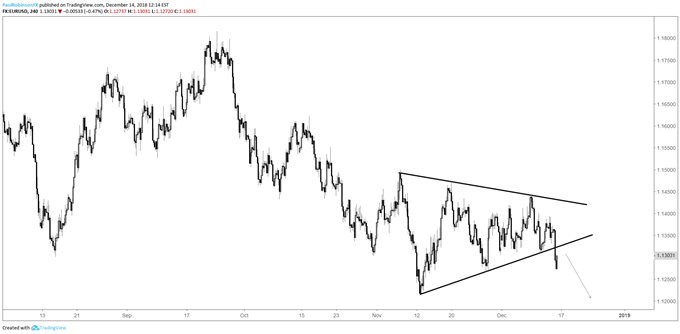 —Written by Paul Robinson, Market Analyst
You can follow Paul on Twitter at@PaulRobinsonFX
Other Weekly Fundamental Forecast:
Australian Dollar Forecast – AUD Prices May Fall Into 2019, AUD/CAD at Risk to Reversal Pattern
British Pound Forecast – Seven Weekly Bear Candles Dominate
US Dollar Forecast – Dollar Hits an 18-Month High as Anti-Currency Demand Fights Liquidity
Equity Forecast – Technical Forecast for Dow, S&P 500, FTSE 100, DAX and Nikkei
Oil Forecast –Crude oil may See Light in Tunnel As Oncoming Train