USD Remains in the Fiscal Cross-Fire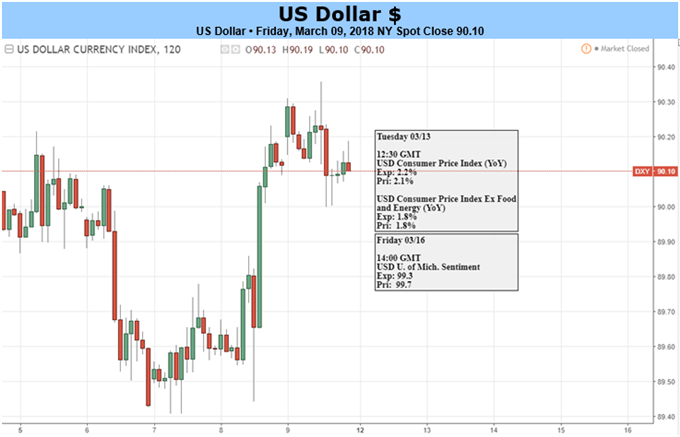 Fundamental Forecast for USD: Neutral
Talking Points:
If you're looking for longer-term analysis on the US Dollar, click here for our Trading Forecasts.
The US Dollar is looking to cap-off a second week of indecisive price action: After last week saw a Doji print around the 90.00 level on DXY, this week's bar is currently showing a spinning top formation around the same price. Despite this back-and-forth, it was actually a rather interesting week of short-term movement in the Greenback. As we opened on Sunday, USD weakness continued to show, extending the declines that had started on the prior Thursday around 'Tariff talk'. That weakness ran into the early-US session on Tuesday morning, at which point a bit of support began to show around 89.40. Prices ran up to test the 90.00 level, but as we've seen in multiple instances over the past six weeks, bullish motivation started to wane on tests above that level and prices pulled back after the Non-Farm Payrolls report.
US Dollar Price Chart: Four-Hour Time-Frame, Back to 90.00 as Range Expands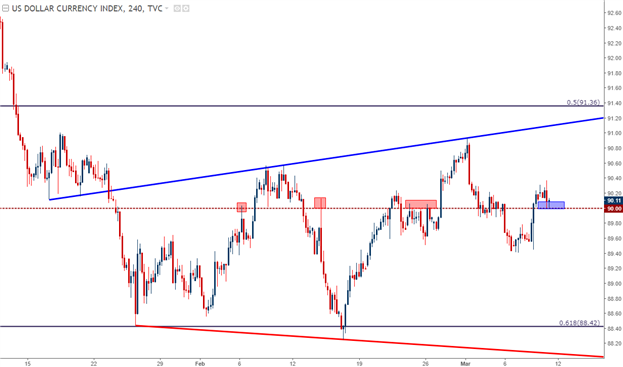 Chart prepared by James Stanley
The big USD-driver for this week was Non-Farm Payrolls, released on Friday to a strong print of +313k versus an expectation of +205k. Normally, a beat of this nature would really grab attention from Dollar bulls attempting to get in-front of higher probabilities for rate hikes in the near-future. And to be sure, we did see those nearby rate expectations firm, as probabilities for a hike at the Fed's March meeting have moved up to 88.8% via CME Fedwatch. But what didn't' come along with that move was the US Dollar, as traders merely used this morning's bump-higher to sell DXY right back down to 90.00. A logical explanation for this weakness was the lagging Average Hourly Earnings in this morning's report, coming in at 2.6% v/s a 2.8% expectation; which runs in stark contrast to last month's surprising 2.9% number that was revised-down to 2.8% this morning. But – US Dollar weakness has been a fairly pervasive theme for over a year now, so there's likely another explanation of what's helping to keep the US Dollar so weak on a longer-term, bigger-picture basis.
US Dollar Price Chart via 'DXY': Down as Much as 15% From 2017 High to 2018 Low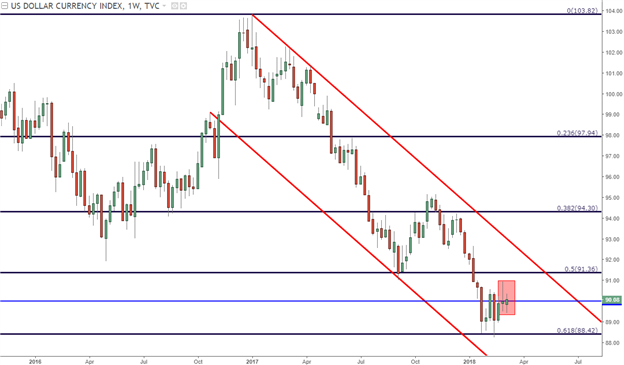 Chart prepared by James Stanley
At this point, markets are pricing in a 34.2% chance of a full four rate hikes out of the Fed this year, with a 73.3% chance of three hikes in 2018. This runs in stark contrast to other Central Banks around the world, with both the European Central Bank and the Bank of Japan both avoiding the topic of rate hikes altogether at this week's rate decisions, continuing with their current full-throttle QE outlays.
Longer-Term USD Weakness
Spot FX markets are forward-looking, just like bond markets or equity markets. Market participants aren't usually going to wait around for a rate hike to begin pricing that in because, frankly, it could already be too late to actually trade the move by the time the hike is announced. So, the fact that we've seen a US Dollar that's lost as much as 15% from last year's high continuing to sell-off, even as the Fed is one of the only games in town on the rate hike front, and this would point to the fact that something else is going on here as market participants are and have been adjusting to the current backdrop.
Last week we looked at a possible explanation for this when we discussed US fiscal policy. The US government is expanding at a fast pace, with $500 Billion in extra spending over the next couple of years along with an extra $1 Trillion in tax cuts over the next ten. The US government runs at a deficit; so to fund these initiatives the Treasury department is going to need to raise funds through debt auctions. These debt auctions will increase the supply of Treasuries, which will pull prices-lower, all factors held equal (supply/demand equilibrium). The lower prices on Treasuries to take into account the new additional supply would also bring along higher yields, much as we've seen so far throughout 2018.
Paul Tudor Jones, the legendary and famed trader and Hedge Fund manager made a comment earlier in February in which he said: "If I had a choice between holding a US Treasury bond or a hot burning coal in my hand, I would choose the coal." This will likely remain as a pertinent theme across global markets in the near-term, and this will probably continue to impact the US Dollar as demand for US Treasuries and, in-turn, demand for the US Dollar lags as driven by US fiscal policy; even in the face of tighter monetary conditions.
US Treasury Yield on 10-Year Notes: Monthly Chart, Fast Approaching Seven-Year High 3.04%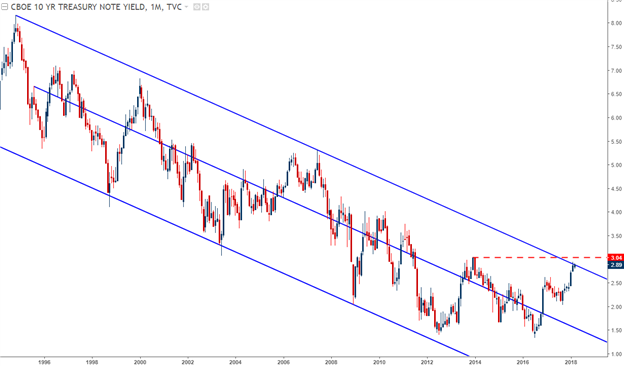 Chart prepared by James Stanley
This is relevant because it's likely a key factor behind the US Dollar's pervasive weakness, even as the Fed is one of the few developed Central Banks actively tightening rates. This is also something that could keep pressure on the Greenback, particularly as there are other Central Banks still actively supporting their respective bond markets via QE programs in both Europe and Japan. If you're at a hedge fund or if you're trading bonds, why take the risks of standing on a slippery slope in US Treasuries when much more optimal conditions are available overseas; at least for now? This also helps to explain why the Euro has been so strong over the past year despite the fact that Yields across the continent remain at extremely low levels.
Next Week's Calendar: High-Impact US Data on Tuesday, Wednesday and Friday
The big item out of the US next week are February inflation figures, set to be released on Tuesday morning. The expectation is for 2.2% annualized on the headline number to go along with 1.8% for Core inflation. Retail sales figures are released the following morning, currently carrying an expectation for a .4% print; and the week closes with U of M Consumer Sentiment. These can each bring some baring on near-term price action, particularly the inflation report as the week after brings the March FOMC rate decision.
DailyFX Economic Calendar: High-Impact US Items for Week of March 12, 2018

Chart prepared by James Stanley
Next Week's Forecast
The fundamental forecast for next week in the US Dollar will be set to neutral. While the longer-term bearish trend remains, along with the possibility for more, the flares of strength that have shown over the past two weeks should not be ignored. Next week brings inflation figures, and the week after that brings the March FOMC rate decision with that widely-expected rate hike. That rate decision will be new Fed Chair Jerome Powell's first at the bank, so this would be a good time to get a read on the new head of the Fed. This could also be an environment ripe for a squeeze for USD-shorts, and this may be an opportune time to wait for rips in order to sell at higher prices.
To read more:
Are you looking for longer-term analysis on the U.S. Dollar? Our DailyFX Forecasts for Q1 have a section for each major currency, and we also offer a plethora of resources on USD-pairs such as EUR/USD, GBP/USD, USD/JPY, AUD/USD. Traders can also stay up with near-term positioning via our IG Client Sentiment Indicator.
— Written by James Stanley, Strategist for DailyFX.com
To receive James Stanley's analysis directly via email, please SIGN UP HERE
Contact and follow James on Twitter: @JStanleyFX
If You Build It, Will They Buy? A Demand Led World
Fundamental Factors Focus:
US optimism peaking, which may mean the risky asset rally has further to run

Aggressive supply of base metals, energy is increasingly dependent on global demand picture

Signs of a 'dollar shortage' that aligns with risk off markets remain absent
Capital flows, business activity, a premium of borrowing costs, and consumer confidence are foundational components of an economy that sees investors rushing into risky assets, and shying away from investments that don't capture the upside.
Optimism Reigns Stateside
Two data points have recently moved to extremes not seen since the kick-off of the Regan economic boom in the early 1980s that saw interest rates and inflation drop alongside tax cuts enacted that boosted confidence and productivity.
3 Measures Of Economic Activities Hitting Multi-Cycle Highs, Recession Unlikely

Data source: Bloomberg, Chart created by Tyler Yell, CMT
The first data point, the Institute for Supply Management (ISM) Manufacturing Business Survey just aligned with the NFIB small business optimism index to hit levels not seen in years. For the Small Business Optimism Index, it recently reached the highest level since 1983 where the ISM hit a 13-year high last month.
Friday morning also saw a 14-year high of the University of Michigan Consumer Confidence reading with an all-time high with the current conditions gauge that measures American's perception of their personal finances hitting an all-time high.
What is worth noting in both cases is that both in the early 80s, and ISM in May 2004 was seen at the early- to mid-point of an economic expansion. Should a similar development be in place, traders should keep their low-probability high-impact scenarios saved for their NCAA March Madness Brackets, and the high-probability mid-impact events applied to investing.
In other words, and as I argue in Ichimoku Charts that Matter, shocks tend to happen in the direction of the trend. Rallies typically don't end with a bang opposing extreme optimism like we see now, but rather, rallies tend to rollover, and the sharp downside moves that make headlines that turn into a bear market often come off a bad news crescendo when investors tend to sell first, and ask questions later.
Currently, we seem to be far away from a rollover as optimism reigns supreme. Also, aside from the 2001/2 recession, peaks in confidence tend to happen early- to mid-cycle favoring an extension of the current risky-asset buying environment.
Unfamiliar with Key FX Fundamental Factors to watch? No worries, I created a primer for you here
You Can't Have Demand without Optimism, and Demand Is up per Oil Data
Two stories in the commodity world that have come to surface in recent months is the aggressive supply of crude oil from US shale producers that is running counter to the plans of OPEC and strategic alliance like Russia to reduce the supply glut.
Another focus has been on supply from China regarding steel and aluminum. The supply remained uncomfortably high for many despite the winter production curbs and enforced reduction and in some cases, halting of supply from 'rogue' metal suppliers. The trade tariff's from US President Trump appear squared on China and Europe, and could cause the supply from China to not be adequately absorbed, and may put pressure on prices if optimism and demand do not stay supported.
However, in Crude's case, at least when looking at IEA projections, demand is making the aggressive supply coming online be quickly absorbed. The monthly IEA report predicted a widening supply deficit forming later this year due to the decline in Venezuela's Oil Production due to their own economic turmoil. The IEA forecast could mean that the global oil inventory surplus would disappear in H2 2018.
While demand is exciting in the short-term, supply is often stickier. Suppliers tend to look at their supply as prophetic, and a fall of demand is often seen, and hoped to be temporary. That is the pickle that global oil producers found themselves in during the 2013-2014 supply build up as demand fell-off and eventually sent Brent Oil to $30/bbl, before a sharp bounce took in early 2016.
Crude Oil And Crude Produce Stockpiles Continue To Fall On Higher Demand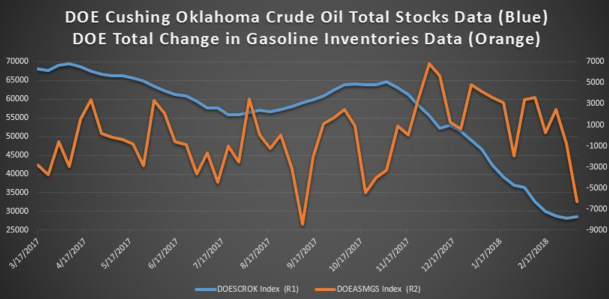 Data source: Department of Energy, Bloomberg
Next Arrow in the Bull's Quiver, No Dollar Shortage in Sight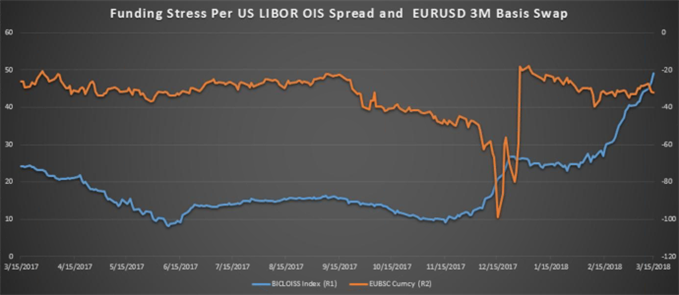 Data Source: Bloomberg
Out of the gates of the Great Financial Crisis was a sharp inverse correlation between the US Dollar and riskier asset price levels. A large factor in this development was the view that there was a US Dollar shortage and demand for haven assets as investors remained unsure of the sustainability of the feeble recovery.
One of the metrics looked at in the financial market is sometimes referred to as the market's plumbing or liquidity around the reserve currency, the US Dollar. The market that is utilized to see 'funding stress' or a 'dollar shortage' is the cross currency basis swap or when a currency from one investor is exchanged for another currency based on swap rates calculated from each country's yield curve.
The chart above shows the rising LIBOR-OIS spread, which indicates a higher interbank borrowing cost over the implied Fed reference rate. While the spread is widening, stress that typically aligns with Dollar strength and a 'dollar shortage,' appears no where insight. The orange line shows the 3M EURUSD 3M cross currency basis swap with sharp downspikes showing funding stress. The lack of funding stress with the stable orange line means that traders looking for an aggressive dollar rally based on the shortage of USD argument could be waiting a while for their anticipated outcome to play out.
As a swap contract, there is no value on initiation, and the market value is based on demand for once currency or another. When looking at the EUR/USD or USD/JPY cross currency basis swap, you can see if a 'dollar shortage' is developing or whether they were plenty of dollar in the system such that the swap shows less of a demand for US Dollars.
Given the typical inverse correlation to the US Dollar and risky assets, a weaker dollar or lack of dollar supply like the chart above shows could mean that the risky asset rally has room to run as the other points make sense.
New to FX trading? No worries, we created this guide just for you.
—Written by Tyler Yell, CMT
Tyler Yell is a Chartered Market Technician. Tyler provides Technical analysis that is powered by fundamental factors on key markets as well as t1rading educational resources. Read more of Tyler's Technical reports via his bio page.
Communicate with Tyler and have your shout below by posting in the comments area. Feel free to include your market views as well.
Discuss this market with Tyler in the live webinar, FX Closing Bell, Weekdays Monday-Thursday at 3 pm ET.
Talk markets on twitter @ForexYell
US Dollar on Offensive Before Fed Rate Decision. Will it Last?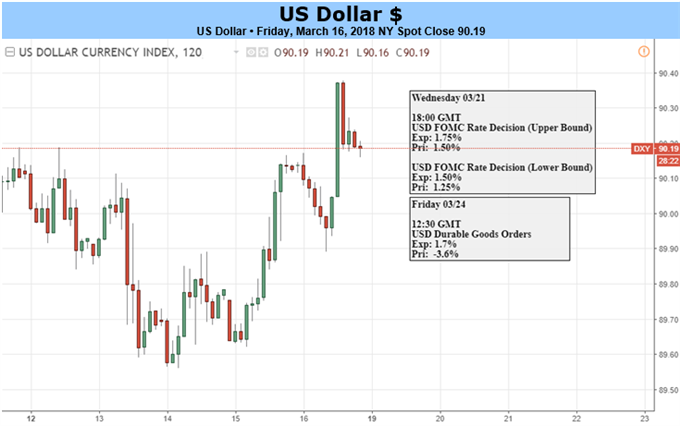 Fundamental Forecast for the US Dollar: BULLISH
US Dollar fell on in-line CPI data, then rallied into Fed meeting

Pre-emptive gains hint markets worried tightening will accelerate

Policy bets tellingly dwarfing news-flow from Washington DC
Join our webinar for live coverage of the FOMC rate decision and its impact on the US Dollar!
A week marked by seesaw price action ended with a spirited push higher for the US Dollar. The rally was especially notable in that it occurred without an obvious fundamental catalyst. The week's top data point of interest was February's CPI print. The headline inflation rate printed exactly in line with forecasts at 2.2 percent, which eased worries about Fed rate hike acceleration and sent the greenback lower. A weekly bottom started taking shape a mere five hours later however, from which it rallied into Friday's close.
The recovery tracked a parallel rise in front-end US Treasury bond yields. That this occurred after the influence of the CPI release subsided appears telling. The next bit of noteworthy event risk would not come until the FOMC monetary policy announcement on March 21. After newly minted Fed Chair Jerome Powell led a hawkish pivot in officials' rhetoric in recent weeks, it seems entirely reasonable to suspect that it may mark a pickup in the expected pace of stimulus withdrawal. The Dollar's rise then look like pre-positioning.
The priced-in rate hike trajectory implied in Fed Funds futures for 2018 has stabilized around 75 basis points, matching the Fed's own forecast. Investors' view for 2019 remains modest however. One rate hike is expected and the odds of a second are seen as worse than even. Nothing is on the books for 2020. That leaves plenty of scope for the Federal Reserve to signal a more assertive disposition. The first post-announcement press conference with Chair Powell presents a further opportunity to reinforce the pivot.
The US currency's preemptive rally telegraphs the markets' concern with such an outcome. Momentum will probably slow ahead of the announcement, with traders unwilling to commit until after it hits the wires. When that happens, fireworks are likely. The Fed's primacy in shaping trends coupled with a tame docket in the days thereafter also means follow-through faces few obstacles. Indeed, short work was made of Rex Tillerson's actual ouster from the Trump administration and H.R. McMaster's rumored one last week.
FX TRADING RESOURCES
— Written by Ilya Spivak, Sr. Currency Strategist for DailyFX.com
To contact Ilya, use the comments section below or @IlyaSpivakon Twitter
To receive Ilya's analysis directly via email, please SIGN UP HERE
GBP: From Famine to Feast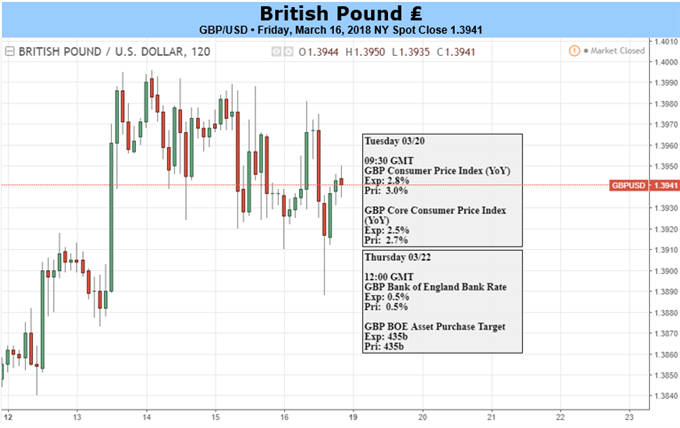 Talking Points:
UK data releases include, Inflation, jobs and wages

Bank of England MPC announcement

EU Council meeting on the EU/UK transition period.
Fundamental Forecast for GBP: Neutral
While we remain neutral on Sterling at this current point, GBP may be in for a rocky ride next week with market moving data points including inflation, jobs and wages as well as the latest monetary policy announcement from the Bank of England. And just to round the week off, the EU Council will meet on Thursday/Friday to discuss the latest EU/UK transition period documents with UK businesses waiting for the outcome.
The latest inflation and wages data may well see the gap between the two narrow further – inflation expected to slip lower/wages expected to tick higher – giving the UK consumer more money in their pocket. The recent negative real wage gap has weighed on the UK retailers in particular and any narrowing of the gap may bring welcome relief to the high street.
The Bank of England is expected to leave all monetary policy levers untouched on Thursday but any change in voting pattern on rate hikes, or hawkish commentary in the accompanying statement may cement a rate hike at the May meeting, boosting the British Pound.
The UK and the EU are targeting next week's EU Council meeting to finalise a Brexit transition period, giving government and businesses the clarity the require to build for the future. While negotiations have taken a slight turn for the better of late, with both sides adopting a more conciliatory tone, there possibility of a last-minute hitch is still very real, an event that would hit both GBP and EUR lower.
GBPUSD Price Chart Three Hour Timeframe (February 27 – March 16, 2018)
— Written by Nick Cawley, Analyst.
You can contact the author via email at nicholas.cawley@ig.com or via Twitter @nickcawley1.