Trade Wars Feed My Greatest Long-Term Concern for the Dollar
Talking Points:
The US Dollar is the most heavily used currency in the world by a very wide margin, but this position isn't permanent

Trade wars

provoked and escalated by the United States could readily alter the flow of capital away from the US system

Given the aggressive US actions against its peers and a collective response, the Dollar risks a systemic reduction in its use
See how retail traders are positioning in EUR/USD and other key Dollar pairs. Retail traders are much shorter-term focused in their positions, giving important contrast to long-term risks. See the evolution of positioning using the DailyFX speculative positioning data on the sentiment page.
The US Dollar Isn't Infallible, but It Is Robust
There is little doubt that the US Dollar is robust. The currency has grown to be an undisputed benchmark of the currency world and is anchor for the global financial system in its own right. There are a number of factors supporting this elevated status including economic girth, global integration and even habit. On the economic side, the United States represents the largest economy in the world by a large margin. This factor's influence is rather straight forward in that its scale can prove a significant boon or subsequent burden to trade partners through its remarkable consumption of exports. However, there is also a financial side to that aspect as economic depth creates a more robust buffer to market disruption. That characteristic is best observed during periods of intense risk aversion where global investors flee to US Treasuries and Money Market assets. For global integration, the use of the Greenback as a base currency in exchanges or direct purchase of commodities is without equal. That in turn leads central banks to expand its reserves of the USD. Even the habits of global investors contribute to reinforce the currency's status. As fear rises across the globe, capital flees to the safety of the US markets as it has in the past ostensibly for liquidity.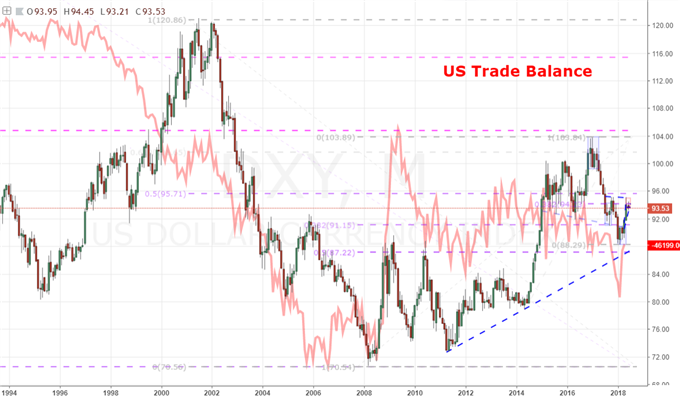 Trade Wars Represent a Systemic Risk for the Dollar
There are many things that could theoretically challenge the position and use of the US currency in the global system. A global war that arises from a diplomatic blunder, an internal political crisis that sends capital rushing for the exits or debt crisis emerging from unchecked liabilities are all technically possible but improbable. Previously, I would have considered the United States withdrawing from its position at the center of global trade and commerce equally as unlikely, but that has clearly changed over the past months. The pursuit of tariffs against China represents a considerable risk for the US as the second largest economy and largest foreign holder of Treasuries can exert considerable influence. However, far more troubling is the country's pressure on close allies. Following through on the steel and aluminum tariffs against the European Union, Canada and Mexico represents a remarkably belligerent stance on trade relations. What is strategically problematic for the US with this push is the likelihood that a greater segment of the world market will work together to circumvent and perhaps even penalize the instigator for this unwanted pressure.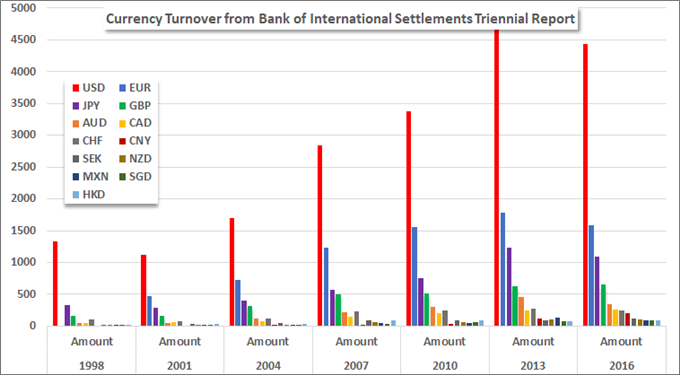 What Does a Loss of Reserve Status Mean?
Whether the intention is to simply compensate for the economic damage done to their country or to retaliate, the net effect will of a response by the United States peers and competitors will be a reduction in the purchase of Dollars. That is natural byproduct of a reduction in consumption of US goods that require the local currency. Yet, a more troubling side effect will be the establishment of direct connections to other global economies that can provide necessary substitutes and are seen as easier and more stable to deal with. China is already a great example of this opportunism as it continues to expand connection to global economies as it diversifies away from the US. As these various connections are made through natural trade of goods and services, financing and investment naturally follows. That changes the mix of needs for currency reserves and in any combination is a diversification away from the US Dollar. It is unlikely that the Greenback will relinquish its top status as it has considerable premium to burn, the government could steer out of its policies should they deliver too much pain and the agenda will naturally shift through political cycles. However, losing ground on this front carries serious ramifications for a currency too often considered incontrovertible.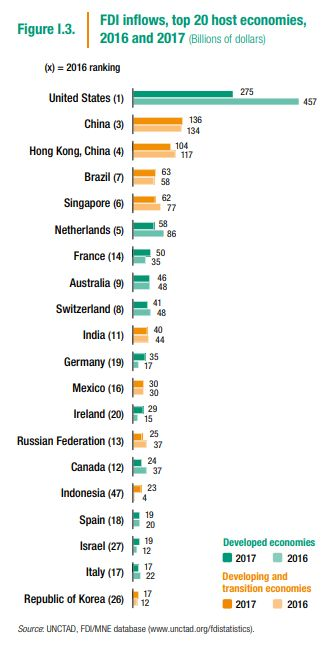 A Complete Lack of a Cohesive Government Blights Sterling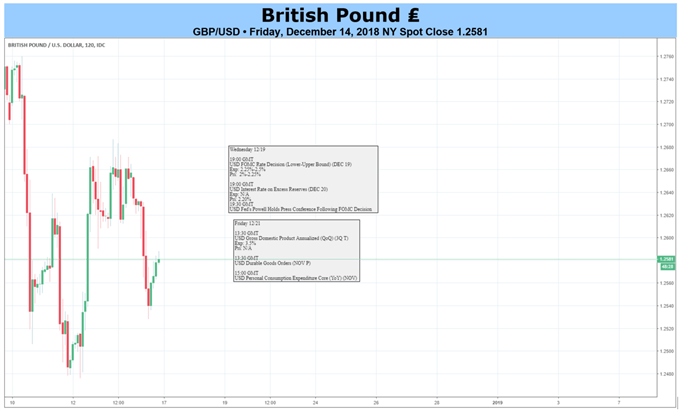 Fundamental Forecast for GBP: Neutral
Sterling (GBP) Talking Points:
No Meaningful Vote. No Leadership. No EU Concessions. No Brexit.

Year-end market conditions make Sterling positions foolhardy.
The DailyFX Q4GBP Forecast is available to download.
In current market conditions, and with the total lack of a cohesive Brexit plan, trading Sterling is nigh on impossible to recommend from a risk- reward stance, leaving our outlook neutral even though the path of least resistance for the British Pound is pointing lower.
Over the past week, the meaningful vote in Parliament for PM May's Brexit plan was cancelled, the Prime Minister won a vote of confidence – although 117 of her party voted against her – and her visit to Brussels to ask for more concessions to help solve the Irish backstop impasse were roundly rejected by the EU.
As we stand there are a few scenarios that may play out in the short-term, nearly all damaging for the British Pound. The calls for the PM to resign may be listened to by Theresa May, unlikely but still a possibility – the opposition may call for her to step-down, more likely but the Labour Party is currently divided on its Brexit stance – the EU offers some meaningful concessions to help the bill get through Parliament, again highly unlikely – no agreement and the UK goes to WTO rules, looking possible – and finally another Brexit Referendum, a view now gaining traction and a real possibility. While a second Brexit Referendum, and a likely win for Remain, would boost Sterling, the run-up to this break with democracy will weigh heavily on the British Pound.
In a nutshell – if a Government is unable to lead and inspire confidence, putting a value on its currency is impossible.
GBPUSD Four-Hour Price Chart (October – December 14, 2018)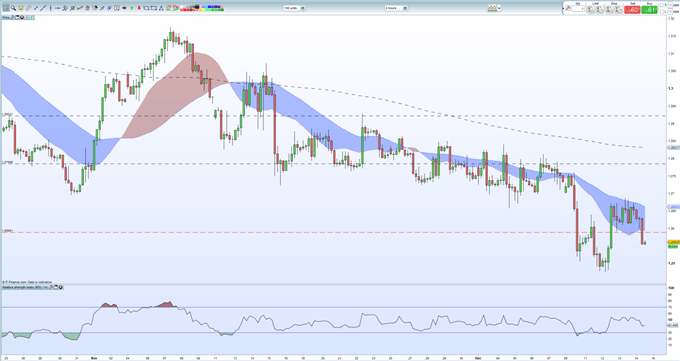 IG Client Sentiment data show 62.8% of traders are net-long GBPUSD. We typically take a contrarian view to crowd sentiment, and the fact traders are net-long suggests that GBPUSD prices may continue to fall. However, the combination of recent daily and weekly positional changes give us a mixed trading bias.
— Written by Nick Cawley, Analyst
To contact Nick, email him at nicholas.cawley@ig.com
Follow Nick on Twitter @nickcawley1
Other Weekly Fundamental Forecasts:
Japanese Yen Forecast – USD/JPY Rate Fails to Test Monthly-High Ahead of Fed Rate Decision
Oil Forecast – Crude Oil Prices Swamped by OPEC Cuts, Global Growth Fears, Fed
Is Gold Posed to Lose its Luster?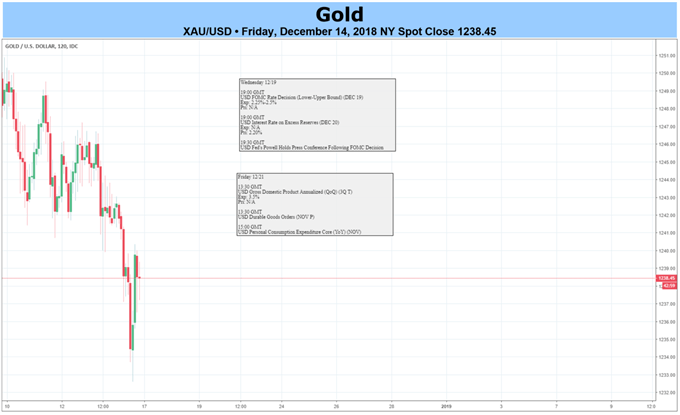 GOLD PRICE FUNDAMENTAL FORECAST: NEUTRAL
Talking Points:
Gold's recent bullish breakout may come under pressure despite strong safe-haven demand

A strong US Dollar notching year-to-date highs to limit further advances in gold

Prospect of a Federal Reserve rate hike pause could shoot the precious metal higher
GOLD PRICE FUNDAMENTAL FORECAST: NEUTRAL
Over the last 5 days of trading, XAUUSD declined 0.72% as investors anxious over slowing global growth sent the US Dollar higher. Although risk-off sentiment should send the precious metal higher, gains in the Greenback overpowered bullish bids for gold. A higher US Dollar makes purchasing gold denominated in America's currency relatively more expensive thus limiting upside.
Looking to next week, focus will shift to the Federal Reserve as markets await the highly anticipated decision by the central bank's Federal Open Markets Committee on monetary policy. Markets are currently pricing a 77 percent chance that the Fed will raise its benchmark policy interest rate for the fourth time this year according to the futures market implied probability.
In general, Gold has an inverse relationship with interest rates due to the precious metal not yielding any cash flows like debt instruments. Higher rates result in weakened demand for the commodity as alternative assets such as US Treasuries provide a higher rate of return. If the Fed surprises markets and pauses next week or makes any material downward change to the Fed's dot-plot, gold could ascend quickly on back of lower future interest rate expectations.
Eyes will also closely watch for the release of several key economic indicators out of America next week. If actual results miss expectations, risk-off sentiment should continue and further boost demand for gold. However, fears over a slowing global economy will incite further rotation of capital from stocks to bonds with investors flocking to the safety of US Treasuries.
For a list of global economic events and data releases, check out our real-time Economic Calendar.
As international buying of Uncle Sam's bonds increases, foreigners must convert their currency into US Dollars. This drives up demand for the Greenback which becomes a headwind for gains in gold due to the inverse relationship between the two assets.
A third key driver to take note of that will determine gold's next move higher or lower will be the performance of the Chinese Yuan. As the damaged Asian economy continues to experience downward pressure amid worsening economic data due to the ongoing trade war with the United States, the Dollar may appreciate further against its Chinese counterpart.
The importance of USDCNY to gold is seen in their strong negative correlation. Trade talks between the world's largest economic powerhouses will largely drive returns for the currencies with the CNY benefiting from any progress President Xi can make with President Trump towards de-escalation tension or reaching a deal.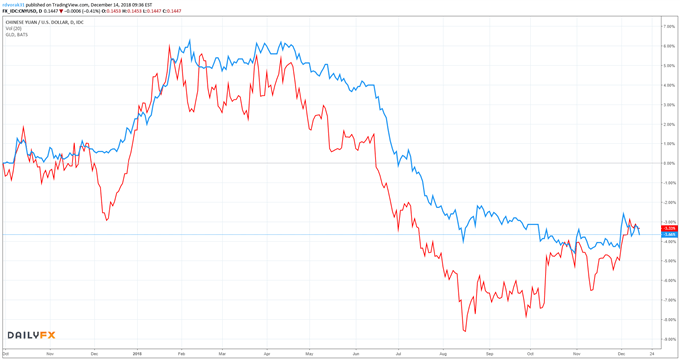 Due to the mixed event risks and waning bullish technical indicators, the forecast for XAU will be neutral over the week of December 17. Take a look at client sentiment for insight on client positioning and trader bearish or bullish biases.
–Written by Rich Dvorak, Junior Analyst for DailyFX
–Follow Rich on Twitter for real time market updates @RichDvorakFX
Other Weekly Fundamental Forecasts:
Japanese Yen Forecast – USD/JPY Rate Fails to Test Monthly-High Ahead of Fed Rate Decision
Oil Forecast – Crude Oil Prices Swamped by OPEC Cuts, Global Growth Fears, Fed
British Pound Forecast – A Complete Lack of a Cohesive Government Blights Sterling
US Dollar Forecast –US Dollar May Rise as the Fed Checks Slide in 2019 Rate Hike Bets
Euro Shorts in Charge on Tri-break
EUR/USD Technical Highlights:
Triangle finally broke, has Euro rolling downhill

November low, Nov '17 t-line initially targeted

Must be cautious once at support, may put in floor
Let us help you. DailyFX has guides ranging from forecasts to trade ideas to education all in one location – DailyFX Trading Guides.
Triangle finally breaks, has Euro rolling downhill
Friday's breakdown finally put the Euro outside of the triangle it had been forming over the course of the past month. It's been an anticipated event, but confirmation was needed first before running with a more aggressive short bias.
Looking lower there is support not too far away. First up is the November low at 11215, followed by the lower trend-line extending over from November of last year; resides around roughly 11180. The way EUR/USD has been trading we'll want to pay close attention to how it reacts once support is met.
The moves over the past few months haven't been sustained for very long and this could be another unsustainable drive lower. With that in mind, from a tactical standpoint if the Euro starts to turn up from one of the aforementioned levels then it may be best to call it a wrap as a quick counter-trend bounce could develop.
If, however, selling pressure increases and a break below support unfolds, then perhaps a little momentum may kick in towards near 11100 or worse. It seems unlikely we will see too much power given not only the Euro's behavior in past months but also because there is only about a week left in the year of full market participation before we go into 'holiday' mode. However, even as such, watch and follow the price action first.
Traders are generally long EUR/USD, see the IG Client Sentiment page to see how this acts as a contrarian indicator and is supportive of lower prices.
EUR/USD Daily Chart (Levels, lines to watch)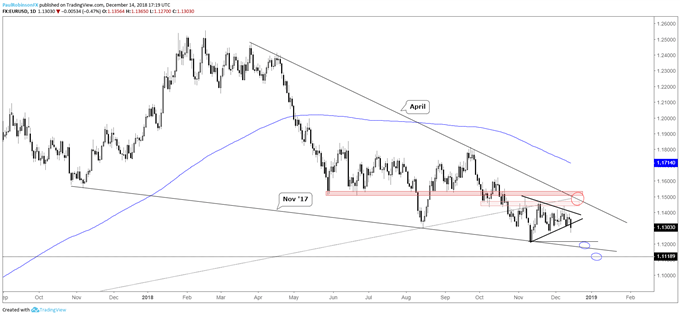 EUR/USD 4-hr Chart (Triangle broke Friday morning)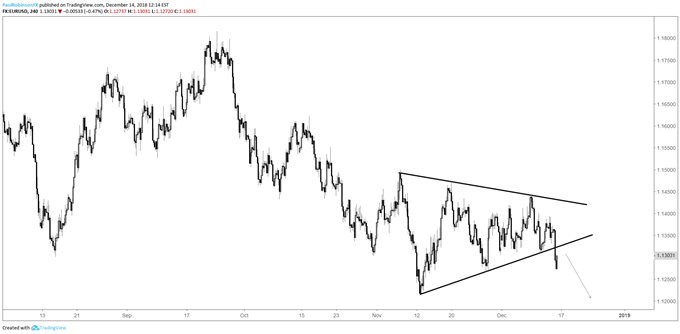 —Written by Paul Robinson, Market Analyst
You can follow Paul on Twitter at@PaulRobinsonFX
Other Weekly Fundamental Forecast:
Australian Dollar Forecast – AUD Prices May Fall Into 2019, AUD/CAD at Risk to Reversal Pattern
British Pound Forecast – Seven Weekly Bear Candles Dominate
US Dollar Forecast – Dollar Hits an 18-Month High as Anti-Currency Demand Fights Liquidity
Equity Forecast – Technical Forecast for Dow, S&P 500, FTSE 100, DAX and Nikkei
Oil Forecast –Crude oil may See Light in Tunnel As Oncoming Train