Top economist is on alert after jobs growth hits a 2011 level
Wilmington Trust's Luke Tilley is worried a bearish trend in the employment numbers will hurt the economy's strongest part: consumers.
According to the firm's chief economist, the U.S. is seeing its lowest year-over-year jobs growth since 2011, which was just two years into the economic recovery.
"Things are slowing down," he told CNBC's "Trading Nation" on Monday. "Any time you see something that's first time since 2011, it really gets your attention."
Tilley, a former economic advisor to the Philadelphia Fed, stresses the issue in a nonfarm payrolls chart.
"Not only have we had a slowdown in the month-over-month job growth, we also had an announcement from the Bureau of Labor Statistics that they're going to be revising downward the growth from 2018 and 2019 down by about half a million jobs," he said. "If you incorporate that in the current data, we have a slowdown to the slowest job growth in year over year since that we've had since 2011."
Tilley mostly blames the U.S.-China trade war for the worrisome numbers — not a late economic cycle phenomenon.
"The next round of tariffs on imports from China are going to fall on the consumer. We know that the consumer is the strongest part of the economy," he said.
The Federal Reserve reported Monday that July consumer borrowing increased at its fastest pace in two years. The activity, which was driven by a leap in credit card use, is a sign consumers are spending strongly.
But until there's a resolution on the trade front, Tilley suggests tariff pressure could overcome consumers and push recession risks higher. If the Dec. 15 round of China tariffs are officially implemented, he warned, they will have painful consequences on spending.
"There are no real amount of Fed cuts that could in our view avert a recession if we continue to amp up those trade and tariffs," Tilley said. "We do view the Fed as doing its part to help, but it's not really the right medicine for what's ailing the patient right now."
Roku could fall another 30% before finding a bottom, chart suggests
The streaming wars may have claimed a new victim.
Roku shares plummeted nearly 30% last week, its worst weekly performance stretching to its 2017 IPO.
The streaming platform stock was pummeled Friday after Pivotal Research slapped a sell rating and $60 price target on it, fearing a rush of competition in the space. It was crushed days earlier after CNBC owner Comcast announced it would offer a free streaming box to its internet customers.
It could get even worse, according to Craig Johnson, chief market technician at Piper Jaffray.
Roku has "violated the uptrend support line off those April lows of this year. You've got some support that comes in at $113. But purely based upon the charts, your best support comes in all the way back down at the 200-day moving average. So you can see the stock trade back down to $81, maybe even $75," Johnson said Friday on CNBC's "Trading Nation."
A move down to $75 marks 30% downside from current levels. It has not traded at that price since May.
"The risk/reward isn't favorable. Even though the stock is up, it has sold off quite a bit in here recently. I still think you got about 30% downside and maybe a relief rally of 7% upside, so I'd be selling into this move," said Johnson.
Quint Tatro, founder of Joule Financial, does not see Pivotal's note on Roku as the stock's death knell.
"Obviously, the stock got way overheated, trading 25 times sales, but [Pivotal's] rationale regarding losing market share I don't agree with. You have to understand, this is a cord-cutting product so their whole rationale is that the cable companies are going to offer their own device for free in order to compete. I'm a Roku user. I own six of them in our home and office. I have not had cable for years so I would not switch to a cable device," Tatro said on the show.
Tatro says a pullback in Roku's share price to 14 to 15 times sales, around $100, would make him a buyer. Roku would need to fall 7% from Friday's close to get to that level.
Disclosure: Comcast is the owner of NBCUniversal, parent company of CNBC and CNBC.com.
The market rotation this month may have been driven by a technicality
A trader works at the New York Stock Exchange in New York.
Wang Ying | Xinhua News Agency | Getty Images
What exactly happened during the "once in a decade" stock market rotation earlier this month that rocked investors? It might've just been a one-off technical move and not based on fundamentals.
A huge rotation out of momentum into value names took place suddenly last week. Many read the phenomenon as a warning sign as stocks with superior growth have led the market's bull run in recent years and said a rebound in interest rates was the catalyst. However, the reversal in momentum, which seemed to abate this week, could be explained by a sudden stop in tax loss harvesting, some on Wall Street said.
The idea is that investors often sell losing stocks to lower their tax bill from the capital increases, a technical move that's quintessential of a momentum trade — chasing winners and dumping losers. The amount of such activity might have decreased significantly last week due to speculations the Trump administration would pass a bill to reduce capital-gain taxes, therefore reducing the incentive to sell their losers.
"It's quite possible some of the dominant robo advisors could have assumed that the U.S. administration would indeed follow through with its proposal on Sept. 9, and decided to change their optimization to take this into account," Barclay's head of equity derivatives strategy Maneesh Deshpande said in a note on Wednesday.
President Donald Trump earlier this month floated a proposal to tie capital gains taxes to the inflation rate, which could lower the taxes investors pay on profits from selling assets. He eventually ruled out such a plan on Sept. 11. But the discussion around the proposal last week coincided with the change in stock leadership that shocked many investors.
Tax loss harvesters might have stopped selling losers and adding winners on the prospect that capital-gains taxes would go down, which could make tax loss selling less beneficial. Such a change could have caused the downturn in momentum due to less selling of falling stocks and less buying of rising names.
The amount of active tax loss harvesting has ballooned over the years as robo-advisers, which automatically allocate assets in a tax efficient way, gained popularity on Main Street. Robo-advisers now manage about $1 trillion assets, up from $240 billion in 2007, according to Barclays.
"Of course, it is also entirely possible that some other investors would have put on the trade in anticipation of such a proposal," Deshpande said.
The iShares S&P 500 Value ETF hit its highest level since January 2018 on Sept. 11 as the rotation hit its pinnacle.
Value, cyclical companies with low prices relative to earnings and book values tend to be sensitive to economic growth. However, embracing the group without a material change in the economy doesn't make a lot of sense, analysts warned.
"Absent an improvement in underlying economics, we believe that the recent shift in leadership is unlikely to persist," Jonathan Golub, chief U.S. equity strategist at Credit Suisse said in a note Monday.
'Game of Thrones' ends run with best drama award, 59 total Emmy Awards
D. B. Weiss (C, speaking), David Benioff (3rd L) and cast and crew of 'Game of Thrones' accept the Outstanding Drama Series award onstage during the 71st Emmy Awards at Microsoft Theater on September 22, 2019 in Los Angeles, California.
Kevin Winter | Getty Images Entertainment | Getty Images
Despite mixed fan and critic reactions to the final season of "Game of Thrones," the eight-season epic took home the top prize in the drama category at the Emmy Awards on Sunday.
Closing out the 71st annual television awards ceremony, David Benioff and D.B. Weiss thanked creator George R. R. Martin for entrusting his book series to the young producers more than a decade ago and praised the cast and crew for their work on the program.
Since 2011, HBO's "Game of Thrones" has garnered 160 Emmy nominations and taken home 59 prizes for everything from acting and editing to special effects and sound mixing.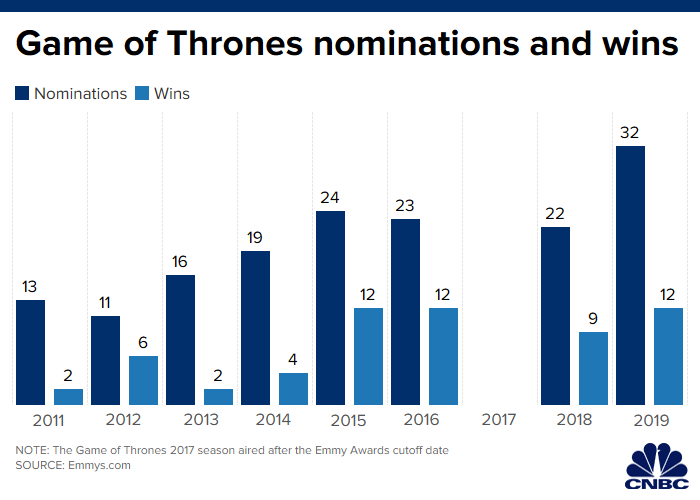 On Sunday, the program earned two Emmys, one for outstanding supporting actor, which went to Peter Dinklage for his portrayal of Tyrion Lannister, and one for outstanding drama.
Earlier in the month, "Game of Thrones" won 10 additional awards during the Creative Arts Emmy ceremony.
"Game of Thrones" final award tally falls short of the 67 Emmys that "Saturday Night Live" has accrued over its 44 seasons. "SNL" earned two statues on Sunday, one for outstanding variety sketch series and one for outstanding directing.
The final season was widely criticized by fans who felt the pacing and its treatment of previous character developments were not up to par. Still, the show continued to have record-breaking viewership.
Each episode, save for one, topped viewer counts from the season seven finale, which was the series high prior to season eight's release.
Disclosure: Comcast is the parent company of NBCUniversal and CNBC.