This S&P 500 chart just sent a screaming sell signal—how to trade it
Stocks are sending a sell signal.
So says widely followed strategist Sven Henrich, founder and lead market strategist at NorthmanTrader, who told CNBC's "Fast Money" on Thursday that one S&P 500 chart is showing the market heading for a major drop.
Many market watchers have taken notice of the technical "megaphone" pattern the S&P has been forming since mid-2018, a formation made during times of heightened volatility that is also known to some as a broadening wedge.
Digging deeper, Henrich discovered a new element forming within the megaphone: an ascending triangle. Technical analysts use ascending triangles to track uptrends and determine the direction of a security depending on which way it breaks out of the pattern.
"What happened in August is that rising wedge actually broke to the downside," Henrich said. "That's kind of your … classic warning sign. And so markets will have to repair that, or face risk of further downside to come."
To "repair" the trend, in Henrich's book, the S&P would have to break above the upper trend line of its megaphone pattern, make that trend line its new floor of support and then, potentially, enjoy a "massive rally."
But there's still a lot of room for error, the strategist warned.
"What we're looking at here short term is there's a possibility the VIX goes up to 28-30" in the coming months, he said, referring to the CBOE Volatility Index, also known as the stock market's "fear gauge."
"There's currently a pattern on the VIX that suggests that is a distinct possibility. We may have a buyable dip," Henrich said. "Otherwise, with a break of 2,700, for example, you're starting to risk that this pattern goes active. And the ultimate target [on] that one is 2,100."
That would represent a nearly 28% drop for the S&P from its Friday levels. And while that sounds dramatic, Henrich said the market is actually already offering some support for this theory.
"Ironically, that's kind of what the bond market's been signaling. The 10-year [U.S. Treasury yield is] already back to the levels of the U.S. election in 2016, " he said. "You have nine major economies around the globe already either in recession or at the verge of a recession."
That's what's been causing the increasingly "violent" swings in the stock market, and the longer the U.S.-China trade debacle drags on, the riskier the environment gets, Henrich warned.
"I think the market is getting impatient," he said. "The market wants this resolved, and to the extent that this, again, gets pushed into next year, perhaps, I think markets will lose patience as we see Europe, for example, overtly flirting … with recession at this point."
Worse, if global central banks continue to "intervene when markets [get] into any sort of trouble" with accommodative monetary policy, their ability to step in during a full-fledged crisis may become muted, if not ineffective, Henrich said.
"The Fed actually is cutting rates here with financial conditions being the loosest in 25 years. It's unfathomable. When you have loose financial conditions, typically, central banks raise rates," he said. "What are they trying to accomplish here by going even looser than what we've seen before?"
"Look at the housing data you're getting with mortgage apps," he said. "With yields collapsing, the 30-year making all-time lows, we don't really see any growth here in the housing market. So, what's the end game here in terms of efficacy? And I worry that, obviously, we are reaching a point where central banks can only do so much."
Jim Cramer's 'Mad Money' Recap & Stock Picks Sept. 20, 2019
CNBC's Jim Cramer take a look at the week ahead in stock investing.
The "Mad Money" host explains why he has a good feeling about new iPhone sales in China.
He sits down with the CEO of cloud-based cybersecurity provider Zscaler to get an understanding of the competitive landscape.
Eye on the market: Ignore the Fed talk next week
Two conflicting forces are working to influence the market and the "bad set" happened to win out on Friday, CNBC's said.
China's trade delegation decided to cut short its trip to Washington for trade talks with the United States. The major averages all finished the session down less than 1% as it seemed unlikely the country would resume buying goods from American farmers.
Looking past parts of the economy implicated in the U.S.-China trade war, employment is strong and domestic companies without Chinese exposure continue to have a positive impact, Cramer said.
In the week ahead, the "Mad Money" host advised viewers not to pay attention to Federal Reserve reactions and to realize that the strong domestic economy and internationally-oriented economy are both balancing "on a knife's edge."
"That's the right prism to use if you want to understand this market," he said.
Projecting iPhone sales and the market's reaction
A customer inspects two Apple iPhones at an Apple Store in Shanghai, China.
Qilai Shen | Bloomberg | Getty Images
Cramer is bullish about 's iPhone potential in China.
The tech titan has been a focal point of the trade war between the United States and China, but the dispute reportedly has not damped Chinese consumer interest in the latest iPhone launch that hit stores worldwide on Friday. Demand for the cheaper of the three iPhone 11 models in China has been .
"Sure, the trade war's taking its toll on business … it's just not taking its toll where it was supposed to," the host said. "That's why I'm a lot less worried about how the iPhone 11 will sell in China … I'm actually excited about Apple's prospects in the People's Republic."
AbbVie vs. Bristol-Myers — Who made the best acquisition?
A trader works by the post that trades AbbVie on the floor of the New York Stock Exchange.
Brendan McDermid | Reuters
A war of words heats up as Zscaler, Palo Alto Networks spar for clients
Jay Chaudry, founder and chief executive officer of Zscaler Inc.
David Paul Morris | Bloomberg | Getty Images
Zscaler CEO Jay Chaudhry shrugged off any worries of stiff competition from rival Palo Alto Networks.
"You know, when paradigm shift takes place, incumbent and legacy vendors are often displaced, Chaudhry said in a one-on-one with Cramer. "They feel the pain and they try to attack everyone,"
Earlier this month, Palo Alto executives made comments to shareholders that sent Zscaler's stock down nearly 5%. Leadership at the firewall provider said "We displaced" Zscaler as a supplier to a Fortune 50 U.S. retailer and a "major" health care provider in Europe. Palo Alto also took aim at Symantec, and .
Shares of Zscaler are down more than 23% since that day, according to FactSet. The stock, however, is up more than 31% this year.
Cramer's lightning round
In Cramer's lightning round, the "Mad Money" host zips through his thoughts on callers questions on their favorite stock picks.
Thermo Fisher: "Oh my, can't get a better company."
Kratos Defense and Security Solutions: "That's O.K. I like that L3harris more … which I think is actually going to get a lot of business, by the way. I genuinely believe that they're going to get a lot of business with Saudi Arabia because they have the best radar stuff."
: "I got to see how this thing went from zero to hero because I used to think it was a bow wow, so I've got to come back with more information. I don't want to let you down."
Bitcoin and S&P 500 are heading to new all-time highs
Talk about a bitcoin bull case.
The digital currency is headed to new record highs, says Tom Lee, co-founder, managing director and head of research at Fundstrat Global Advisors — but there's a catch some cryptocurrency investors may not be expecting.
"Bitcoin has kind of stalled recently because the macro outlook has stalled. I think, in a world without trend, bitcoin doesn't go up," Lee said Thursday on CNBC's "Fast Money." "The next big catalyst, I think, is a decisive breakout in the equity markets, because I think once equities break to an all-time high, bitcoin becomes a risk-on asset."
In other words, according to Lee, as stocks go, so goes bitcoin — at least for now.
"If markets make a new all-time high and we see central banks still supportive, it's kind of good for liquidity, so there's … liquidity going into bitcoin," Lee said. "More importantly, if there's an interest in acquiring some volatility, that's where you're going to see people buying bitcoin."
With Lee expecting the S&P 500 to climb to 3,125 or higher by year-end, that could mean a major rally is in the cards for the increasingly volatile digital currency. Bitcoin reached an all-time high of $20,089 in late 2017, according to CoinBase.
"[The S&P's] all-time high is around 3,025," which it reached earlier this year, Lee said. "I think we're going to surpass that soon and it would be bullish for bitcoin."
Lee's theory is built in part on the historical ties between bitcoin and the equity markets. In the 10 years since bitcoin's launch, the best years for the S&P have coincided with best years for bitcoin, he said.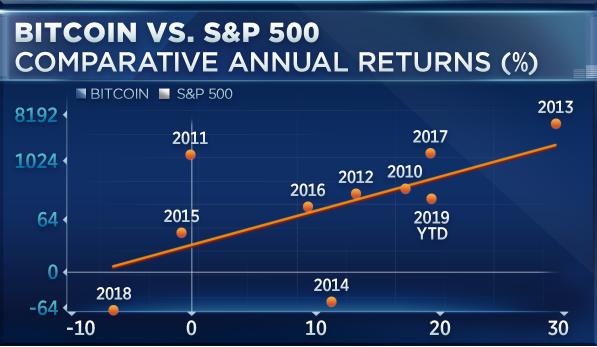 "Bitcoin does best when the S&P's up more than 15%," Lee said Thursday. "Bitcoin may be ambidextrous [in] that it works well in a risk-on world, but as you start to get nervous, then you treat it like digital gold."
The last several months have brought about "neither environment," leaving bitcoin's fate in the hands of uncertain investors, the strategist said.
"It was a market that looked like it was on the precipice, it looked like it could fall, but it never did, and I think [being] stuck in that trend was bad for bitcoin," he said.
But before all this occurs, BKCM founder and CEO Brian Kelly expects investors to get a once-in-a-generation chance to buy the popular cryptocurrency, he said in the same "Fast Money" segment.
"I think you're going to have a massive buying opportunity here," Kelly said. "We may have already seen it in the [$]9000s, … but there is too much money coming into this market. You're going to have an opportunity to have a generational buy in bitcoin sometime, I would say, in the next six months."
Bitcoin fell by nearly 2% on Friday to just above $10,210, according to CoinBase.
Everything Jim Cramer said on 'Mad Money,' September 6, 2019
CNBC's Jim Cramer maps out what he's expecting in stock news next week, including economic data from the U.S. and China, along with earnings reports.
The "Mad Money" host is says Amazon and Campbell Soup are worth buying here.
Cramer sits down with home decor retailer At Home CEO Lee Bird to hear how the company is managing the impact of tariffs on business.
Cramer's game plan
Cramer said Friday the Federal Reserve should cut the benchmark interest rate "aggressively" to help cushion the blow from the ongoing U.S.-China trade war.
"Even if the Fed chief won't listen to the president, he should certainly listen to the bond market, which has made it crystal clear that he raised rates too fast and now they got to come down almost immediately," the "Mad Money" host said.
U.S. Treasury bonds, with the exception of the 30-year bond, are all yielded less than 2% as of Friday.
Buy the dip in Amazon
Amazon CEO Jeff Bezos, founder of space venture Blue Origin and owner of The Washington Post, participates in an event hosted by the Air Force Association September 19, 2018 in National Harbor, Maryland.
Alex Wong | Getty Images
Amazon's stock may have put in a bottom and could be poised to break through the $2,000 price tag, Cramer said.
The host picked back up on the chart analysis from FibonnacciQueen.com's Caroly Boroden, who in July forecast that equities of the e-commerce behemoth was on the verge of a bull run that would take the share price to new heights. The stock is down more than 4% since that late-July prediction.
Boroden thinks the stock is back in "uptrend mode," Cramer said, and could have 20% upside in its future.
Campbell Soup "has become investible," Cramer says
Cans of Campbell Soup Co. Campbell's chicken noodle and tomato soup.
Andrew Harrer | Bloomberg | Getty Images
Despite Friday's lower-than-expected jobs number and troubles in the bond market, Cramer told viewers now is not the time because there's more money to be made in stocks. It's the prime time to shift investments from cyclical names to slowdown stocks, he argued, whether investors believe a recession is upon us or just to diversify their portfolios.
Campbell Soup, which is the parent company of other household food brands like Pepperidge Farm, Goldfish and V8, is a defensive stock to own because it can work no matter what's going on in the broader economy, Cramer said. Once a classic pantry play, the business attracted activist investor Dan Loeb of Third Point who wanted to turn things around at the company. The company has since brought in a new CEO in Mark Clouse, whom the host has thrown his support behind.
"With Campbell trading at 17 times next year's earnings estimates and, still, 3.1% yield, I think the stock is a buy at these levels, and not just for speculation. This thing has become investible," Cramer said. "And if they stumble? Hey, Dan Loeb's standstill agreement ends in November, so he'll soon be able to push for even more changes if they become necessary."
Shares of Campbell are up more than 36% this year.
At Home CEO on stock price woes: 'We think the stock is undervalued. It's an opportunity'
Lee Bird, CEO, At Home
Scott Mlyn | CNBC
Shares of At Home, the home decor superstore, have struggled: down more than 60% in 2019 and nearly 80% in the past 12 months. The stock price rallied double digits in Friday's session, but it's down more than $33 from its all-time high back in July 2018.
That's not stopping the confidence that CEO Lee Bird has in his company.
"We feel like we're undervalued. We're a high-growth retailer. We grew 19% last quarter. We continue to gain share. We're profitable. And we've got a whole lot of white space in front of us," he said.
"I've been buying at different times throughout the past three years and I still think it's a great opportunity," he added.
The company has been caught in the crosshairs of the U.S.-China trade war. Cramer asked Bird about his plan to dodge further escalation in the standoff between the world's largest economies. The chief responded by saying "we've had a playbook. We've been working on this for a year now. We've had a lot of experience with it."
Lululemon has the experiential factor that brick-and-mortar retailers need
Lululemon yoga class.
Source: Lululemon
Lululemon on Thursday reported a blowout quarter — earnings per share was 96 cents against an 89-cent analysts estimate and revenue was $883.35 million compared to an expected $846.83 million.
Cramer credited the results to the athleisure wear brand's "experiential factor."
"I mean real experiential. Not the kind of faux, all-talk experiential that everybody in the industry claims they have. Lulu's got it, and they've got it for real," Cramer said. "And that's how you can put up 15% same-store sales growth, and it's why their stock remains a buy, even though it's already up more than 60% for the year."
Cramer's lightning round
In Cramer's lightning round, the "Mad Money" host opined on caller questions about their favorite stock picks of the day.
Neogenomics: "Neogenomics is another one of these diagnostic companies that might have something that could work against cancer. I have yet to say no to any of those. I think that it is a good spec … because that is the holy grail."
Yeti: "I am going to say: up 100% for the year, I am not going to push it here. I'm not."
Disclosure: Cramer's charitable trust owns shares of Amazon.