Latest data shows surprise slowing in US, China economies as trade war escalates
A worker cuts a steel coil at the Novolipetsk Steel PAO steel mill in Farrell, Pennsylvania, March 9, 2018.
Aaron Josefczyk | Reuters
Consumer and industrial activity in both the U.S. and China slowed in April, even before the world's two biggest economies entered the latest phase of an escalating trade war that could take a bite out of global growth.
"The real message today is that both the economic data from the U.S. and China have disappointed. They're like two boys in the sandbox that are spitting on each other, and it could get a lot worse," said Marc Chandler, global market strategist at Bannockburn Global Forex.
The latest round of tariffs announced by President Donald Trump and China President Xi Jinping raised the stakes and potential economic hit on both economies. Trump boosted the tariffs on $200 billion in goods to 25% from 10%, while Xi upped the tariffs on $60 billion in goods.
Economists see about a 0.4 to 0.5% hit on China's GDP and about a 0.1% hit to the U.S. from the higher tariffs. Strategas Research estimates the higher tariffs would cut into U.S. growth by 0.1% for every two months the raised tariffs are in place, or 0.5% a year.
Trump also threatened 25% tariffs on another $325 billion in Chinese goods, which economists say could hit Chinese sales and send prices higher for U.S. consumers. The impact of those tariffs would be even greater on GDP.
China's retail sales rose 7.2% in April, the slowest pace in 16 years and less than March's 8.7% and forecasts of 8.6%. China's April industrial production rose 5.4%, less than the 6.5% expected or the 8.5% gain in March.
"This is the first bit of cleaner data we're getting, and it paints a much less rosy picture of the economy than a lot of people thought was happening," said Gareth Leather of Capital Economics. Leather said seasonal factors could have masked weakness in March data, which showed some improvement and had appeared to be signs of green shoots and recovery. "This really quashes those hopes for the time being."
U.S. retail sales slid 0.2% in April, down from the surprise jump of 1.7% gain in March. Car sales fell 1.1% last month, while sales at electronics and appliance stores lost 1.3%. Economists had expected a 0.2% gain in the monthly sales data, which is important since it reflects the health of the consumer, about 70% of the U.S. economy.
U.S. industrial production, reflecting total production at factories, utilities and mines, fell 0.5% after a 0.2% gain in March. Manufacturing output dropped 0.5%, led by a 2.6% decline in motor vehicles and parts, the third decrease in four months and the latest manufacturing report to show softness.
Tariff impact
"Autos had a weird swing, as a result of excess inventories," said Michelle Meyer, chief U.S. economist at Bank of America Merrill Lynch. "I'll be paying pretty close attention to manufacturing data, the survey datas, the confidence measures. It's going to be very important to watch how the economy is going to fare around the escalation. Manufacturing has weakened already." She said that manufacturing has been falling off since peaking last summer.
She said the trade wars have had an impact on the manufacturing sector, with about 59% of companies in the ISM semi-annual survey saying that the tariffs have led to an increase in the price of goods produced.
Meyer described the weaker April retail sales data as "noise," but said it bears watching if the tariffs go into place on the $325 billion in goods since they would directly affect many consumer products. Manufacturers have been reporting impacts from tariffs, with 59% saying production costs went up as a result.
Markets responded to the news from both countries by ramping up expectations for central bank and other policy easing. U.S. fed funds futures signaled expectations for more than one quarter-point rate cut this year, while China's stock markets rallied on expectations of more fiscal and monetary stimulus.
"Both economies softened before the tariff truce ended, but what's interesting is still we're not talking about recessionary levels. If China grows less than 6%, that's a big deal," said Chandler. He said U.S. growth currently looks to be averaging 2.4% in the first half.
"I think the chances the Fed will have to cut rates before the end of the year have clearly increased, given the trade war scenario. It's still not my baseline. I think the Fed has to be careful in responding to the current trade tensions. It's not obvious how persistent it will be, and how it will play out in the real economy," Meyer said.
Trump has repeatedly called on the Fed to cut interest rates, including on Tuesday when he said China will probably cut interest rates, and if the U.S. did so as well it would be "game over."
Leather said if Trump goes through with the next round of tariffs, they may end up being more harmful to U.S. consumers than to China, since many of the goods cannot be sourced elsewhere. The first round of tariffs did not do all that much harm to China, and its economy has been in decline for years, he said.
"It will impact China" if the tariffs on $325 billion in goods are implemented, Leather said. "But not as much as people think. The impact on the U.S. will be more." He said China's issues are lingering.
"If you look at Q1, China's exports to the U.S. underperformed the rest of the world by 13%, and they normally pretty much match. They go in lockstep. There does seem to be some impact there. But if you look at China's exports to the U.S. as a share of GDP, it's about 3%. Thirteen percent of 3% is very small. Some of the slowdown in China is related to trade, but a very small percent," he said.
Three options strategies for the week: May 20, 2019
The "Options Action" traders share three options trading strategies to kick off the week.
Carter Worth and Mike Khouw looked at a put spread in Home Depot.
Dan Nathan illustrated call buying in Ford. 
Mike Khouw also broke down call selling in Uber. 
Trade war may be losing its power to frighten resilient stock market
The stock market has so far withstood its ongoing "gut check," with a three-day bounce after last Monday's mini-tariff-panic sell-off, preserving its longer-term uptrend and leaving the S&P 500 about 3% from its recent record highs.
Still, for a market so close to all-time heights, its resilience to date owes a lot to cautious, risk-evading behavior rather than optimistic conviction about the future.
Stocks have been supported to a significant degree by compressed Treasury yields, which themselves embed high market-implied odds of a Federal Reserve interest-rate cut within months. Such a move by the central bank would come about only in response to waning economic momentum and a rollover in inflation trends.
Here, Bespoke Investment Group illustrates the way the S&P 500 has lately failed to follow 10-year Treasury yields down after tracking them fairly well for a while.
There's nothing ironclad about the interplay of equities and bond yields — the relationship shifts across market phases. But this at least shows stocks have found a way to hang above the 2,800 zone — once viewed as the ceiling of a sloppy, treacherous trading range — as Treasury yields have succumbed to a global risk-aversion impulse.
What are investors betting on?
One way the S&P has managed this is to lean heavily on more stable, less cyclical stocks. This means turning back toward the familiar favorites of FANG — those organically growing, software-powered giants with fewer bets on China and less sensitivity to macro headwinds.
The FirstTrust Dow Jones Internet ETF (FDN), a good proxy for FANG-type stocks, is up 21% this year to 14% for the S&P 500. The iShares Software ETF (IGV) is ahead by 24% for 2019. Since the day exactly two months ago when the 10-year Treasury broke down below 2.6% toward its current 2.39% level, IGV is up 2.9% to the S&P's 1.2% gain.
Another popular hiding place is "low-volatility" stocks — stable companies' slower-moving shares, which act somewhat like bonds. Here's the Invesco S&P Low-Volatility ETF (SPLV, in red) against the S&P 500 (green) and the Invesco S&P High-Beta ETF (SPHB, blue) over the past month. In other words, the stock market has been held up by stocks that behave less like stocks than most stocks.
Aside from sector divergences, the small-cap Russell 2000 continues to underperform badly, while the rise in risk-aversion can also be seen in the Japanese yen and Swiss franc moving higher in recent weeks.
In a way, the strength in steadier, blue-chip U.S. stocks is not inconsistent with sinking global bond yields and gains in safe-haven currencies. On some level, large-cap American equities are on the same "relatively expensive but higher quality" end of the asset spectrum.
Risk-shunning attitude
The tariff escalation could easily be viewed mostly as an excuse for a standard shakeout after a 25% rally since December, just in time to keep complacent investor sentiment and positioning from stretching all the way to extreme and self-undermining overconfidence.
Two choppy, headline-tossed weeks for stocks have gone some distance toward moderating gathering mood, with a risk-shunning attitude evident in investor surveys and fund flows.
While a bit fickle and narrowly sampled, the weekly American Association of Individual Investors poll showed one of the eight largest jumps in bearish respondents in a decade, with more bears than bulls.
This is echoed by significant drops in optimism in professional-investor sentiment gauges kept by Consensus Inc. and Market Vane toward neutral readings from multimonth highs just two weeks ago.
Outflows from equity mutual and exchange-traded funds has been more the rule than not this year, suggesting the fourth-quarter collapse in stocks has had a lasting effect on investor attitudes.
Ned Davis Research shows this heavy pace of withdrawals against the S&P 500, which goes down as a bullish factor from a contrarian perspective.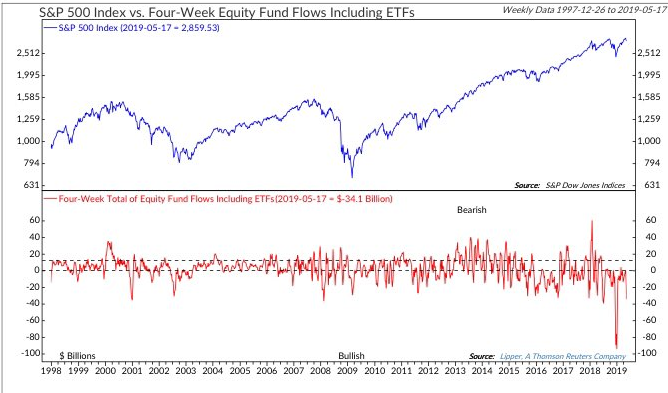 The latest flare-up in trade friction with China has rubbed a raw nerve among investors, who explained stocks' steady climb through April as a story of big threats fading from view: The onrushing recession feared in December is not in evidence; the Fed has backed away from rate hike plans; corporate earnings arrived better than forecast; and, until two weeks ago, the U.S.-China trade tussle looked near a benign resolution.
After last Monday's 2.5% sell-off, stocks showed signs of again trying to set aside the trade issue, which — for all its drama over the past two years and the high perceived stakes — has not been able to hold the market hostage for long stretches of time.
The bounce that started Tuesday allowed the S&P to narrow its weekly loss to 0.8%. On a net basis, the market was up during regular trading hours, with overnight weakness dropping the indexes at the open, only to have buyers pick them up in the regular session.
The makeup of the rebound was not all that impressive, granted. Market breadth continues to lag a bit, with fewer than half of all S&P 500 stocks in a technical uptrend, to cite one soft spot.
(It was the fourth straight negative week for the Dow, and there have not been five straight down weeks for the index since the 2011 minibear market, so the odds hint at some short-term relief.)
The market continues to track the 2016 path, in broad terms: a brutal minibear market gives way to a more dovish Fed and huge stock market rebound even as bond yields stay low, defensive stocks lead and investor sentiment stays muted.
Several months after the early-2016 market bottom, the Brexit vote shock administered a stiff and scary test, proving good enough for only a sharp, brief sell-off before stocks resumed an upward grind. Could the trade-war scare of May prove a similar geopolitical test that doesn't get "resolved" but loses its power to frighten investors so readily?
This is a notion investors need to ponder but the market will have to prove or refute.
Hotshot active fund managers will soon have a way to play the ETF game
Pedestrians walk past the New York Stock Exchange before the closing bell in New York.
Bryan R. Smith | AFP | Getty Images
A new kind of exchange-traded fund is expected to grant active money managers a way to offer their strategies without divulging their stock picks and methods, a key hang-up that's kept them from participating in the booming industry.
ActiveShares, a product designed and built by Precidian Investments, received word from the Securities and Exchange Commission on April 8 that its so-called nontransparent ETF model should be approved.
Nontransparent ETFs would mask the underlying securities of the fund but still allow investors exposure to the portfolios arranged by Wall Street's top stock pickers. Industry analysts also anticipate the funds will reduce key fund expenses and grant tax advantages — just like other ETFs.
Though Precidian is still awaiting a final order from the SEC, founding principal Stuart Thomas told CNBC the product is the first of its kind and could someday impact the entire mutual fund industry.
"At the end of the day, it looks, smells and feels like an ETF because it is an ETF," Thomas said. "You're taking actual slices of the portfolio — anytime there's a creation or redemption in their appropriate weightings — and that's what the authorized participant is delivering to the fund in exchange for ETF shares."
"There's nothing complicated, it fits perfectly within the ecosystem," Thomas said of the ActiveShares model. "Trading, settling, reporting, monitoring: All the existing strategies the trading desks use today can be applied to this structure."
ActiveShares could represent a big opportunity for a generation of active managers that have seen their assets evaporate at the hands of low-cost, passive alternatives drawing in big investor dollars.
At the end of April, passive U.S. equity fund assets reached parity with active U.S. equity funds at $4.3 trillion each, nearly 13 years after actively managed U.S. equity funds saw their last calendar year of net inflows and amid one of the longest bull markets ever, according to Morningstar Direct research.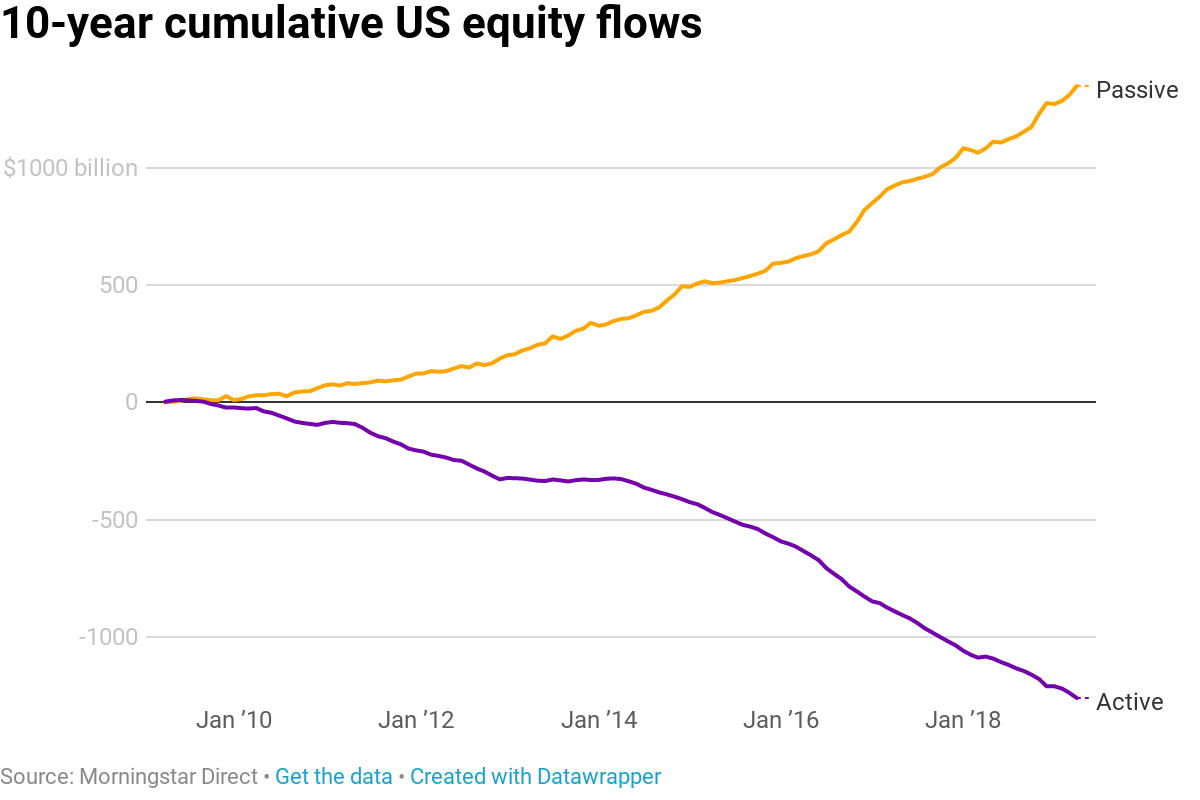 But the new nontransparent funds could offer a way to recapture investor dollars, says J.P. Morgan analyst Kenneth Worthington.
"Precidian's non-transparent ETF is a potentially crucial structure in the evolution of the actively managed mutual fund industry, as it holds the potential to deliver greater tax efficiency and meaningfully lower costs to fund investors," Worthington told clients in a note Thursday.
'Levels the playing field'
Part of the reason ETFs are so popular is their tax advantages compared with the traditional mutual fund model.
As long as the index an ETF tracks doesn't see frequent changes to its composition, the funds themselves rarely have to adjust their portfolio to match. Also, when market makers redeem ETF shares, they receive securities instead of cash, further shrinking the need for the fund to declare gains.
"We see retail investors as long-term beneficiaries, and exchanges and trading firms stocks as being helped," the analyst wrote. "We also think the structure levels the playing field somewhat between passive and active investing."
"Potential linkages of ETFs and mutual funds could enhance the tax profile of existing mutual funds, making the products 'must-haves' for mutual fund companies," he added.
Worthington sees T. Rowe Price in particular as a potential beneficiary of the new structure. Given its its size and relative success over the long term, the analyst said, it may be able to attract money from the passive side if it adopts such a model. The mutual fund manager has applied for a similar ETF structure with the SEC.
"We believe the Precidian approval is good news for those, including us, with proposals for semi-transparent ETFs in front of the SEC, and for investors," T. Rowe told CNBC in an emailed statement. "We have more work to do to get our application through the SEC, and our ongoing conversations with the SEC staff continue to be constructive."
Precidian's Thomas has a history of innovating in the fund world. A Morgan Stanley and Merrill Lynch alum, he started World Gold Trust Services in August 2002. At the direction of the World Gold Council, he created, managed, and marketed the first U.S. commodity-backed equity traded on an exchange.
That ultimately evolved into SPDRGold Trust, the first U.S. traded gold ETF and the first U.S.-listed ETF backed by a physical asset. The Precidian team, which includes Daniel McCabe, Mark Criscitello and Paul Kuhnle, is also responsible for building the first currency-backed ETFs in the U.S. with Rydex. That platform is now owned by Invesco under its CurrencyShares suite.