How to Trade the Impact of Politics on Global Financial Markets
HOW TO TRADE GEOPOLITICAL RISKS – TALKING POINTS
The global economy is showing increasing weakness and fragility

Eroding economic fortitude exposes markets to geopolitical risks

Examples of political threats in Asia, Latin America and Europe
See our free guide to learn how to use economic news in your trading strategy!
ANALYZING GEOPOLITICAL RISKS
As 2019 continues to unfold, political risks are growing increasingly relevant to watch as their capacity for inducing market-wide volatility is significantly expanding. Globally, liberal-oriented ideologies – that is, those favoring free trade and integrated capital markets – are being undermined by nationalist and populist movements. The result – though not always – is violent volatility stemming from uncertainty.
Against the backdrop of a slowing global economy and central banks pausing or reversing their rate-hike cycles, the introduction of additional uncertainty will likely create even more volatility. What makes political risk so dangerous and elusive is the limited ability investors have for pricing it in. Traders may therefore find themselves hot under the collar as the global political landscape continues to unpredictably shift.
Generally speaking, markets do not really care about political categorizations but are more concerned with the economic policies embedded in the agenda of whoever holds the reigns of the sovereign. Policies that stimulate economic growth typically acts as a magnet for investors looking to park capital where it will garner the highest yield.
These include the implementation of fiscal stimulus plans, fortifying property rights, allowing for goods and capital to flow freely and dissolving growth-sapping regulations. If these policies create adequate inflationary pressure, it could prompt the central bank to raise interest rates as a response and lead to a stronger exchange rate for the country concerned.
Conversely, if you have a government whose underlying ideological predilections go against the gradient of globalization, this may cause capital flight. Regimes that seek to rip out the threads that have sown economic and political integration usually create a moat of uncertainty that investors do not want to traverse. Themes of ultra-nationalism, protectionism and populism have frequently shown to have market-disrupting effects.
If a state undergoes an ideological realignment,traders will assess the situation to see if it radically alters their risk-reward set up. If so, investors may then reallocate their capital and re-formulate their trading strategies that tilt the balance of risk to reward in their favor. However, in doing so, volatility will likely follow as the reformulated trading strategy is reflected in the market-wide redistribution of capital across various assets.
EUROPE: EUROSCEPTIC POPULISM IN ITALY
In Italy, the 2018 election roiled regional markets and eventually rippled almost throughout the entire financial system. The ascendancy of the anti-establishment right-wing Lega Nord and ideologically-ambivalent 5 Star Movement was founded on a campaign of populism with a built-in rejection of the status quo. The uncertainty accompanying this new regime was then promptly priced in and resulted in significantly volatility.
The risk premium for holding Italy's assets rose and was reflected in an over one-hundred percent spike in Italian 10-year bond yields due to investors demanding a higher return for tolerating what they perceived to be a higher level of risk. This was also reflected in the dramatic widening of the spread on credit default swaps on Italian sovereign debt due to increased fears that Italy could be the next epicenter of another EU debt crisis.
EURUSD, EURCHF Plummeted as Mediterranean Sovereign Bond Yields Spiked Amid Fears of Another Eurozone Debt Crisis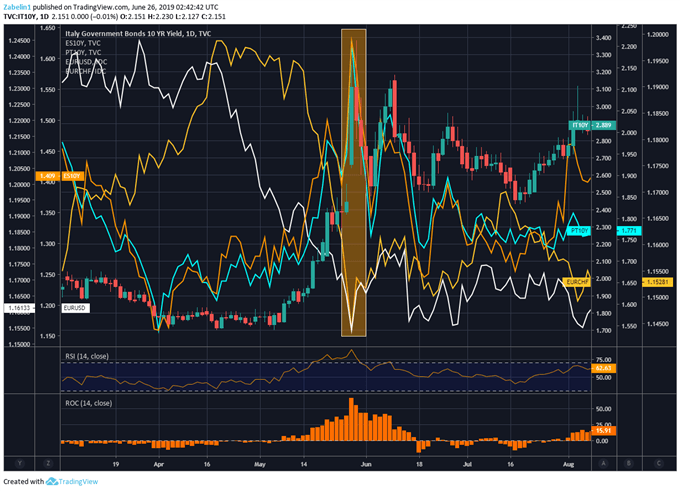 The US Dollar, Japanese Yen and Swiss Franc all gained at the expense of the Euro as investors re-directed their capital to anti-risk assets. The Euro's suffering is being prolonged by the dispute between Rome and Brussels over the former's budgetary ambitions. The government's fiscal exceptionalism is a feature of their anti-establishment nature that in turn introduced greater uncertainty and was then reflected in a weaker Euro.
LATIN AMERICA: NATIONALIST-POPULISM IN BRAZIL
While President Jair Bolsonaro is generally characterized as a fire-brand nationalist with populist underpinnings, the market reaction to his ascendency was met with open arms by investors. His appointment of Paulo Guedes – a University of Chicago-trained economist with a penchant for privatization and regulatory restructuring – boosted sentiment and investor's confidence on Brazilian assets.
Ibovespa – Daily Chart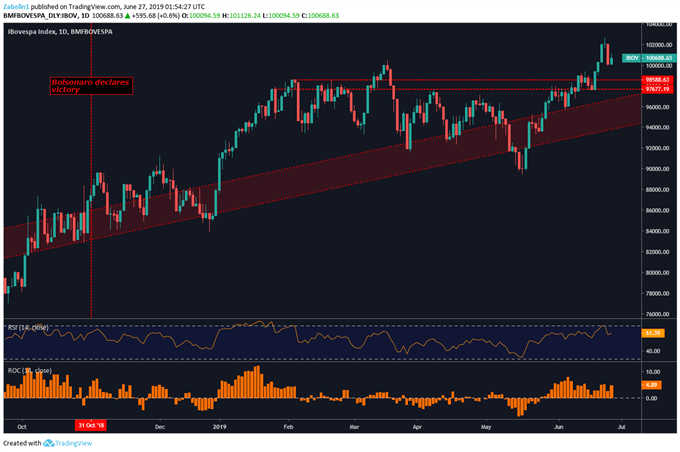 Since June 2018, the benchmark Ibovespa equity index has risen over 46 percent compared with only a little over 9 percent in the S&P 500 over the same time period. During the election in October, the Ibovespa rose over 12 percent in one month as polls revealed that Bolsonaro was going to triumph over his left-wing counterpart Fernando Haddad.
Ibovespa Spiked Almost Five Percent After October 7 Vote and Polls Showed Bolsonaro in the Lead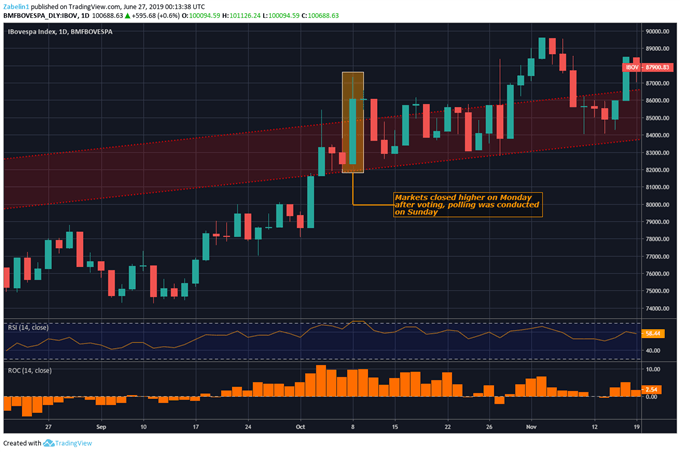 Since Bolsonaro's ascension to the Presidency, the oscillations in equity markets and rate of capital inflow frequently move in tandem with the level of progress on his market-disrupting pension reforms. Investors are anticipating these structural adjustment will be strong enough to pull Brazil's economy away from the precipice of a recession and toward a strong growth trajectory, unburdened by unsustainable public spending.
ASIA: HINDU NATIONALISM IN INDIA
The re-election of Prime Minister Narendra Modi was broadly welcome by markets, though lingering concerns were raised about the effect of Hindu nationalism on regional stability. However, Modi also has a reputation of being a business-friendly politician. His election lured investors into diverting a significant amount of capital into Indian assets following his ascendancy to the presidency.
However, the optimistic outlook from investors could be undermined if risk appetite sours amid rising tensions in the region. In the first breathes of 2019, India-Pakistan relations drastically escalated amid a skirmish over the disputed Kashmir region. Ever since the 1947 partition, the hostility between the two nuclear powers has always remained a regional risk.
India Nifty 50 Benchmark Equity Index, S&P 500 Futures and AUDJPY Fall Amid Political Volatility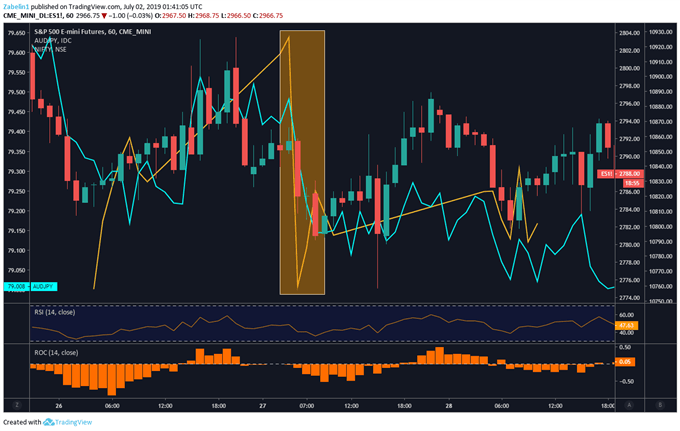 Nationalist campaigns and governments are embedded with political risk because the very nature of such a regime relies on displaying strength and frequently equates compromise with capitulation. In times of political volatility and economic fragility, the financial impact of a diplomatic breakdown is amplified by the fact that a resolution to a dispute will likely be prolonged due to the inherently stubborn nature of nationalist regimes.
US President Donald Trump and Modi employ a similar brand of strong rhetoric both on the campaign trail and within their respective administrations. In a rather ironic way, their ideological similarity may in fact be a force that causes a rift in diplomatic relations. Tensions between the two have escalated recently with markets worrying that Washington may start another trade war in Asia – only this time it will be with India.
WHY POLITICAL RISKS MATTER FOR TRADING
Countless studies have shown that a significant decline in living standards from war or a severe recession increases the propensity for voters to occupy radical positions on the political spectrum. As such, people are more likely to deviate from market-friendly policies – such as capital integration and trade liberalization – and instead focus on measures that turn away from globalization and are deleteriously inward-facing.
The modern globalized economy is interconnected both politically and economically and therefore any systemic shock has a high probability of echoing out into the world. During times of significant political volatility amid inter-continental ideological changes, it is crucial to monitor these developments because within them are opportunities to set up short, medium and long-term trading strategies.
FX TRADING RESOURCES
— Written by Dimitri Zabelin, Jr Currency Analyst for DailyFX.com
To contact Dimitri, use the comments section below or @ZabelinDimitrion Twitter
UK Markets Wait For Supreme Court Ruling, Brexit Update
Sterling (GBP) News, Charts and Analysis – Webinar
UK Supreme Court ruling due shortly

UK PM Johnson to meet EU leaders on the sidelines at the United Nations
Q3 2019 GBP Forecasts and Top Trading Opportunities
UK asset markets are flat to slightly lower at the start of the week with traders waiting for the UK Supreme Courts ruling on whether PM Johnson's recent shuttering of Parliament was legal or not. The judgement is expected early this week and will have a direct influence on UK assets one way or another.
This week PM Johnson will meet with European leaders at the United Nations General Assembly meeting to discuss the latest Irish backstop developments. Recent positive commentary has boosted the value of the British Pound until a report this weekend that European Commission President Jean-Claude Juncker sees a return to a hard border in Ireland pushed GBP lower.
There is a lack of front-line UK economic data this week to influence trading but speaches from BoE governor Mark Carney and other UK central bank officials should be followed closely.
GBPUSD has drifted lower through the session but has not threatened the recent 1.1959 low made earlier this month.
GBPUSD Price Daily Chart (January – September 23, 2019)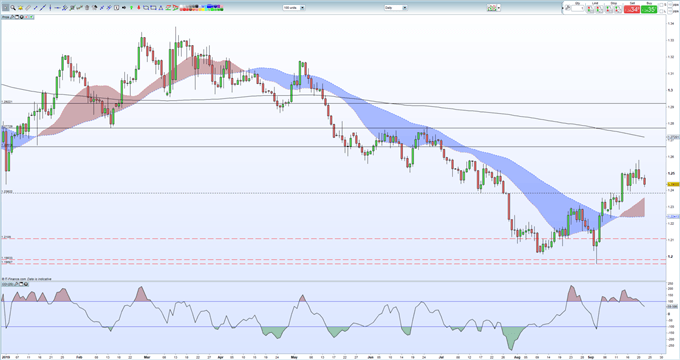 Brexit Glossary: Brexit Jargon and Terms Explained
The IG Client Sentiment Indicator shows retail traders are 65.0% net-long, a bearish contrarian bias.
Traders may be interested in two of our trading guides – Traits of Successful Traders and Top Trading Lessons – while technical analysts are likely to be interested in our latest Elliott Wave Guide.
What is your view on Sterling – bullish or bearish?? You can let us know via the form at the end of this piece or you can contact the author at nicholas.cawley@ig.comor via Twitter @nickcawley1.
EUR/USD Price Slumps as Germany PMI Data Points to Recession
EURUSD Price Charts and Analysis:
EURUSD may sink further

as 1.1000 gives way again.

Germany is expected to be in recession in Q3.
Q3 2019 EUR and USD Forecasts and Top Trading Opportunities
EURUSD Sinks as German Economic Woes Continue
The German economy is likely to fall into recession in the third-quarter of 2019, 'as the downturn in manufacturing deepened and service sector growth lost momentum', according to data provider IHS Markit. The composite index hit its lowest level since October 2012, while the manufacturing numbers are 'simply awful' according to the data provider. Germany is expected to enter an official recession in Q3 and may not see any growth this year.
According to Phil Smith, principal economist at IHS Markit, "The manufacturing numbers are simply awful. All the uncertainty around trade wars, the outlook for the car industry and Brexit are paralyzing order books, with September seeing the worst performance from the sector since the depths of the financial crisis in 2009. "With job creation across Germany stalling, the domestic-oriented service sector has lost one of its main pillars of growth. A first fall in services new business for over four-and-a-half years provides evidence that demand across Germany is already starting to deteriorate."

EURUSD continues to point lower and may re-test the two recent low prints around 1.0925 made earlier this month. Below here there is very little in the way of strong support. There is a gap in April 2017 on the weekly chart between 1.0777 and 1.0821 which is likely to be filled in the short-term, before the January 2017 low at 1.0340 comes into play. In the current environment is looks very unlikely that EURUSD will break back above the cluster of lows/highs around 1.1100 and 1.1120.
EURSUD Price Daily Chart (January – September 23, 2019)
The IG Client Sentiment Indicator shows retail traders are 65.0% net-long of EURUSD, a bearish contrarian bias.
Traders may be interested in two of our trading guides – Traits of Successful Traders and Top Trading Lessons – while technical analysts are likely to be interested in our latest Elliott Wave Guide.
What is your view on the Euro – bullish or bearish?? You can let us know via the form at the end of this piece or you can contact the author at nicholas.cawley@ig.comor via Twitter @nickcawley1.
US Dollar ASEAN Outlook Bullish, Trade Deal Hopes Fade, PHP at Risk
ASEAN Fundamental Outlook
US Dollar remained in persistent consolidation mode against ASEAN FX
Drop in US-China trade deal hopes to fuel USD gains on haven demand

Philippine Peso also eyeing central bank rate decision, SGD to CPI data
Trade all the major global economic data live and interactive at the DailyFX Webinars. We'd love to have you along.
US Dollar and ASEAN FX Weekly Recap
At first glance, the US Dollar seemed to outperform against its major counterparts when using an equally-weighted index this past week. But the reality is that from a technical standpoint, the Greenback is still in a persistent consolidative mode since the end of July. Its lack of commitment also spread into against some of its ASEAN and Southeast-Asia fiat counterparts.
A couple of notable exclusions this past week were the Singapore Dollar and Indonesian Rupiah – see chart below. The former tends to closely trace the Greenback. The IDR saw most of its decline during the front-half of the week, when an attack on Saudi Arabian energy infrastructure caused an oil shock that triggered risk aversion. The commodity has since partially subsided as markets turned to the Fed and US-China trade talks.
The US central bank delivered its second interest rate cut, keeping the door open to "extensive cuts" should they be needed. Meanwhile, the Bank of Indonesia delivered a third reduction in benchmark lending rates this year. But the Rupiah was left unchanged as the central bank reiterated efforts to guard their currency. Prior to Friday's close, ASEAN currencies suffered as Chinese delegation teams canceled trips to US farms.
Check out my Singapore Dollar currency profile to get acquainted with its unique character in markets!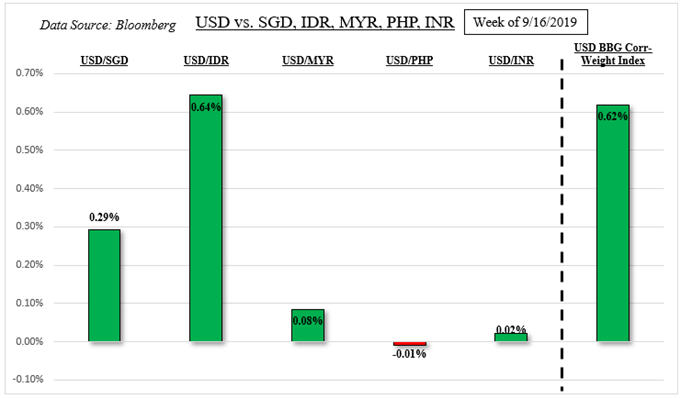 US-China Trade Deal Hopes Once Again Diminish
Once top-tier economic event risk passed last week, it was clear how important US-China trade talks were to financial markets. As mentioned earlier, once reports crossed the wires that Chinese officials canceled trips to farms in Montana and Nebraska, aggressive risk aversion kicked in. The MSCI Emerging Market index covered its upside gap from the onset of Friday's session as US government bond yields tumbled.
The actions from Chinese officials were in response to comments from US President Donald Trump, who mentioned that he would not accept a partial deal, adding that ending the trade war by 2020 is not his priority. Taking a look at the next chart below, prospects of the two nations agreeing to an outcome has helped to drive capital flowing back into emerging markets since late August.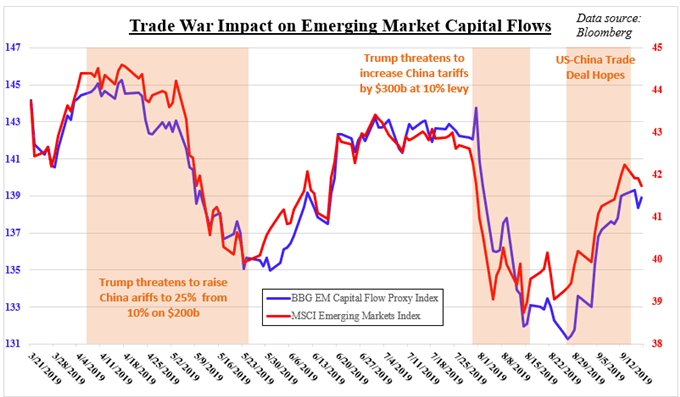 His lack of interest in wanting an interim deal diminished prospects of an agreement, which can be viewed by the reaction in financial markets on Friday. Talks between the two nations restarted this past week ahead of a high-level meeting anticipated between the economic powerhouses in the middle of October. This is why the US delayed imposing additional $250b in tariffs on China by two weeks to around the same time.
With trade wars still are a persistent threat to global economic health, this bodes ill for risk capital and will likely adversely impact currencies such as the Philippine Peso, Malaysian Ringgit, Singapore Dollar and Indian Rupee. Meanwhile, the highly-liquid US Dollar – still increasing its dominance as the world's most widely-traded currency – is likely to benefit against them.
ASEAN Economic Event Risk
Focusing on ASEAN regional economic event risk in the week ahead, a top-tier item will be the Philippine central bank interest rate announcement. Much like the easing that we have seen from central banks in the world, the BSP is anticipated to continue the trend. The benchmark lending rate is widely expected to be lowered from 4.25 percent to 4.00 on Thursday.
As such, its surprise factor is diminished, with the central bank governor also hinting at further reductions in reserve requirement ratios. This does mean however that the Philippine Peso will continue to lose its yield advantage (alongside MYR, IDR) which is a long run threat for the currency. Inflation data will also be eyed out of Singapore and Malaysia.
For timely updates on ASEAN and Southeast Asia currencies, make sure to follow me on Twitter here @ddubrovskyFX
FX Trading Resources
— Written by Daniel Dubrovsky, Currency Analyst for DailyFX.com
To contact Daniel, use the comments section below or @ddubrovskyFX on Twitter