EURUSD at the Center of Trade Wars, High Profile ECB and Fed Meetings
Talking Points:
The first day of the G-7 meeting resulted in the exact cold reception for the US expected amid charged trade tensions

Not only will the Dollar find itself buffetted by trade war developments, it has a FOMC decision expected to produce a hike

Other key events ahead include: an ECB decision; a run of Brexit-related votes; a Swiss currency vote and much more
What makes for a 'great' trader? Strategy is important but there are many ways we can analyze to good trades. The most important limitations and advances are found in our own psychology. Download the DailyFX Building Confidence in Trading and Traits of Successful Traders guides to learn how to set your course from the beginning.Download these and more guides on theDailyFX Trading Guides page.
An Icey Reception at the G-7 Summit
As expected, the G-7 summit in Canada proved the antithesis of unity that we had seen come from these events in the past. Trade wars inflamed tension among these key economies' leaders even if that exact term wasn't uttered at the discussions. The Trump administration's decision to move forward with the steel and aluminum tariffs against the European Union, Canada and Mexico on May 31st marked a definitive escalation in an already unstable course for global relations and the collective growth and market gains that has resulted from these fluid connections over the past years. By the close of the first day, there wasn't definitive 'breakdown' during the event – most of these leaders are too well-practiced to purposefully or even inadvertently cause a panic. However, the snubs, the threatened refusal of an official communique and the early departure by President Trump all signaled that this was not an event to patch relations. Day two is unlikely to resolve or further divide, but the troubles will linger with the global markets. If complacency remains come Monday, don't consider it a sign of strength. Rather see it for the anxiety and straining temporary supports (like extreme monetary policy) that it is.
Dollar: The FX Markets Most Risky Member
We typically think of the US Dollar as the last resort safe haven that capital flees to when liquidity is the only thing that matters. If push came to shove, the Greenback would still step up to a frantic need for financial stability – something to consider should the markets start to truly fall apart. However, where global market participants retain a sense of differentiation for their risk-reward balance, the US currency is perhaps the most risky player on the board. It finds itself at the center of the growing trade wars by design. While the move to implement tariffs on China, the EU and its North American neighbors was meant to confer benefit upon the economy; its ultimate impact will be loss by its being ostracized by an angry collective. If you want to gauge how significant the change in sentiment surrounding global trade is following the G-7 summit, measure through the Dollar. In the event the Greenback refuses to extend its retreat or revive its general bull trend of the past two months, look ahead to the Fed rate decision on Wednesday. This event is heavily expected to end with a hike which makes it easier to disappoint than to impress. Beyond the move at this particular meeting, the assessment of pace moving forward amid economic trends and a troubled trade environment will be evaluated thoroughly in the Summary of Economic Projections and the Chairman's press conference.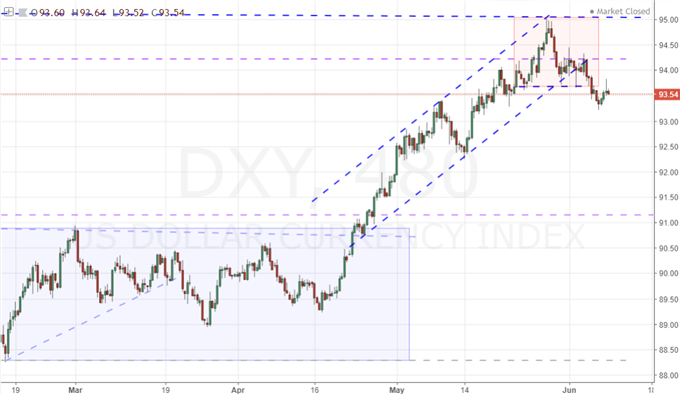 Euro: The Second Most Intense Volatility Windup
Next to the Dollar, the Euro is the second most at-risk currency in the week ahead. While the US and China seem to be dealing with the largest negotiation terms through tariffs, the health of the relationship between the United States and European Union is far more critical to global health and stability. That makes EUR/USD an unexpected but nevertheless critical baseline for the path for global trade. Beyond this particular theme though, we have unique fundamental concerns and themes to deal with on the Euro's side over the coming week and beyond. Though we have seen the tenor of headlines related to Italian politics cool lately, the situation is far from resolved. A populist government formed out of a coalition of members that have clear anti-EU and anti-Euro beliefs is still in power. At the top of the docket, we also have Thursday's ECB rate decision. This too is a 'quarterly' event where more insight is expected than usual. Over the past few weeks, we have seen speculation over a definitive shift in monetary policy ramp up. The anticipation is for plans of a full taper to be announced and the path towards the first hike to be paved. Here too, it is easier to disappoint than it is impress.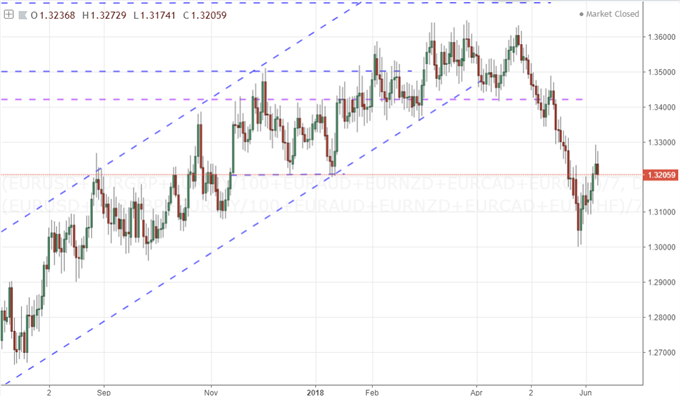 Closer to the Fire (Emerging Markets) or Further Away (Aussie Dollar)
Moving forward, it is important to monitor the bearing and breadth of risk trends. Trade wars, monetary policy and most other key themes are generally catalysts for more systemic changes in the current of speculative sentiment. It is important not to concentrate completely on the spark to the exception of the true fire. The US tech sector in US equity indices are particular attuned to the ebb and flow. If we wanted to look at the bleeding edge of the curve, the FAANG group is even closer to the core of performance over the past three to four years. Another leveraged asset class through sentiment is emerging markets. The EEM ETF failed in its break higher this past week, but the pain is more obvious in EM FX. The drop from the South African rand and Indian rupee are good examples of the trend developing these past weeks. Rebounds from the Turkish lira and Brazilian real recently were leveraged by extreme intervention and anticipation of rate hikes. On the opposite end of the spectrum, we can look to the Australian Dollar and Swiss franc as more disconnected currencies. Normally, one is a carry and the other a safe haven, but those roles have been unseated by extreme monetary policy and cross winds. We discuss all of this and more in this weekend Trading Video.
If you want to download my Manic-Crisis calendar, you can find the updated file here.
AUD/NZD Nets Out Market Mood Swings, Focus On RBA & RBNZ Policy
AUD/NZD Talking Points:
The Australian and New Zealand Dollars tend to closely follow global stock indexes

AUD/NZD can thus at times net out market mood swings, acting as "risk neutral"

This places the focus for AUD/NZD on RBA and RBNZ monetary policy expectations
Have more questions about AUD/NZD? Join a free Q&A webinar and have your trading questions answered!
Part 1 – AUD & NZD, Sentiment-Linked Currencies
In the majors FX spectrum, two currencies often find themselves moving in tandem with global stock indexes such as the S&P 500 and Nikkei 225. These are the Australian and New Zealand Dollars. To get a rough idea of why, we have to go back to the 2008 financial crisis. Central banks in developed economies at the time cut their lending rates close to or near zero levels to help stimulate their economies as liquidity shrunk, growth slowed and inflation fell.
However, two of them did not quite cut rates as far. Those are the reserve banks of Australia and New Zealand. While the Fed's benchmark rate hovered between a range of 0.00% – 0.25% and the Bank of England pushed theirs down to 0.50%, the RBA and RBNZ reached 3.00% and 2.50% respectively. Then, in the aftermath they eventually glided down to 1.50% and 1.75% respectively (though at times they did rise before getting to those levels).
Still, those rates were higher than what other major central banks offered. This in turn gave investors an option for higher returns in a world with depressed yields. One could borrow in a cheap/low-yielding currency and then park their capital into ones that offered a higher rate. For those seeking to capitalize on interest rate differentials, AUD and NZD were/are a prime target for carry trades.
With that in mind, during times when market mood is jubilant and traders are focused on seeking returns as stocks rally, the sentiment-linked Australian and New Zealand Dollars tend to benefit. However, this behavior can also reverse. As an example, below is a chart showing how AUD/USD performed in February 2018 when the S&P 500 and Nikkei 225 fell as much as 11% and 13% respectively.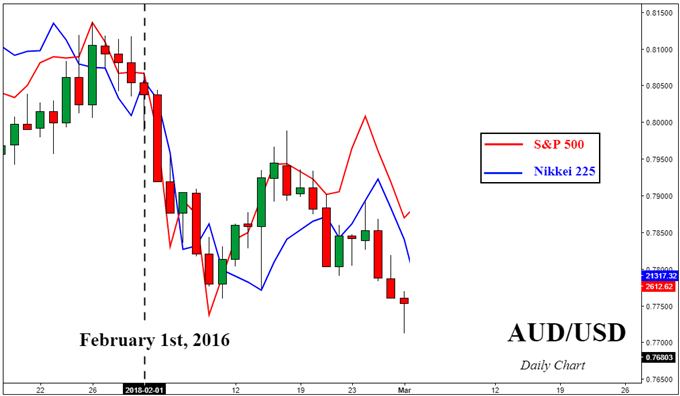 Chart Created in TradingView
Below is the identical reaction from NZD/USD: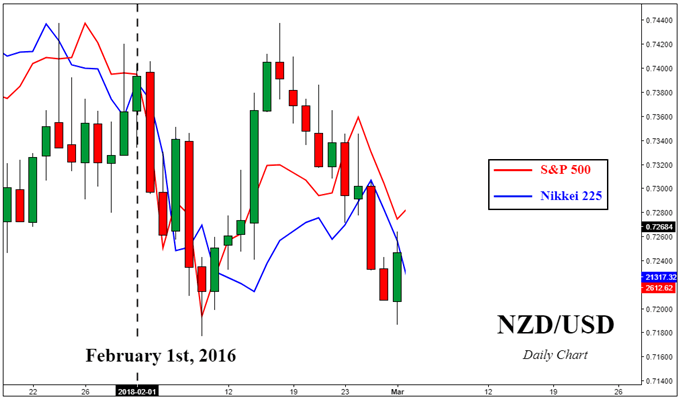 Chart Created in TradingView
During this period of extraordinary market volatility, AUD/USD declined as much as 4.6% while NZD/USD fell about 3.2%. Both succumbed to selling pressure as the focus for traders shifted from seeking returns to preserving capital. But what happens when you start comparing both AUD and NZD against each other during times of broad market malaise?
Part 2 – AUD/NZD, Brexit Vote Reaction
Given that these sentiment-linked currencies tend to closely follow stocks, one may hypothesize that the impact of market mood on AUD/NZD could cancel each other out. This may result in the pair being close to little changed when equities tumble. Such was the case when looking at how AUD/NZD reacted in June 2016 when the UK voted to leave the European Union.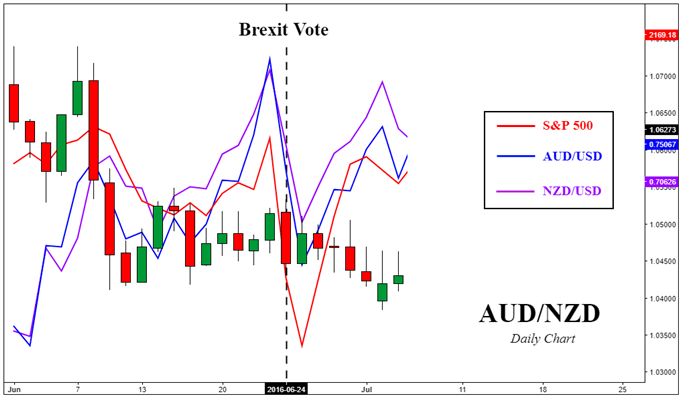 Chart Created in TradingView
The Brexit vote carried large amounts of uncertainty for the future of the UK and EU given that no country had ever left the nation bloc before. Markets were unnerved as the S&P 500 and Nikkei 225 declined about 5% and 9% respectively in the aftermath. AUD/USD (-4%) and NZD/USD (-3.75%) also saw aggressive losses as one would expect. But, solely looking at AUD/NZD shows that it fell only about 0.65% and the pair largely remained within its trading range.
Part 3 – The Key Fundamental Catalyst for AUD/NZD
So at times, AUD/NZD can behave as a "risk neutral" pair that acts as a shock absorber to a certain extent. This allows the pair to fundamentally focus more on RBA and RBNZ monetary policy expectations. After all, the key driver for FX is the direction of where interest rates are going.
One of the ways in which we can measure which of the two is on the verge of gaining a yield advantage over the other is looking at differences in government bond yields between the two countries. Below is a chart showing AUD/NZD and its performance between the spread of two-year Australian and New Zealand bond yields from June 2016 to the beginning of August 2018.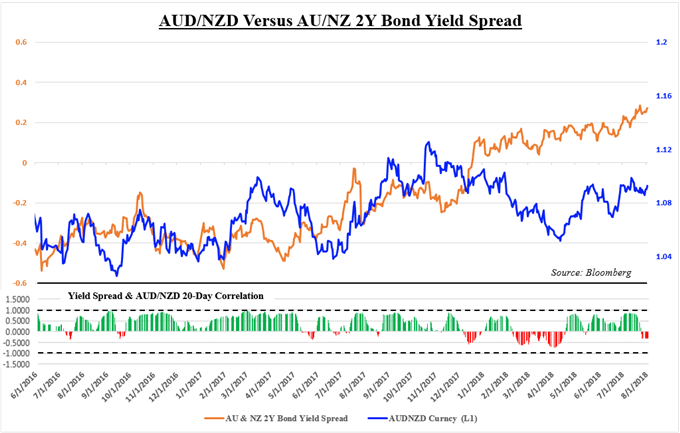 In addition, here is the same relationship but looking at the often more liquid 10-year yield: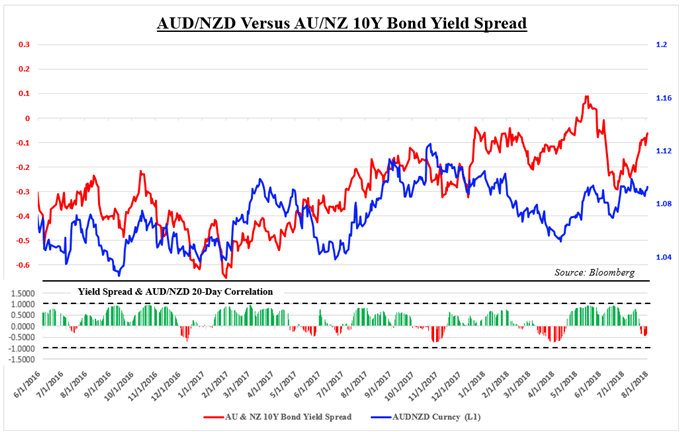 When the spread between Australian and New Zealand bond yields rises, it means that rates in the former are outpacing the latter. Not surprisingly, when Australian bond yields earn higher returns than in New Zealand, AUD tends to appreciate against NZD and vice versa.
Note that the 20-day rolling correlation in both cases was positive around 80 percent of the time. In addition, sometimes AUD/NZD would find itself favoring spreads between the two-year and at other times the ten-year. However, do keep in mind that this relationship is not always perfect and at times the correlation was negative.
Conclusion
With that in mind, those closely watching AUD/NZD should be aware of its potential as a "risk neutral" pair that can focus more on relative interest rate differentials between the RBA and RBNZ. This can also make it more reactive to local economic event risks (central banks, GDP, CPI, jobs data, etc…). This was evident when in August 2018 the Reserve Bank of New Zealand suggested that its next rate hike would be further out. As a result, AUD/NZD volatility suddenly awoke as it rallied more than 1.54% within hours of the monetary policy announcement.
Finally, keep in mind that in the future the behavior between AUD/NZD and equities could change depending on where other central banks take their interest rates. As of August 2018, the Fed boasts the highest yield in the majors FX spectrum of up to 2.00% and that seems likely to increase in the near-term. In addition, the Bank of Canada raised benchmark lending rates to 1.50% in July 2018. This tied it with the RBA. As other central banks outpace both the RBA and RBNZ, the relationship between stocks and the Australian and New Zealand Dollars could wane compared to other higher yielding currencies.
AUD/NZD Trading Resources:
— Written by Daniel Dubrovsky, Junior Currency Analyst for DailyFX.com
To contact Daniel, use the comments section below or @ddubrovskyFX on Twitter
EURUSD Elliott Wave from February 2018 Concludes
EURUSD Elliott Wave at high probability the bottom is in
We began building our short EURUSD position in two separate occasions from April 10 at 1.2350 and April 26 at 1.2153 in anticipation of a developing bearish impulse wave. Though our first target of 1.1554 was hit on May 29, the bearish impulse wave appeared incomplete. As of May 29, we could count three of the five Elliott Wave impulse waves lower, which implied a fourth wave correction and fifth wave sell off still to come.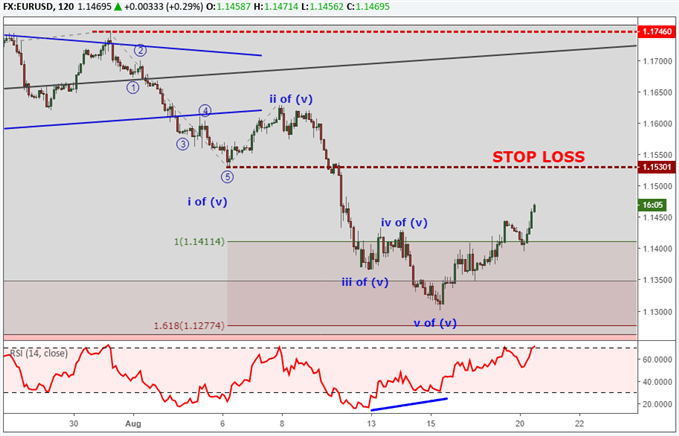 On August 6, we closed down half of the position (booking +791 pips) and tightened the stop loss on the remaining short EURUSD to 1.1750. We are now going to tighten the stop loss further as evidence is growing the bearish impulse wave from February 2018 has ended or is about to end with one more dip. Therefore, we are moving the stop loss on the remaining short EURUSD position to the August 6 low of 1.1530.
If EURUSD pops above 1.1530, then we will gladly book the remaining profits and head to the sidelines as EURUSD may be in the beginning stages of a multi-month rally that may drive to 1.17-1.22.
Elliott Wave Theory FAQ
What Elliott Wave is EURUSD in right now?
Our analysis points to a bearish impulse wave ending from February 2018 to August 15, 2018. This bearish impulse wave is likely wave 1 of a larger bearish impulse wave or wave A of a larger zigzag wave.
Our beginner and advanced Elliott Wave guides share with you typical waveforms and structure that include tips on how to trade with the waves.
Why do traders lose money?
Regardless of the style of analysis, many traders do lose money because they do not take the time to study the market and the effect of leverage. At DailyFX, we have studied millions of live trades and boiled our study down into a Traits of Successful Traders guide. You will find how leverage and human nature affects our trading so you can implement tactics like ones described in the trading idea above.
New to FX trading? We created this guide just for you.
—Written by Jeremy Wagner, CEWA-M
Jeremy Wagner is a Certified Elliott Wave Analyst with a Master's designation. Jeremy provides Elliott Wave analysis on key markets as well as Elliott Wave educational resources. Read more of Jeremy's Elliott Wave reports via his bio page.
Communicate with Jeremy and have your shout below by posting in the comments area. Feel free to include your Elliott Wave count as well.
Discuss this market with Jeremy in Monday's US Opening Bell webinar.
Follow on twitter @JWagnerFXTrader .
Australian Dollar May Get Some Respite If Only For Lack Of News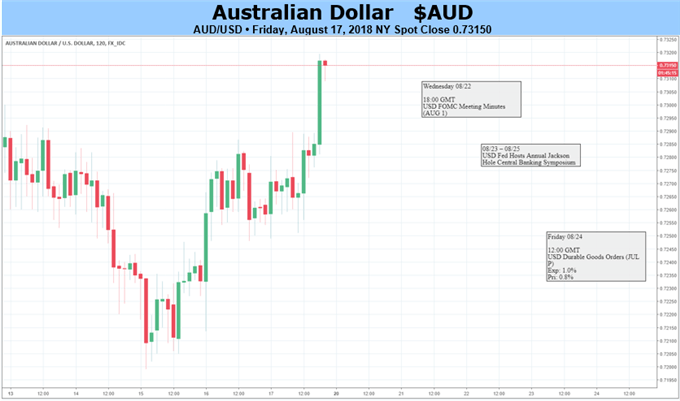 Fundamental Australian Dollar Forecast: Neutral
AUD Talking Points
The Australian Dollar remains in a pervasive downtrend against its US cousin

Interest rate differentials and twitchy risk appetite will probably ensure it stays ther

But this week could offer some pause
Find out what retail foreign exchange traders make of the Australian Dollar's prospects right now, in real time, at the DailyFX Sentiment Page
The Australian Dollar faces multiple sources of downward pressure but the coming week's light economic data schedule may offer it some probably temporary reprieve.
The widening interest rate differential in favor of the US Dollar does not appear to be going anywhere soon. Reserve Bank of Australia Governor Phillip Lowe testified before Parliament last week that, although the RBA still thinks the next move, when it comes, will be a rise, there's no near-term case for any such move.
Indeed local futures markets do not now price in any change to the record-low, 1.50% Official Cash Rate until at least the start of 2020.
But the Aussie's worries go a little deeper than simple rate comparisons. Risk aversion sparked first by global trade worries and then by thy collapse of the Turkish Lira has also weighed on the growth-linked currency. Morever, signs that the best of China's growth for the year may now be behind us have also done it no favours. Official industrial production and capital investment data out of China missed forecasts significantly last week. They were also the first look at figures for July, and suggested that 2018's second half may well be tougher than its first, with or without a trade settlement between Washington and Beijing.
So, given all of the above the Australian Dollar backdrop looks just about as gloomy as ever, especially as the markets also suspect that the RBA doesn't mind its weakness at all given how often it talks about a weaker currency making growth and inflation goals easier to hit.
But the week doesn't offer much in the way of Australian economic numbers. We will get the minutes of the last RBA monetary policy meeting. However, seeing as investors heard from the governor himself only a few days ago, scope for big moves on the minutes would seem very limited.
Make no mistake, the Australian Dollar is still biased lower against its US big brother, but it has been hit fairly hard in the last couple of weeks. The coming sessions could offer some breathing space and consolidation so it's a neutral call.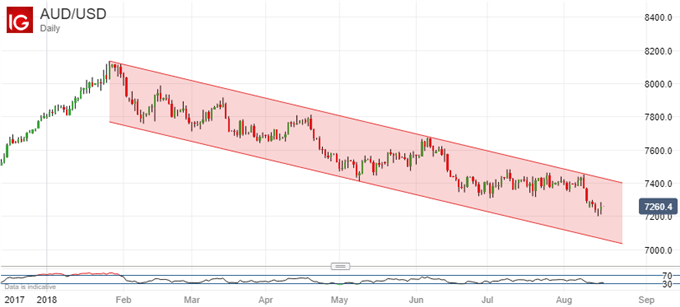 Resources for Traders
Whether you're new to trading or an old hand DailyFX has plenty of resources to help you. There's our trading sentiment indicator which shows you live how IG clients are positioned right now. We also hold educational and analytical webinars and offer trading guides, with one specifically aimed at those new to foreign exchange markets. There's also a Bitcoin guide. Be sure to make the most of them all. They were written by our seasoned trading experts and they're all free.
— Written by David Cottle, DailyFX Research
Follow David on Twitter@DavidCottleFX or use the Comments section below to get in touch!