Crude Oil Prices Touches New 2019 High As OPEC Supply Doubts Remain
Crude Oil Price Forecast Talking Points:
The

ONE

Thing:

Volatility continues to fall in the crude oil market, and traders who look at the charts may continue to favor higher prices as the broader stability in risk sentiment seems to set the stage for a test of $59-$64/bbl. Traders will also look to the 21-DMA at $56.62/bbl to hold to buttress bullish sentiment.

What's the risk to the bullish view? Supply more than demand. This week, OPEC challenged the US' pending legislation on the ability to sue OPEC could lead to a disastrous situation for the US E&Ps.

What's a professional crude trader's view? This

podcast with Brynne Kelly is a can't miss view

on oil trading from the platform of the world's largest merchants
You are in luck, DailyFX's Q1 2019 Crude Oil Forecast was just released
Technical Forecast for USOIL: Bullish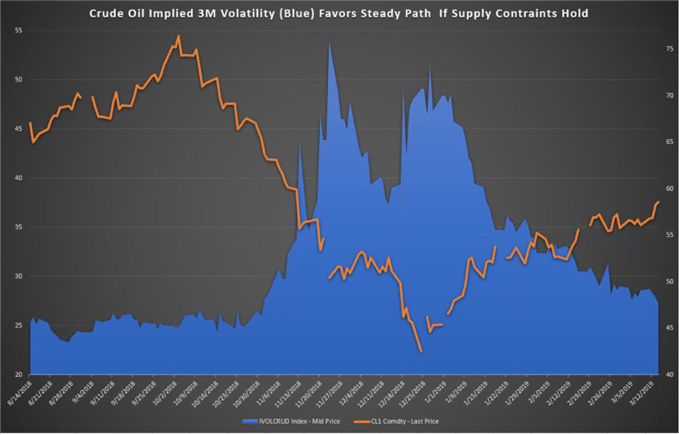 Source: Bloomberg
Volatility is an excellent servant, but a horrible master. When volatility gets out of hand, it rules everything, and understandably, few traders are safe from its wrath as the aggressive drops can be followed by the most aggressive rallies. However, when volatility is low, all seems right in the trader's world, and that feels like where we are now.
Sure, there is lots to write on in terms of the US-China Trade War, the central bank shift to dovishness, and OPEC and their alliances, known collectively as OPEC+ who will be meeting in Azerbaijan, Algeria to discuss how they can offset the Venezuelan supply shock and continue to stabilize the market.
All of this and more comes together on the chart above. The price of WTI Crude Oil's front-month oil contract alongside the 3M implied volatility ( a price derived from the Black-Sholes options pricing model) on crude oil shows a clear inverse relationship. As volatility rises, price typically falls or moves without clear directional and fundamental cues, but is subject to flows and position adjustments.
When Volatility is low, and 3-month implied vol is as low today as it was in late October, traders continue to discount the fears. Much of this optimism is due to the view that supply cuts will remain, and traders are placing the highest premium on the December 2019 contract in relation to the December 2020 WTI contract since November.
Looking for a fundamental perspective on crude oil? Check out theWeekly Crude Oil Fundamental Forecast.
A Pullback May Appear, But History Shows Upside May Remain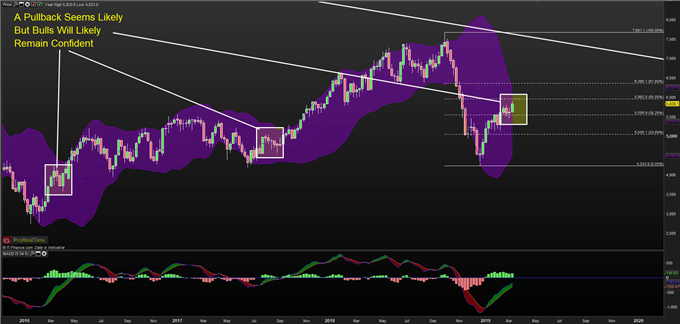 Chart Source: ProRealTime charting, IG UK Price Feed. Created by Tyler Yell, CMT
The chart above is a good deal more simple than the usual charts I share. However, the message to convey is simple. After bouncing off the lower volatility-band to above the 20-period moving average, crude's best days are often yet ahead.
However, a pull-back has come over the last three years when such a development has taken shape where price is above the 20-MA after pushing off lower vol-band. Subsequently, the 20-MA on the weekly chart at $53.79/bbl could act as a strong form of support or buying power on any subsequent pullback. Only a break below and failure to trade above the 20-MA on the weekly chart would change the view from bullish to neutral.
Lastly, the upper volatility band (2,20) on the weekly chart sites at $62.59/bbl. Traders may be encouraged enough in that alone, but looking at the past price action, traders will see that price has walked up the upper volatility band after the first touch, which could lead to a price move toward the 11-year trendline near $71/bbl if the above conditions hold.
Could They? Would They? US Antitrust Regulations Could Shatter Global Oil
A familiar tactic of the current administration has reached an unfamiliar target. Trump's long-held criticism of OPEC is coming to a head as US lawmakers are making a push to allow for the ability to sue OPEC countries to reign in their power oversupply, and therefore, price.
The bill has been given the moniker NOPEC, as in No Oil Producing and Exporting Cartels Act, and it would allow the US' Department of Justice to sue for antitrust violations for the exercising of their ability to control oil production to affect crude prices.
Traders may remember that a similar bill, which would be an amendment to the 1890 Sherman Antitrust law act that gave us Exxon, Shell and other derivatives of John D. Rockefeller's Standard Oil passed both the house and Congress before it was vetoed by President George W. Bush in 2007. Trump, however, may appreciate the upper hand it could give him, but OPEC is coming out a warning against the unintended consequences that should send shivers down the spine of anyone tied to the oil industry.
While Trump is likely looking at lower costs of energy for the consumer, OPEC is focusing on the utter destruction that could come upon the flooded market to unprecedented proportions. OPEC's Secretary General, Mohammed Barkindo noted that such legislation would not serve the US' interest. Barkindo has warned Wall Street financiers per Bloomberg that should the law go into effect, every country would not unite, and instead produce as much as possible, as soon as possible, and oil would become as cheap as possible.
Why is this a potential US problem? Costs for extraction globally are much lower than shale, and not only put them in a potentially unprofitable situation, but financiers should also be concerned. The billions upon billions of loans provided for extraction and production of US-based energy would likely see high defaults that would cut deep should the market become a free for all.
We'll see.
Follow the DailyFX Podcasts on A Platform That Suits You
iTunes: https://itunes.apple.com/us/podcast/trading-global-markets-decoded/id1440995971
Stitcher: https://www.stitcher.com/podcast/trading-global-markets-decoded-with-dailyfx
Soundcloud: https://soundcloud.com/user-943631370
Google Play: https://play.google.com/music/listen?u=0#/ps/Iuoq7v7xqjefyqthmypwp3x5aoi
—Written by Tyler Yell, CMT
Tyler Yell is a Chartered Market Technician. Tyler provides Technical analysis that is powered by fundamental factors on key markets as well as trading educational resources. Read more of Tyler's Technical reports via his bio page.
Communicate with Tyler and have your shout below by posting in the comments area. Feel free to include your market views as well.
Talk markets on twitter @ForexYell
Other Weekly Technical Forecast:
AUD Forecast – AUD/USD, GBP/AUD and AUD/JPY Technical Outlook Bearish
Gold Prices Tests 2019 Lows, GBPUSD Recovers on EURGBP Drop
MARKET DEVELOPMENT –Gold Prices Tests 2019 Lows, GBPUSD Recovers on EURGBP Drop
DailyFX Q2 2019 FX Trading Forecasts
GBP: The Pound has made a slight recovery from intra-day lows (1.2686) to reclaim the 1.27 handle as EURGBP pulls back from the 200DMA situated at 0.8792, which in turn could see the cross end its record win streak. However, the outlook remains soft for the Pound, given the continued turmoil in UK politics. Elsewhere, UK data surprised to the downside as the CBI reported that new orders had fallen to the lowest level since the October 2016 as UK manufacturers remain concerned over the ongoing Brexit uncertainty. UK inflation to be released tomorrow, although, data remains on the side-lines.
AUD: Gains in the Australian Dollar were faded after the RBA Governor explicitly stated that the central bank has an easing bias, something we have flagged for some time now (full story). Governor Lowe highlighted that lower rates would support employment and help lift inflation towards target, as a reminder, the RBA stated that a rate cut scenario would need to see inflation remain weak, while the unemployment rate would need to tick up, as such, with this being the case, a rate cut looks set to take place at the June 4th meeting. Alongside this, given the continued uncertainty regarding the trade war tensions between the US and China, the outlook remains soft for AUDJPY.
Gold: Equity markets are slightly firmer this morning after the US announced that they would provide a temporary ease on Huawei restrictions. Consequently, Gold prices have edged lower, having a made a technical break below trendline support from the 2018 low, which in turn could see a test of the 2019 low ($1266).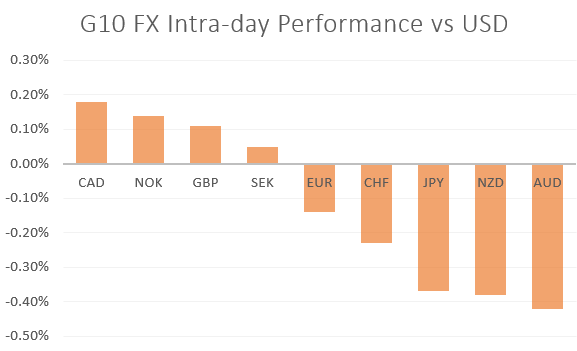 Source: DailyFX, Thomson Reuters
DailyFX Economic Calendar: – North American Releases


How to use IG Client Sentiment to Improve Your Trading
WHAT'S DRIVING MARKETS TODAY
— Written by Justin McQueen, Market Analyst
To contact Justin, email him at Justin.mcqueen@ig.com
Follow Justin on Twitter @JMcQueenFX
GBPUSD Price Slumps as Brexit Turmoil, USD Strength Takes its Toll
Sterling (GBP) Price and Latest Brexit News
Sterling hits a four-month low against the US dollar.

Chart looks oversold, but client sentiment remains heavily bearish.
Q2 2019 GBP and USD Forecasts andTop Trading Opportunities
GBPUSD – Bearish Sequence Continues Unchecked
Sterling is under heavy pressure against a resurgent US dollar and is touching levels last seen in mid-January this year and the recent sell-off continues. The recent break of support levels at 1.2894 and 1.2773 has left the pair without an anchor and sellers remain firmly in control. The recent breakdown has been primed by yet more Brexit confusion and concern as UK PM May continues to put forward her Withdrawal Agreement despite it already having been voted down in the House of Commons three times.
GBPUSD Price Rattled by Heightened Brexit Fears, European Elections Near
The US dollar continues its recent ascent with the US dollar basket (DXY) at a two-week high of 97.50 and threatening to make a fresh two-year high at 97.84. A break and close above here would produced another higher high on the longer-dated chart and reinforced further upside. Wednesday's FOMC minutes and/or Friday's US durable goods orders may well fuel this move higher.
GBPUSD may find some respite on the downside from the January 15 'spike low' at 1.2669 yet this support looks fragile. The CCI indicator does show the pair as heavily oversold and this again may put a brake on any further sell-off in the short-term.
GBPUSD Daily Price Chart (August 2018 – May 21, 2019)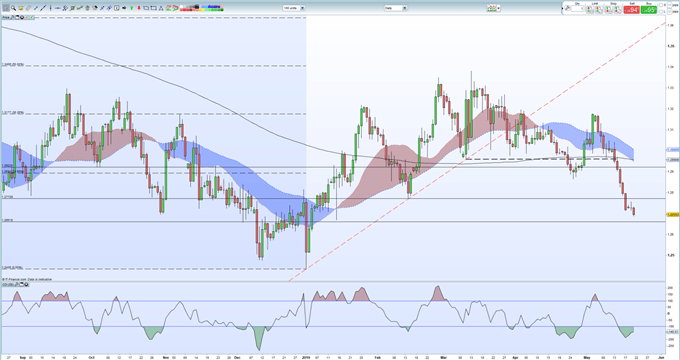 Retail traders are 81.7% net-long GBPUSD according to the latest IG Client Sentiment Data. See how recent daily and weekly positional changes affect GBPUSD and currently give us a stronger bearish contrarian trading bias.
Traders may be interested in two of our trading guides – Traits of Successful Traders and Top Trading Lessons – while technical analysts are likely to be interested in our latest Elliott Wave Guide.
What is your view on GBPUSD – bullish or bearish?? You can let us know via the form at the end of this piece or you can contact the author at nicholas.cawley@ig.comor via Twitter @nickcawley1.
S&P 500 Repeats Gap Down on Trade War News, Oil Cautious on US-Iran
Trade Wars Talking Points:
A weekend for reflection on trade war 'improvement' around autos and USMCA led to another S&P 500 gap lower rather than relief

With both US and Chinese parties unwilling to repair their trade rift, the impact on markets and economy is registering more palpably

Growth will have its highlights this week, but it may be political risk that truly shapes the market landscape ahead
See how retail traders are positioning AUDUSD, EURUSD, S&P 500 along with the other FX majors, indices, gold and oil intraday using the DailyFX speculative positioning data on the sentiment page.
Trade War Enthusiasm Doesn't Benefit a Weekend to Reflect
There was no small sense of surprise for many through the end of this past week when reports of 'breakthrough' on certain fronts of the global trade war failed to trigger a relief rally for the speculative benchmarks. It seems a weekend of reflection wouldn't thaw that reticence any further. In fact, we opened the new week with speculative appetite on a backfooting with hesitation for most and an explicit squelch of pain from equities. The US benchmark indices opened Monday with another gap lower – the S&P 500's drop from previous session close to new day's open matched the slump on Friday. Equities retain more speculative premium relative to many other key risk assets, and the United States indices in particular maintain the greatest advantage among global shares milestones. This may be a cause of excessive risk exposure bleeding off, or it could reflect a market with a unique exposure to the chief fundamental risks moving forward. While both scenarios are plausible, I am of the mind that the former is more likely. That says something of the motivations of our markets. Watching for trade war updates may stir volatility, but it will struggle to generate trends if the market is not simply waiting for a cue on the theme. Alternatively, should momentum build behind a broad effort at 'de-risking', the abstract concept could place sheer speculative drive at the helm of systemic trends.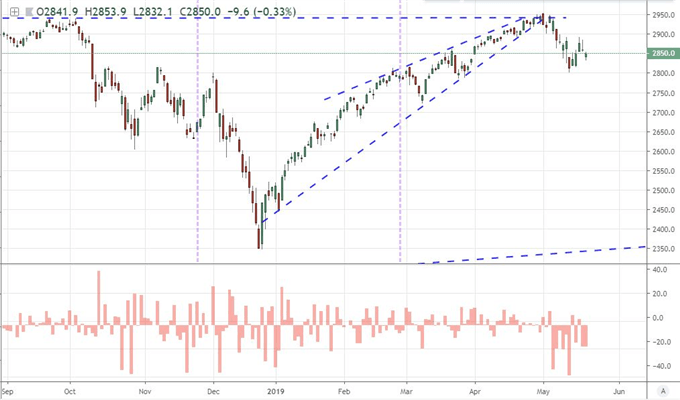 Regardless of whether the market moves forward with systemic bullish or bearish trends via collective speculation or behind the banner of an overt fundamental theme, we cannot afford to ignore the fundamental sparks as they ignite in the open market. As it stands, trade wars still poses the most pervasive and costly threat to the global economy. From the developments that could be labeled 'relief' from last week, there was still as little favorable market response for the assets more directly exposed to the headlines as from the broader 'risk' benchmarks themselves. The Canadian Dollar and Mexican Peso were still spinning their tires against the Greenback Monday, maintaining remarkably contrite ranges to bounce around. Meanwhile, the deferred decision by the Trump administration on auto tariffs translated into no significant lift in the Euro. What is far more surprising is that the reprieve didn't prevent a drop from the DAX German equity index and German auto-manufacturer BMW continued its tumble lower. That isn't to suggest that auto tariffs are the only risk that requires evaluation, but it is arguably one of principle concerns at hand.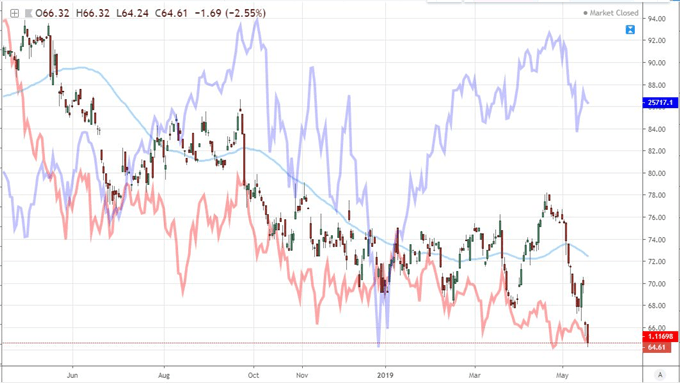 It seems the speculative compass continues to favor the mood in US-China relations. There were no overt escalations to the trade war tab like there had been the past week – the US raising tariffs on $200 billion in Chinese imports to 25 percent on May 10th and China matching the tax rate on $60 billion in US goods on May 13th. However, rhetoric was clearly souring between the two. President Trump tweeted that there would be no 50-50 outcome in negotiations while China accused the US negotiators as harboring extravagant expectations' and was in no rush to restart talks. In the meantime, the actions to ban Huawei in the US were keeping the company's shares to bear trend while industry groups started to use the label of a 'tech cold war'. A new industry has requested exclusion from the Trump tariffs: apparel companies asked the White House to keep footwear off the list. As we keep tabs on general risk benchmarks, it will also be important to monitor USDCNH as it menaces the politically-important 7.0000 level.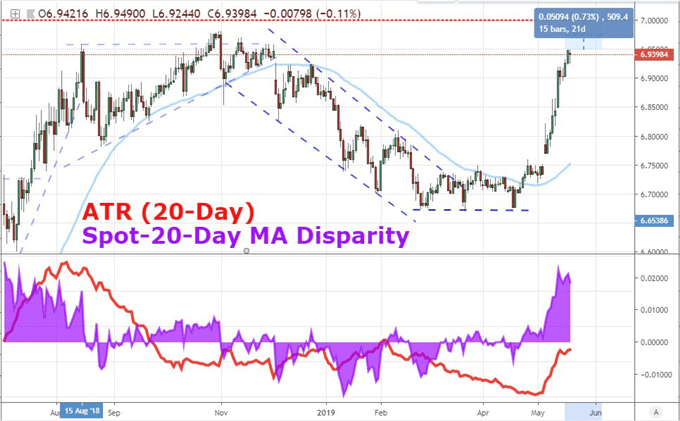 Growth and Political Risks Threaten to Amplify Market Movement
While there are different prevailing fundamental winds that will compete for market influence, there is little probability that these cross currents will shift the weight to a competing theme. That said, there is a strong probability that these significant developments can amplify the charge that we manage to generate. Sheer economic activity is a theme that is bound to draw significant attention this week. Thus far, the picture is mixed. Japan's 1Q GDP update offered thwarted fears of recession with a robust 0.5 percent quarterly expansion that contrasted to the -0.1 percent contraction forecasted. Similarly, the annualized reading registered 2.1 percent growth against a -0.2 percent showing. How enthusiastic we should be in this reading given that consumer spending and business investment floundered which left a much weaker imports growth than export to do the heavy lifting is up for debate. For the United States, the Chicago Fed's National Activity Index for April was unambiguous in its poor showing with a -0.45 versus -0.20 forecast. That does not support the outlook for an economy hosting a strong 1Q figure but struggling for sustained sources of growth moving forward. Ahead, the OECD will offer up an economic forecast Tuesday during European hours which will spur speculation for Thursday's PMI figures from Japan, Europe and the US.
Another more open-ended fundamental risk in our immediate future is the scope of political risk across the global spectrum. Faltering diplomatic relations between the US and China certainly count for this category as do the impending EU elections. That said, there is more nebulous risk at play in the form of the growing threat between US President Trump and Congress. The latter is pressuring the former on financial information, testimony from his former staff and leveling threats against his family (son-in-law). There is high political drama to draw from this situation, but the economic implications are increasingly overlooked as the chances for infrastructure spending are increasingly jeopardized. Perhaps the most intense risk in this vein at present is the threat that a cold economic war between the US and Iran turns into a 'hot' military engagement between the two. Despite the frayed nerves and the contribution to troubled risk trends, oil prices are notably in check. Should this situation escalate, however, don't expect the market to remain so detached.
Separating Volatility from Trend Intent for Euro, Pound, Aussie and Bitcoin
As we reach stronger fundamental developments moving forward, it is worth assessing what has greater potential for sheer (short-term) volatility and what is capable of hitting escape velocity on trend. The Euro has made a feeble effort to generate a clear trend with just the Eurozone and Italian current account balance figures to generate movement. Both series beat expectations significantly, but that does little to draw our attention away from far more systemic issues at hand. Thursday brings the start of the EU Parliamentary elections which threaten to further destabilize confidence in the shared currency already drawing fire from Italy's anti-EU stance. Consumer confidence in the session ahead, Wednesday's Draghi rhetoric and even Thursday's PMIs are unlikely to draw our attention away from this systemic influence for too long.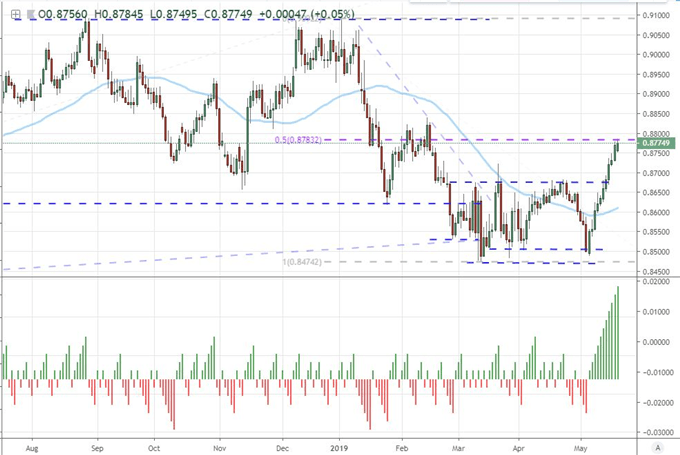 The situation for the Pound is much the same. The Sterling has extended its slide to an 11th consecutive daily loss on an equally-weighted basis. That is an extreme move for the currency as it has only seen one other such move of that magnitude on the bearish course some 12 years ago. Here too, there is interim event risk to keep track of in the form of the Bank of England (BOE) member rhetoric and the upcoming inflation data, but that will seriously struggle to distract from the implications of the same Parliamentary elections on the UK. Having had to extend the Article 50 cut off for the Brexit, the United Kingdom was forced to participate in the elections, leveraging discontent to even greater heights. If there is serious concern that the UK will come out of this event with even stronger pressure for an 'exit at all costs' (no deal), the Pound could absolutely lose more altitude.
Far more limited in their respective volatility are the Australian Dollar and Bitcoin. The commodity currency offered up a remarkable surge to start the new trading week. The bullish gap for the equally-weighted measure was the largest since February 2016 while the ASX 200 similarly received a boost with a push to highs only overwhelmed by the records set back in 2007. The spark for this bullish view was the news that the Australian Federal election had settled with the government leadership unchanged. Markets prefer the status quo, but that doesn't mean they can leverage that comfort to dynamic trend development. Australia is still beholden to commodities and China for its future. A similar, serious caveat has to be applied to Bitcoin. The cryptocurrency has drawn remarkable attention fr the extreme volatility of the past week. That level of activity has not come with any meaningful promise of trend, so tread carefully. We discuss all of this and more in today's Trading Video.
If you want to download my Manic-Crisis calendar, you can find the updated file here.