Crude Oil Prices Touches New 2019 High As OPEC Supply Doubts Remain
Crude Oil Price Forecast Talking Points:
The

ONE

Thing:

Volatility continues to fall in the crude oil market, and traders who look at the charts may continue to favor higher prices as the broader stability in risk sentiment seems to set the stage for a test of $59-$64/bbl. Traders will also look to the 21-DMA at $56.62/bbl to hold to buttress bullish sentiment.

What's the risk to the bullish view? Supply more than demand. This week, OPEC challenged the US' pending legislation on the ability to sue OPEC could lead to a disastrous situation for the US E&Ps.

What's a professional crude trader's view? This

podcast with Brynne Kelly is a can't miss view

on oil trading from the platform of the world's largest merchants
You are in luck, DailyFX's Q1 2019 Crude Oil Forecast was just released
Technical Forecast for USOIL: Bullish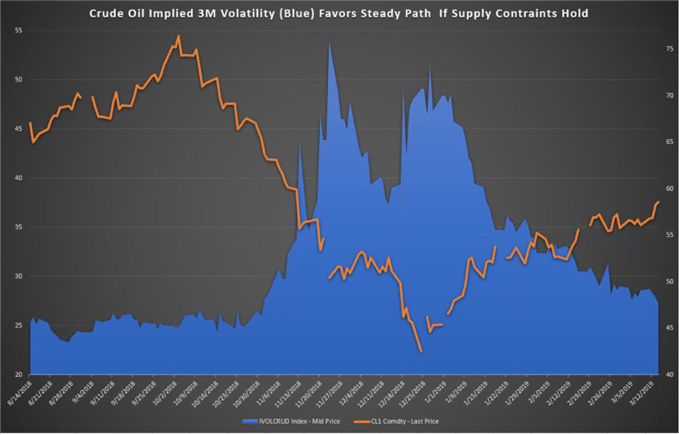 Source: Bloomberg
Volatility is an excellent servant, but a horrible master. When volatility gets out of hand, it rules everything, and understandably, few traders are safe from its wrath as the aggressive drops can be followed by the most aggressive rallies. However, when volatility is low, all seems right in the trader's world, and that feels like where we are now.
Sure, there is lots to write on in terms of the US-China Trade War, the central bank shift to dovishness, and OPEC and their alliances, known collectively as OPEC+ who will be meeting in Azerbaijan, Algeria to discuss how they can offset the Venezuelan supply shock and continue to stabilize the market.
All of this and more comes together on the chart above. The price of WTI Crude Oil's front-month oil contract alongside the 3M implied volatility ( a price derived from the Black-Sholes options pricing model) on crude oil shows a clear inverse relationship. As volatility rises, price typically falls or moves without clear directional and fundamental cues, but is subject to flows and position adjustments.
When Volatility is low, and 3-month implied vol is as low today as it was in late October, traders continue to discount the fears. Much of this optimism is due to the view that supply cuts will remain, and traders are placing the highest premium on the December 2019 contract in relation to the December 2020 WTI contract since November.
Looking for a fundamental perspective on crude oil? Check out theWeekly Crude Oil Fundamental Forecast.
A Pullback May Appear, But History Shows Upside May Remain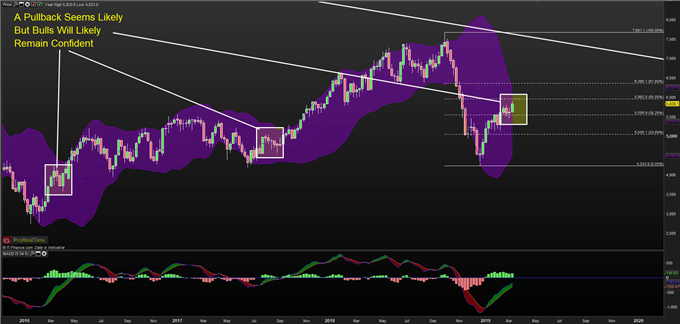 Chart Source: ProRealTime charting, IG UK Price Feed. Created by Tyler Yell, CMT
The chart above is a good deal more simple than the usual charts I share. However, the message to convey is simple. After bouncing off the lower volatility-band to above the 20-period moving average, crude's best days are often yet ahead.
However, a pull-back has come over the last three years when such a development has taken shape where price is above the 20-MA after pushing off lower vol-band. Subsequently, the 20-MA on the weekly chart at $53.79/bbl could act as a strong form of support or buying power on any subsequent pullback. Only a break below and failure to trade above the 20-MA on the weekly chart would change the view from bullish to neutral.
Lastly, the upper volatility band (2,20) on the weekly chart sites at $62.59/bbl. Traders may be encouraged enough in that alone, but looking at the past price action, traders will see that price has walked up the upper volatility band after the first touch, which could lead to a price move toward the 11-year trendline near $71/bbl if the above conditions hold.
Could They? Would They? US Antitrust Regulations Could Shatter Global Oil
A familiar tactic of the current administration has reached an unfamiliar target. Trump's long-held criticism of OPEC is coming to a head as US lawmakers are making a push to allow for the ability to sue OPEC countries to reign in their power oversupply, and therefore, price.
The bill has been given the moniker NOPEC, as in No Oil Producing and Exporting Cartels Act, and it would allow the US' Department of Justice to sue for antitrust violations for the exercising of their ability to control oil production to affect crude prices.
Traders may remember that a similar bill, which would be an amendment to the 1890 Sherman Antitrust law act that gave us Exxon, Shell and other derivatives of John D. Rockefeller's Standard Oil passed both the house and Congress before it was vetoed by President George W. Bush in 2007. Trump, however, may appreciate the upper hand it could give him, but OPEC is coming out a warning against the unintended consequences that should send shivers down the spine of anyone tied to the oil industry.
While Trump is likely looking at lower costs of energy for the consumer, OPEC is focusing on the utter destruction that could come upon the flooded market to unprecedented proportions. OPEC's Secretary General, Mohammed Barkindo noted that such legislation would not serve the US' interest. Barkindo has warned Wall Street financiers per Bloomberg that should the law go into effect, every country would not unite, and instead produce as much as possible, as soon as possible, and oil would become as cheap as possible.
Why is this a potential US problem? Costs for extraction globally are much lower than shale, and not only put them in a potentially unprofitable situation, but financiers should also be concerned. The billions upon billions of loans provided for extraction and production of US-based energy would likely see high defaults that would cut deep should the market become a free for all.
We'll see.
Follow the DailyFX Podcasts on A Platform That Suits You
iTunes: https://itunes.apple.com/us/podcast/trading-global-markets-decoded/id1440995971
Stitcher: https://www.stitcher.com/podcast/trading-global-markets-decoded-with-dailyfx
Soundcloud: https://soundcloud.com/user-943631370
Google Play: https://play.google.com/music/listen?u=0#/ps/Iuoq7v7xqjefyqthmypwp3x5aoi
—Written by Tyler Yell, CMT
Tyler Yell is a Chartered Market Technician. Tyler provides Technical analysis that is powered by fundamental factors on key markets as well as trading educational resources. Read more of Tyler's Technical reports via his bio page.
Communicate with Tyler and have your shout below by posting in the comments area. Feel free to include your market views as well.
Talk markets on twitter @ForexYell
Other Weekly Technical Forecast:
AUD Forecast – AUD/USD, GBP/AUD and AUD/JPY Technical Outlook Bearish
British Pound Volatility Continues and a Break Is Inevitable…
British Pound Talking Points:
Looking for a fundamental perspective on Crude oil? Check out the Weekly Crude Oil Fundamental Forecast.
Technical Forecast for British Pound: Neutral
My technical outlook for the British Pound over the coming week is neutral…but that doesn't mean it will be quiet. In fact, the reality is likely to be exactly the opposite of the calm that a 'neutral' setting would imply. It is likely that the currency maintains its struggle to set a clear and consistent course through the near future, but volatility will likely remain explosive for the currency. There is little surprise that Brexit is a key concern for the currency and charts traders should not write off that fact just because it strays into the fundamental realm. So long as the headlines signal that there is no clear course for the UK's divorce from the European Union, the market will not fully commit to a clear direction on the currency. There is too much influence tied into the state of the economic relationship (readily seen in EURGBP) for the more stoic and systemic market interest behind Sterling capital flows to make a commitment.
In the absence of this deep current to stabilize markets, more volatile and speculative elements will exert greater influence over price action. Hence, we are left with exceptional volatility but limited capacity to spark a trend. Below is an equally-weighted index of the Pound with a 20-day average true range (ATR) as a percentage of current spot. The activity measure is at its highest levels since November 2016 – shortly after the initial Brexit detonation. Tight ranges do not survive such volatility for long. It can readily lead to 'technical breaks' but it doesn't necessarily offer the transition to a reliable trend unless underlying speculative hurdle is crossed. This is one of those times where technical traders should keep tabs on the 'other' analytical technique.
Chart of an Equally-Weighted Pound Index with 20-Day ATR as Percentage of Spot (Daily)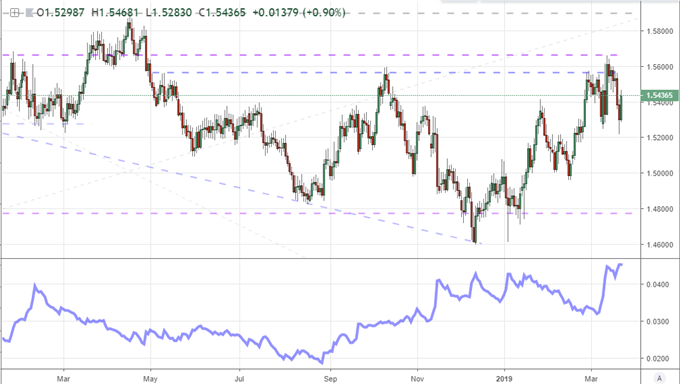 From the benchmark GBPUSD, we find the same general conditions registered from the Sterling index above: there is considerable volatility with unmistakable range. The volatility range on this particular pair is similarly very high but not as extreme as the individual currency in relief – the Dollar's restraints likely bear on this relationship. To the topside of this pairs, we have a resistance just shy of 1.3400 born of the confluence in a rising trendline of highs back to July as well as the midpoint of the 2018-2019 bear wave. The lower threshold is less overt. The 200-day moving average and a short-term (though questionable due to the January flash crash) trendline coincide around 1.2975/95. I would hold neither to hold up against further bouts of extreme volatility nor to spark a reliable trend.
GBPUSD and the 50-day and 200-day Moving Averages (Daily)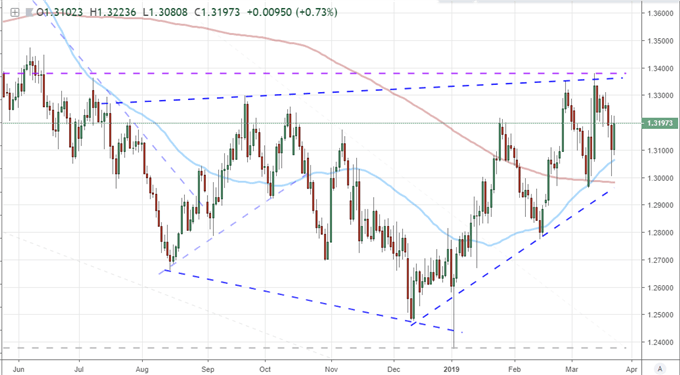 For those that follow volatility measures regularly in their analysis, the paths of implied (expected) and historical (realized) activity measures can offer more distinctive insight on the markets. Below is the GBPUSD overlaid with the CBOE's volatility index derived from the same pair. On a close-over-close basis, the measure is remarkably high but it didn't overtake the November peak when Prime Minister May's withdrawal proposal worked out with the EU was rejected and the future of the Brexit proceedings were thrown into disarray. However, if we look at the measure on an intraday basis, it charged to the highest since the aftermath of the initial Brexit vote (the later months of 2016). A comparison of this measure and the 20-day ATR can offer useful analysis.
Chart of GBPUSD and the CBOE's Pound Volatility Index (Daily)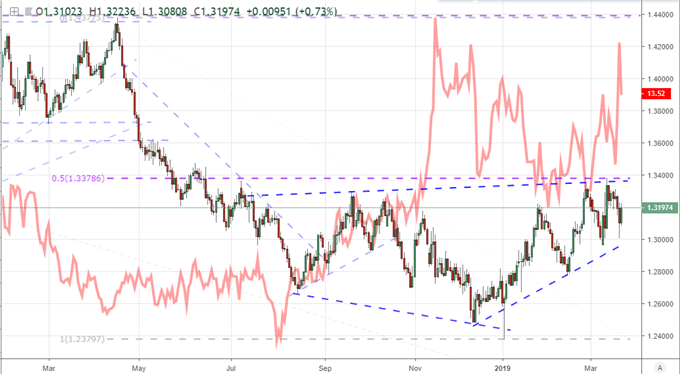 Another important cross to watch for those that want to get a technical perspective of a fundamentally-distracted currency is EURGBP. The Pound is the focal point of Brexit but the Euro (and EU) have as much to lose if the negotiations turn out poorly. This pair is therefore understandably afflicted. The 20-day ATR here is extreme and it serves as a good reminder that technical boundaries are not the only consideration when trading Sterling. The slide through 0.8625 back in March was a long-term range support break and it seemed like the tides would shift on a multi-year congestion pattern that followed an impressive rally from the pair. As significant as the cue was, momentum would never set up camp. Friday's drop was the second largest single-day loss in two years. That is the kind of situation we are dealing with here – not the slow and methodical setup to a inverse head-and-shoulders pattern that you may expect from a look at just levels.
Chart of EURGBP and 50-day Moving Average (Daily)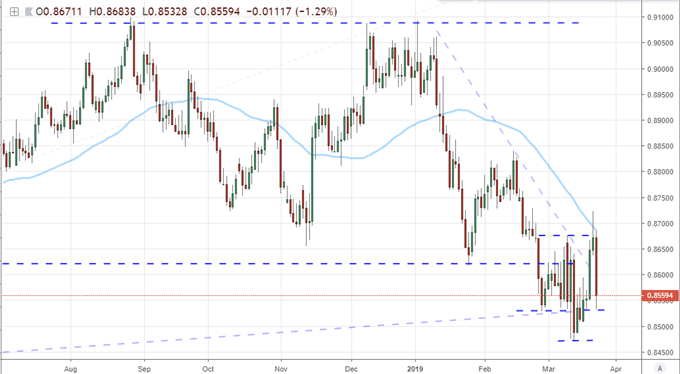 From the third most liquid Pound-based major, we have a combination of the Sterling's own volatility and the addition of the Yen's penchant to reflect market volatility. Here, the floor of a rough rising trend channel from the January flash crash is mingling with the 50-day and 200-day moving averages around 144.25/75. I would not expect this zone of support to be respected should we feel subsequent waves of volatility similar to what we've experienced the past two weeks. For what it's worth, the collective resistance the trendline pulled from a descending series of highs and 38.2 percent Fibonacci retracement of the February 2018 high to flash crash low (excluding the tail) around 148.75 would likely carry greater weight. Yet, the higher the volatility, the more intangible the border becomes.
Chart of GBPJPY along with 50-day and 200-day Moving Averages (Daily)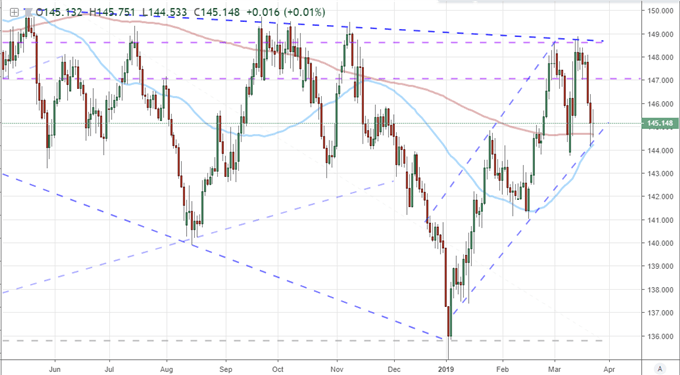 Finally, a look at speculative positioning reveals there is an intent gap between the larger and smaller players in the market. The large speculators measured in the CFTC's Commitment of Traders (COT) report reveals that futures traders of size took a considerable gamble by significantly shifting away from the net short view through Tuesday (when the data collection stops for the week). They were likely expecting a Brexit breakthrough and the same from the Cable. That didn't occur. It is also true that total speculative interest is softening in the face of volatility. Retail traders are not so put off by the activity levels. While total retail positions measured by IG's Client Sentiment data has been consistent, the swing between a net long and net short position has been dramatic. Reactive and range bound market conditions are what retail traders typically look for – dangerous but temporarily appropriate. Follow what retail traders are doing, but they will likely put more faith in technical boundaries than our current conditions general deserve.
Chart of Net Speculative Positioning in Dollar Futures Positions from CFTC Report (Weekly)
Chart of Retail Trader Positioning from IG Clients (Daily)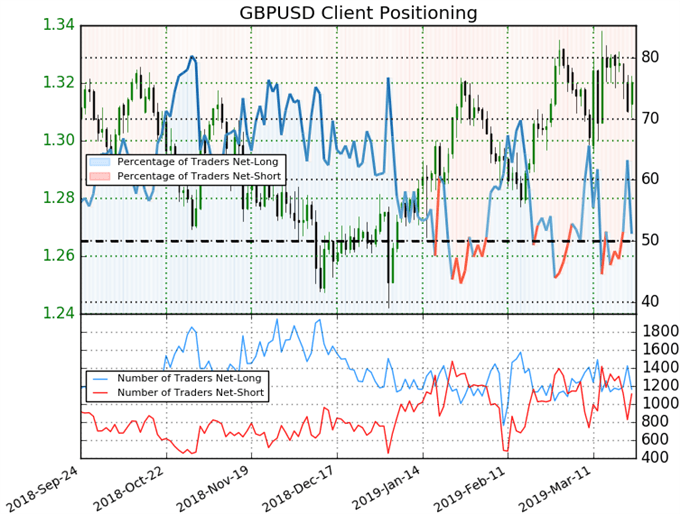 Other Weekly Technical Forecasts:
Australian Dollar Forecast – AUD/USD Rebound Stalls Post-Fed
Evening Star Prints as $60 Breakout Fails
Crude Oil Price Forecast Talking Points:
– The 2019 rally in WTI Crude Oil continued this week as prices re-tested the $60 level on the chart around the Wednesday FOMC rate decision. Prices put in a day of indecision on Thursday followed by a sell-off on Friday, making for an evening star formation on the Daily chart, which will generally be approaches in a bearish manner.
– The bigger question is whether that evening star formation may be showing pullback potential or whether a larger reversal may be in the works. If risk aversion does continue to show, as was seen in early-Friday trade, the probability of a deeper reversal becomes stronger. But, at this early stage, there is little evidence to support that thesis as Oil prices remain well-elevated from potential areas of support around $57.25-$57.50 (which was resistance in early-March) and $54.50-$55.50. Until those supports are broken, the bullish 2019 trend can remain as workable.
Do you want to see how retail traders are currently positioned? Check out our IG Client Sentiment Indicator.
Technical Forecast for USOil: Bullish
The bullish 2019 trend in Oil ran into resistance this week, with prices temporarily pushing over the $60-level before sellers made a showing. And while 2019 trade has been considerably more upbeat and optimistic than the sell-off from Q4, prices failing to trade through a key area of resistance on the chart brings to question the near-term viability of bullish continuation in Oil prices as the final week of Q1 approaches.
Crude Oil Monthly Price Chart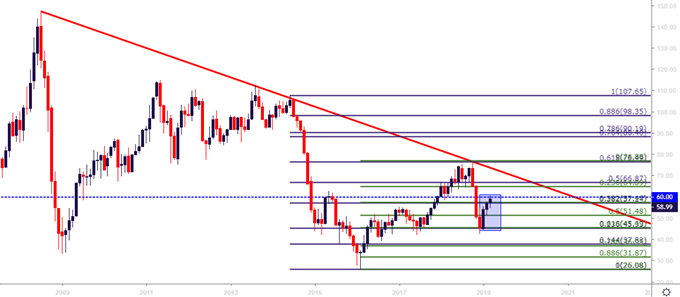 Chart prepared by James Stanley
Crude Oil Daily:
This week saw crude prices rally through the FOMC rate decision and into Thursday trade, at which point sellers showed-up to push prices back-below the $60 level. The sell-off continued through a key Fibonacci level on the chart at 59.64. The three-day candle formation has built into an evening star pattern, which involves an initial day of strength running into a day of indecision; followed by a sell-off that takes-out at least half of the gains from day one.
This keeps the door open for a short-term move of weakness down to the confluent Fibonacci zone that runs from 57.25-57.50, in which exists 38.2% retracements from both 2014-2016 and 2016-2018 major moves. This would be categorized as a pullback in the longer-term trend that's held so far through 2019; and that theme can remain workable as long as prices trade above the March swing-low around $54.50.
Crude Oil Daily Price Chart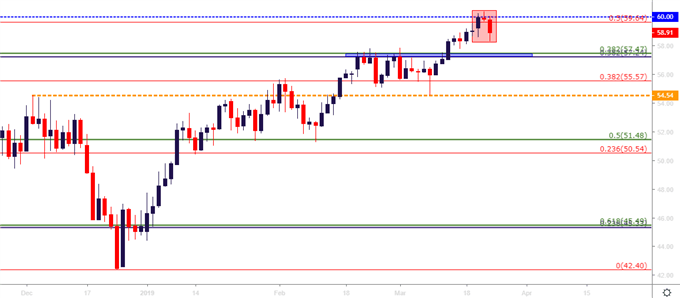 Chart prepared by James Stanley
Timing Exposure in WTI Crude Oil
Given the culmination of the above factors: A strong bullish trend that's held for the past few months running into a very obvious level of resistance at the psychological $60 handle, at which point a bearish formation had printed; and traders looking to onload bullish exposure may want to wait for a more optimal backdrop before looking to take on risk.
If the current retracement can push prices down to find support at the prior area of resistance, right around that confluent Fibonacci area discussed above, bullish trend strategies can become attractive. If that zone is unable to hold the lows, there's another block of potential support around the $54.50-$55.50 area. If this zone comes into play, meaning there was a failure from buyers to hold support around $57.25, traders would likely want to utilize a bit of patience in waiting for support to actually build before looking to take on long exposure. Once that criteria is satisfied, the door can soon re-open for bullish strategies, targeting a resistance re-test of the $57.27 area on the chart.
Crude Oil Four-Hour Price Chart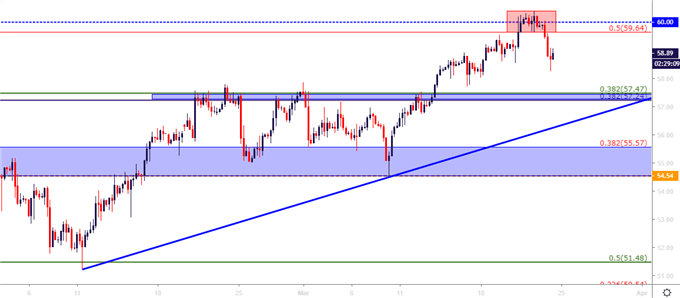 Chart prepared by James Stanley
To read more:
Are you looking for longer-term analysis on the U.S. Dollar? Our DailyFX Forecasts for Q4 have a section for each major currency, and we also offer a plethora of resources on USD-pairs such as EUR/USD, GBP/USD, USD/JPY, AUD/USD. Traders can also stay up with near-term positioning via our IG Client Sentiment Indicator.
Forex Trading Resources
DailyFX offers an abundance of tools, indicators and resources to help traders. For those looking for trading ideas, our IG Client Sentiment shows the positioning of retail traders with actual live trades and positions. Our trading guides bring our DailyFX Quarterly Forecasts and our Top Trading Opportunities; and our real-time news feed has intra-day interactions from the DailyFX team. And if you're looking for real-time analysis, our DailyFX Webinars offer numerous sessions each week in which you can see how and why we're looking at what we're looking at.
If you're looking for educational information, our New to FX guide is there to help new(er) traders while our Traits of Successful Traders research is built to help sharpen the skill set by focusing on risk and trade management.
— Written by James Stanley, Strategist for DailyFX.com
Contact and follow James on Twitter: @JStanleyFX
Other Weekly Technical Forecasts:
Australian Dollar Forecast – AUD/USD Rebound Stalls Post-Fed
Rising Global Growth Concerns Sink Oil Prices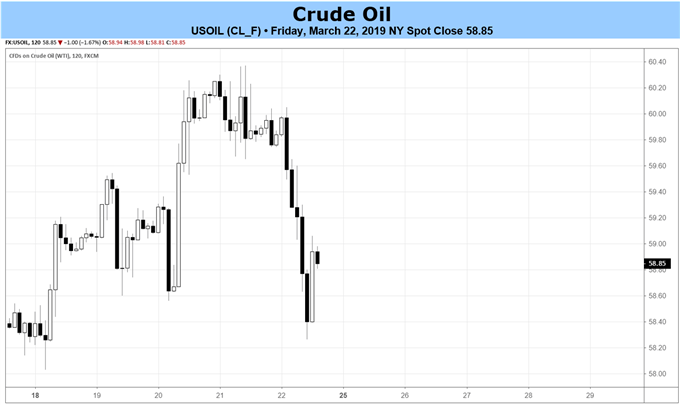 Fundamental Forecast for Crude Oil: Neutral
– News early in the week that OPEC would be canceling their April meeting initially help Crude Oil prices rally into their highest level since November 12.
– As more of the US Treasury yield curve sinks into inversion territory, concerns about the state of the US economy and global growth in general have flared – hitting oil prices hard by the end of the week.
– The IG Client Sentiment Indexshows that retail traders are buying the Crude Oil dip – a contrarian signal that more losses may be yet to come.
See our long-term forecasts for the Euro and other major currencies with the DailyFX Trading Guides.
Crude Oil Weekly Price Recap
After climbing through the first four days of the week to hit their highest level since November 12, Crude Oil prices dropped dramatically on Friday as a fresh wave of concern over the state of the global economy provoked a sell-off in high beta assets, growth-related commodities, and the risk-correlated currencies. The -1.97% drop on Friday saw Crude Oil cut its gain for the week down to 0.89% overall. Heading into the last week of the month, Crude is up by 3.18% since the start of March.
OPEC Meeting Cancellation Suggests Supply Will Remain Tight
The positive performance by Crude Oil last week can be attributed directly to a report on Monday that said that OPEC would not meet in April. Evidently displeased with the state of global demand, the major oil producing countries are intent on keeping the supply cuts in place until at least their next meeting in June. Against a backdrop where the Trump administration may announce fresh sanctions on Iran and Venezuela, a prospective constrained supply picture over the next few months has quickly emerged.
Global Growth Concerns Rise as US Treasury Yield Curve Continues to Invert
Even as it appears the global energy supply will be constrained over the near-term horizon, markets may have reached their breaking point with respect to concerns over the global economy. The March Fed meeting on Wednesday jumpstarted the drop in yields on Wednesday, but the US Treasury yield curve's inversion by the end of the week may have been the proverbial straw that broke the camel's back.
While the US Treasury yield curve has been inverted at various points since late last year, it was only recently that we started to see the key spreads – the 3m5s and 3m10s – move into inversion territory for the first time since 2007.
Why does the US yield curve inversion matter? In the post-war era, every occasion in which the 3m5s and 3m10s yield curves have remained inverted for two consecutive quarters has pre-dated a US recession 100% of the time. Crude Oil prices may prove to be disadvantaged in an environment where global growth concerns begin to pick up.
Inventory Data Due Out on Wednesday
The latest round of API inventory data showed that US crude inventories dropped by an unexpected 10M barrels, but a look under the data's hood shows that nearly 70% of the drawdown was related to an uptick in exports (reflecting the aforementioned supply concerns). Amid market participants proving increasingly jittery over global growth, another round of data that show supply remains tight could prove to help buoy Crude Oil prices come mid-week.
Latest COT Data Shows Longs Continued to Build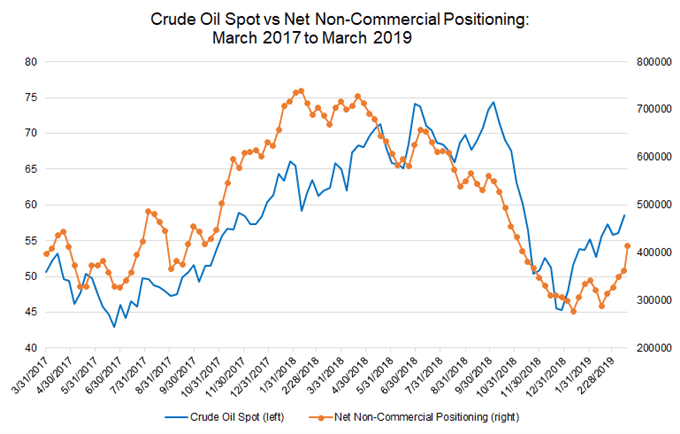 Finally, looking at positioning, according to the CFTC's COT for the week ended March 19, speculators increased their net-long Crude Oil positions to 414.8K contracts, up from the 362.3K net-long contracts held in the week prior. Net-longs have now climbed for the past five consecutive weeks after bottoming out during the week of February 12, 2019. Positioning remains a significant distance from the highs seen over the past two years, which were 739.1K net-longs during the week of February 6, 2018.
IG Client Sentiment Index: Crude Oil (March 22, 2019)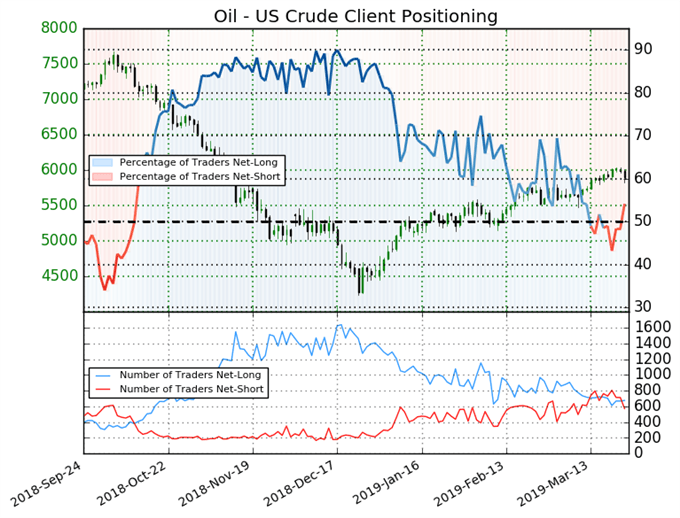 Retail trader data shows 54.1% of traders are net-long with the ratio of traders long to short at 1.18 to 1. The number of traders net-long is 2.0% higher than yesterday and 4.4% lower from last week, while the number of traders net-short is 19.7% lower than yesterday and 15.0% lower from last week.
We typically take a contrarian view to crowd sentiment, and the fact traders are net-long suggests Oil – US Crude prices may continue to fall. Traders are further net-long than yesterday and last week, and the combination of current sentiment and recent changes gives us a stronger Oil – US Crude-bearish contrarian trading bias.
FX TRADING RESOURCES
Whether you are a new or experienced trader, DailyFX has multiple resources available to help you: an indicator for monitoring trader sentiment; quarterly trading forecasts; analytical and educational webinars held daily; trading guides to help you improve trading performance, and even one for those who are new to FX trading.
— Written by Christopher Vecchio, CFA, Senior Currency Strategist
To contact Christopher, email him at cvecchio@dailyfx.com
Follow him in the DailyFX Real Time News feed and Twitter at @CVecchioFX.