Bitcoin and S&P 500 are heading to new all-time highs
Talk about a bitcoin bull case.
The digital currency is headed to new record highs, says Tom Lee, co-founder, managing director and head of research at Fundstrat Global Advisors — but there's a catch some cryptocurrency investors may not be expecting.
"Bitcoin has kind of stalled recently because the macro outlook has stalled. I think, in a world without trend, bitcoin doesn't go up," Lee said Thursday on CNBC's "Fast Money." "The next big catalyst, I think, is a decisive breakout in the equity markets, because I think once equities break to an all-time high, bitcoin becomes a risk-on asset."
In other words, according to Lee, as stocks go, so goes bitcoin — at least for now.
"If markets make a new all-time high and we see central banks still supportive, it's kind of good for liquidity, so there's … liquidity going into bitcoin," Lee said. "More importantly, if there's an interest in acquiring some volatility, that's where you're going to see people buying bitcoin."
With Lee expecting the S&P 500 to climb to 3,125 or higher by year-end, that could mean a major rally is in the cards for the increasingly volatile digital currency. Bitcoin reached an all-time high of $20,089 in late 2017, according to CoinBase.
"[The S&P's] all-time high is around 3,025," which it reached earlier this year, Lee said. "I think we're going to surpass that soon and it would be bullish for bitcoin."
Lee's theory is built in part on the historical ties between bitcoin and the equity markets. In the 10 years since bitcoin's launch, the best years for the S&P have coincided with best years for bitcoin, he said.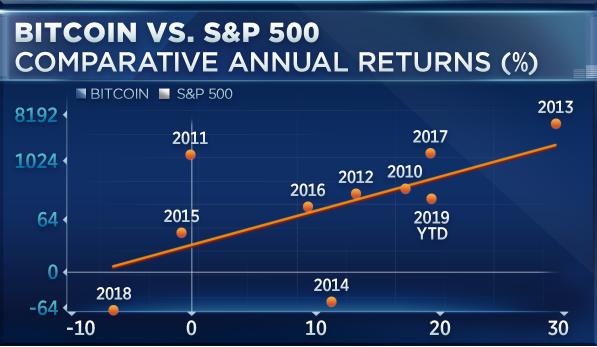 "Bitcoin does best when the S&P's up more than 15%," Lee said Thursday. "Bitcoin may be ambidextrous [in] that it works well in a risk-on world, but as you start to get nervous, then you treat it like digital gold."
The last several months have brought about "neither environment," leaving bitcoin's fate in the hands of uncertain investors, the strategist said.
"It was a market that looked like it was on the precipice, it looked like it could fall, but it never did, and I think [being] stuck in that trend was bad for bitcoin," he said.
But before all this occurs, BKCM founder and CEO Brian Kelly expects investors to get a once-in-a-generation chance to buy the popular cryptocurrency, he said in the same "Fast Money" segment.
"I think you're going to have a massive buying opportunity here," Kelly said. "We may have already seen it in the [$]9000s, … but there is too much money coming into this market. You're going to have an opportunity to have a generational buy in bitcoin sometime, I would say, in the next six months."
Bitcoin fell by nearly 2% on Friday to just above $10,210, according to CoinBase.
It is shaping up to be a good week for earnings
CNBC's Jim Cramer said Friday that he wants to read the fine print before he turns positive about President Donald Trump's claim that U.S. and China trade negotiators reached a "phase one" deal.
Investors responded positively to the news. The three major U.S. stock averages all rose more than 1% by the session close. The major indexes finished the week higher, with the Dow Jones Industrial Average and S&P 500 breaking three-week losing streaks.
China agreed to as much as $50 billion in agricultural buys and some intellectual property concessions, according to Trump. In exchange, the U.S. canceled a tariff hike that was to go into effect next week.
The preliminary deal, however, has yet to be signed, and officials are expected to get to work on phase two right away.
"With this latest news on trade today, next week is still going to be about China, but not as much, I think. A trade deal … means we can finally focus on the substance of earnings, and I like that. I'm expecting many of these quarters could be better than expected," the "Mad Money" host said. "[This] could be a good week, as long as Washington doesn't get in the way."
Monday: Brexit update?
The stock market will open for regular trading hours, but the bond market will not for Columbus Day. Across the pond, British lawmakers continue to work on a long-debated Brexit deal that would make way for the United Kingdom to leave the European Union.
"At this point, any deal is going to be treated as good news because it will finally put an end to the cloud of uncertainty that has been hanging over Europe literally for years now," Cramer said.
Tuesday: J.P. Morgan, Citigroup, Goldman Sachs, Wells Fargo, United Health, Johnson & Johnson, Workday
The major banks are scheduled to report quarterly earnings.
J.P. Morgan Chase's numbers come out in the morning and Cramer expects to hear about loan demand and see a dividend boost.
Citigroup's third-quarter results will also be released in the morning. The host wants to find out how much stock the bank bought back.
Goldman Sachs reports earnings from the quarter ending in September. Apple partnered with the bank on the Apple Card that launched in August and Cramer anticipates getting insight into the credit card's early reception.
Wells Fargo delivers quarterly results in the morning. After a long search, the financial institution has found a replacement in Visa and Bank of America veteran Charlie Scharf to lead the bank past its scandals.
"The banks had a monster move today, which makes them harder to recommend going into the earnings. The pattern here is that we tend to get profit-taking after the initial excitement … [and] I do not expect anything different" this time, Cramer said.
Beyond the big bank reports, Cramer is keeping his eye on Johnson & Johnson, whose earnings story he said has turned into a "legal story," and United Health. The host is also interested in cloud-based payroll Workday's analyst meeting.
Wednesday: Bank of America, IBM, Netflix
Bank of America reports results from the September quarter in the morning. The stock traded within the $24 and $31 range all year, despite posting strong numbers in the last two quarters.
"I bet Bank of America can break out of this trading range if JP Morgan reports a good number the day before. That is the best analog," Cramer said.
IBM reports after the closing bell and is expected to record $18.2 billion sales and $2.67 earnings per share in its third quarter, according to FactSet.
"We need to know how Red Hat's doing," the host said. "Without specifics, the stock will continue to languish."
Netflix reports earnings and shareholders are looking to hear a more positive story about subscriber growth as streaming competition heats up, Cramer said. At one point this year, the stock climbed more than 43% to $385.03 in May but tumbled below $255 last month as companies announced their plans to enter the space that Netflix has dominated for years. Shares closed Friday's session at $282.93.
"If they deliver a better-than-expected sign-up number, the stock could rally 50 points," Cramer said.
Thursday: Honeywell, Union Pacific
Honeywell plans to release quarterly results prior to the morning bell. Wall Street is looking for the manufacturer to produce $9.1 billion in revenue, about 15% shorter than the year prior, and an EPS of $2.01, according to FactSet.
"Honeywell's been on a tear. It's one of the best performers in the group," Cramer said. "Its aerospace business has been a standout. I'd start worrying: Could Boeing be hurting it?"
Union Pacific will also deliver an earnings report before the market opens. Cramer expects the freight-hauling railroad to have a shaky quarter. Analysts expect sales to slide 4% to about $5.69 billion and earnings to grow nearly 8% to $2.32 per share, FactSet said.
Morgan Stanley reports earnings in the morning.
"I think you can buy this stock ahead — maybe on Monday or Tuesday — of when they report numbers because I expect a good quarter," Cramer said.
Friday: Schlumberger, Coca-Cola, American Express
Cramer said he is expecting good reports from both Coca-Cola and American Express.
Schlumberger reports results prior to the open. The oil stock is down nearly 10% year-to-date and analysts expect little growth in the quarter for $8.5 billion in sales.
"We still own some Schlumberger for my charitable trust…," Cramer said. "We sold some for a loss. We should have sold it all."
Disclosure: Cramer's charitable trust owns shares of Goldman Sachs, Apple, JPMorgan, Citigroup, Honeywell, Schlumberger, and UnitedHealth.
Jim Cramer's 'Mad Money' recap & stock picks Oct. 4, 2019
CNBC's Jim Cramer gives viewers a preview of his schedule for the week ahead, with a few earnings reports and U.S.-China trade news taking center focus. The "Mad Money" host gave investors his blessing to start a position in Clorox and buy shares incrementally, but warns not to expect the stock price to rebound in the near-term. He sits down with Stitch Fix CEO Katrina Lake to understand how tariffs on Chinese imports have affected the web-based fashion retailer and, later in the show, dives into the state of real estate investment trusts and reveals some buying opportunities.
Cramer's game plan for the trading week of Oct. 7
Earnings season is underway, but it's in the "slow dribble phase," CNBC's Jim Cramer said Friday.
The "Mad Money" host has just three earnings reports circled on his calendar in the week ahead, along with two analyst meetings he will tune into.
He warned that the stock market has a number of headwinds coming out of Washington, D.C., to deal with, including the U.S.-China trade war, and a trade agreement with Canada and Mexico that would replace NAFTA and the Federal Reserve.
Trade officials are scheduled to resume talks later in the week, and the Chinese economy is one major focus of the host's game plan for the trading week of Oct. 7.
"The week after next will be insane," Cramer said. "Better batten down the hatches and get ready for companies to adjust their numbers going into a new round of tariffs that … they're most likely unprepared for."
Clorox gets a clean slate
Benno Dorer, CEO, Clorox
Scott Mlyn | CNBC
Cramer is bullish about Clorox's prospects, despite the downbeat forecast that management offered in an analyst meeting earlier this week.
Clorox revealed at the Tuesday event that it cut earnings and sales estimates for the 2020 fiscal year, but the "Mad Money" host thinks the share price is on its way higher because it's a stock that can work in a volatile market.
"In spite of that unexpectedly downbeat analyst day, I think this is the time to start buying Clorox. Although I wouldn't buy it all at once," Cramer said, framing the meeting as "a cleansing moment where management resets expectations … by getting all the potential negatives out in front of you."
Mitigating another tariff hike
Katrina Lake, CEO of Stitch Fix
Adam Jeffery | CNBC
Stitch Fix has been able to avoid being affected by the trade dispute between the United States and China, but the online styling service may face some headwinds in the future.
President Donald Trump has had duties in place on billions of dollars worth of Chinese imports, many for more than a year, and more are expected to go into effect on Dec. 15.
"Tariffs that we've had to date don't impact us," Stitch Fix CEO Katrina Lake told Cramer in an interview. "The ones that are being contemplated now potentially could."
What's hot and what's not in real estate investment trusts
Pedestrians walk past commercial real estate in Manhattan.
Michael Nagle | Bloomberg | Getty Images
Shares of a various of real estate investment trust have been rallying, but Cramer cautioned that investors must take care in the picks they get behind.
"You have to be careful to avoid the pitfalls because some of these names, like the mall owners, are total houses of pain," he said. "As for the biggest winners, they're trading more like growth stocks than REITs, which, by the way, is fine by me."
Cramer's lightning round
In Cramer's lightning round, the "Mad Money" host gives callers his thoughts about their favorite stock picks in rapid speed.
Nike: "I think it goes higher, why? Because they had one of the best quarters that I have seen in ages. And my congratulations to [CEO] Mark Parker, who will not come on this show and it's beginning to really break my heart."
Huami Corp.: "There's only one device company in the whole wide world that's worth owning and that is Apple. So, even though I know your stock is very low dollar amount, Apple is a better buy."
'We need some more downside' on the market
The stock market got hit with a double whammy on Friday coming from a glut of new public offerings and a threat from the White House to limit U.S. investments in China, CNBC's Jim Cramer said.
The "Mad Money" host said "busted deals" such as Peloton, SmileDirectClub, Lyft and Uber are happening too often and have contributed to a number of down days on Wall Street.
In the midst of an ongoing trade war between the world's largest economies, the public also learned during the day that Trump administration officials are looking at ways to deter U.S. companies from investing in Chinese companies, a move that Cramer supports.
"Turns out … it's not as sweeping or as negative as the market seems to believe," he said. "The administration doesn't want Chinese listings that lack the same kind of transparency as American companies, and it would prefer investors not to buy the shares of companies with opaque financials."
The Dow Jones Industrial Average lost more than 70 points, or 0.26%, while the S&P 500 pulled back 0.53% and the Nasdaq Composite dropped 1.13%.
"I know it's been rough, but last week this market was really overbought still, and when you're overbought you tend to get hit with sell-offs … especially when we're being flooded with shoddy IPO merchandise," Cramer said. "I think we need some more downside before I'm really ready to get more positive."
Cramer also gave his game plan for next week: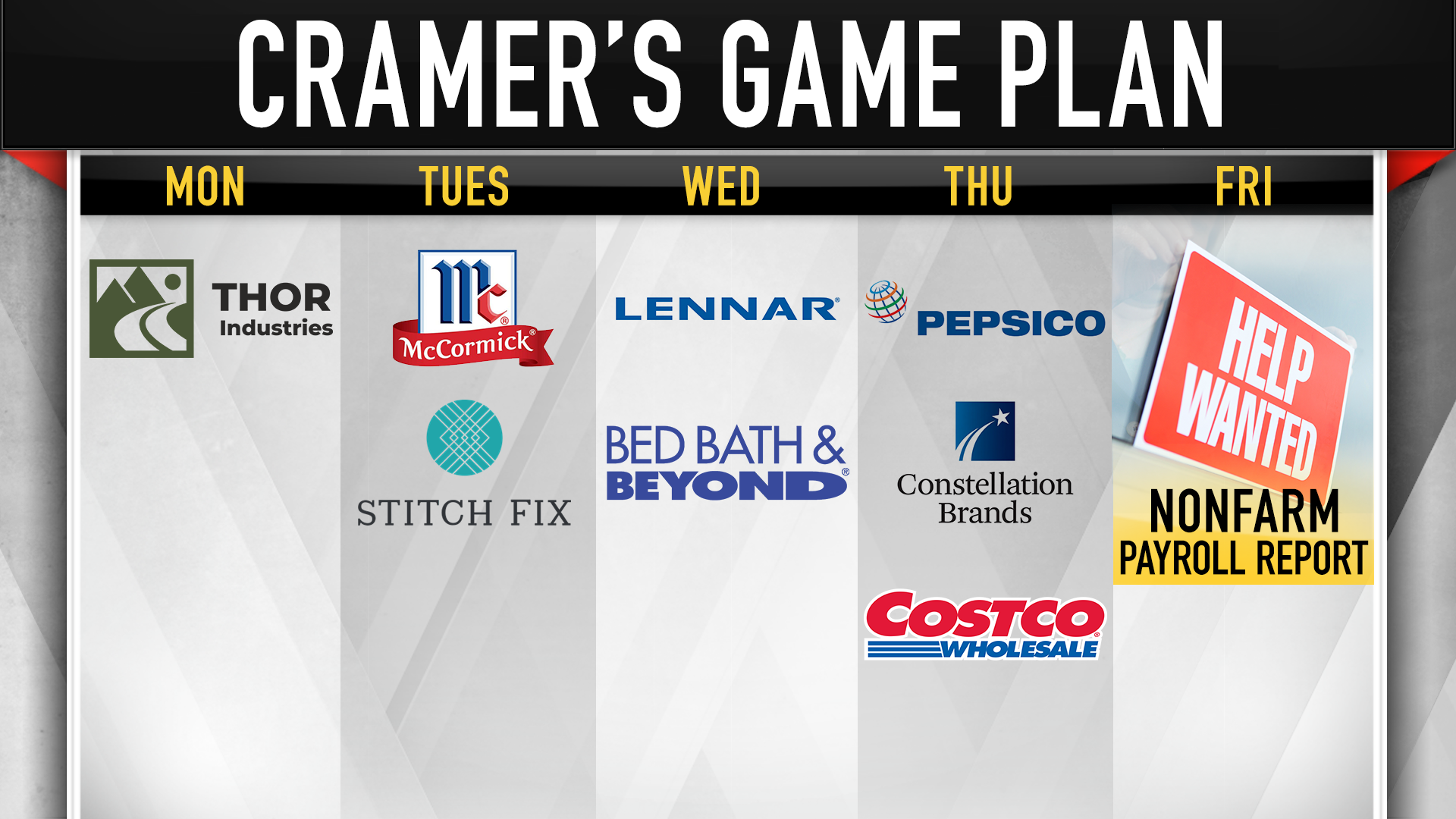 Monday: Thor Industries
Thor Industries reports earnings before the market opens. Shares of the recreational vehicles manufacturer have struggled as of late, down nearly 70% from their January 2018 all-time highs on the back of a series of earnings misses. Cramer noted that labor and raw costs, on top of dim demand, have contributed to woes in the camping cohort.
"If there's ever going to be an upside surprise here, it's going to be this quarter, because interest rates are finally going down. For now, though, I think it's way too risky," he said. "Thor needs to deliver at least one quarter, please, of good numbers before you have my permission to circle back."
Tuesday: McCormick, Stitch Fix
McCormick presents quarterly numbers before the opening bell. Analysts are looking for a profit of $1.29 per share on $1.3 billion revenue in the Cramer-fave spice maker. The stock dropped more than 2% in Friday's session.
"If it keeps falling on Monday … you're going to get a good opportunity to buy this thing," he said. "McCormick is one of the few companies in the supermarket that's got real growth."
Stitch Fix has an earnings call after the closing bell. Wall Street expects 4 cents earnings per share and $432 million of sales, which would represent nearly 37% year-over-year growth. Shares are down more than 42% since late June.
"Expensive valuation never seemed to matter to the stock until June," Cramer said. "That's what happens, though, when you go out of style on the Wall Street fashion show. Watch how this one behaves after the quarter."
Wednesday: Lennar, Bed Bath & Beyond
Lennar delivers a quarterly report in the morning. Housing has been a strong spot in the economy, and shares of the homebuilder have been steadily growing, closing Friday's session shy of 40% year to date.
"Housing's responding to lower interest rates," Cramer said, "so if this stock gets hit on the quarter, call me a buyer."
Bed Bath & Beyond's earnings report comes after the market closes. The company has been shaken up by activist investors looking to stabilize sales and cut costs at the home goods retailer. The stock is at $9.91, more than $2 higher than its August lows.
"Bed Bath finally looks like it's kind of [bottoming]," Cramer said. "Let's hear what they have to say before you try to pick at this one, though."
Thursday: PepsiCo, Constellation Brands, Costco
PepsiCo reports earnings in the morning. The stock is up more than $11 from early August.
"I think Pepsico is exactly what works in this dicey environment," Cramer said. "I'm looking for 5% organic growth."
Constellation Brands has a quarterly call before the bell.
"Constellation might help us understand its cannabis strategy … not to mention, please, have something to say about spiked seltzer, which is the hottest part of the alcohol market," he said.
Costco delivers earnings after trading ends. The stock has fallen about $17 in three weeks.
"I expect one more leg down before the stock's safe to buy," the host said.
Friday: September jobs report
"Employment's been strong, but now everyone I know is acting like the good times stopped rolling," Cramer said. "I don't think that's the case. I expect another good number, which may make it difficult for the Fed to give us another rate cut."
WATCH: Cramer's game plan
Disclosure: Cramer's charitable trust owns shares of PepsiCo.