Australian Elections Preview – How Will Markets React?
Talking Points
Labor ahead in the polls, Senate composition will be key

Climate change will be a big driver of votes as weather conditions in Australia become more extreme

A Labor victory could unsettle markets if their pre-election promises are implemented
Q2 Australian Dollar Trading Forecast
As the Australian Federal Elections are approaching and with pre-polling already underway, party leaders have not had much time to campaign for votes since the elections were announced on April 4. While it is not uncommon for Australian election campaigns to be short, some believe short campaigns provide some relief for the economy, as political uncertainty running up to elections tends to put business and household consumption on hold, so a shorter campaign poses less risk to the economy.
Most predictions point to a Labor victory, driven mainly by public dissatisfaction with the current Liberal/National Coalition, which has had three leaders in the last 4 years.
Despite the future of the economy being a main concern to most citizens, the Australian Election Study, which offers a glimpse at the underlying trends around federal elections, is showing that voters are losing confidence in governments being able to influence the economy.
Voter Sentiment
Traditionally, voters that think about the economy and its outlook will prefer the Liberal Party, whilst voters who are concerned about health, education and inequality will prefer the Labor Party.
But climate change is going to be a key driver of votes in this election, as 2018 saw a series of fires, floods and the country's worst drought devastating hundreds of acres of wildlife. Natural disasters are becoming an increasingly worrying concern for Australians which will pay special attention to each party's policies on how to tackle climate change.
And Labor leader Bill Shorten has promised that if they win the elections they will reduce carbon emissions by 45% on the levels of 2005, a big difference on the 26% promised by the current Liberal-National led government.
But with polls showing only a narrow victory for Labor, the composition of the Senate will be key to whether the governing party will be able to pass their policies, and a major focus for investors. And for the first time since the voting system was reformed there will be a half-Senate election. This means that whilst it is unlikely that either of the two major parties will gain a majority in the upper house, the composition of the Senate is not expected to be as fragmented as before because successful candidates will need a larger quota of votes to be elected.
Poll results as of May 15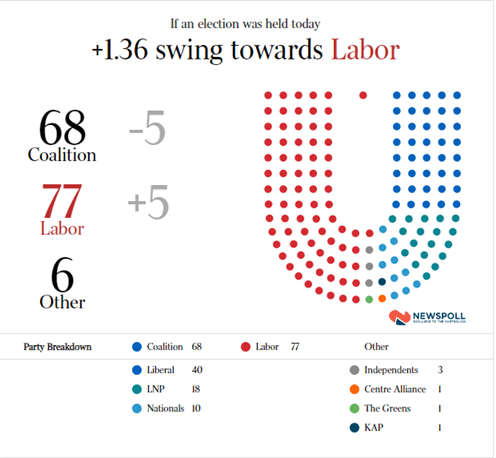 Source: The Australian
Market Reaction to Previous Elections
Evidence shows that stock markets tend to trend sideways during election periods as investors do not like the uncertainty surrounding a possible change in politics, providing no solid direction for stocks. Specifically, for Australian stock markets, previous elections that have resulted in a change of government have been mixed.
Australian Stock Market Before and After Elections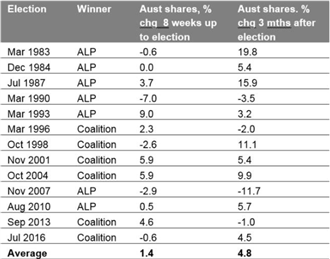 Source: Bloomberg, AMP Capital
Leaving 2007 out due to the financial crisis which it preceded, on average Australian shares have performed better in the 3 months post-election following a Labor victory. The average gain for the stock market after a Coalition victory is 4.65% and 7.75% for the Labor Party.
A clear election result is expected to boost the Australian stock market as the clearing of uncertainty is what makes markets move higher, but uneasiness about Labor policies if there is a change in government could see the post-election rally halted.
Economic Landscape
The AUD jumped on May 7 after the Royal Bank of Australia (RBA) announced it would leave its key Official Cash Rate unchanged at a record low of 1.5%, after a strong jobs market pushed back the need to cut rates further.
But mixed jobs data released on May 16, two days before the final election day, pushed the Aussie dollar lower as it was revealed that unemployment had risen to 5.2% in the month of April, up from 5% the month before, despite jobs growth of 28.4k beating expectations of just 15k. The RBA is known to place special focus on jobs data, especially after it hinted that the previous rate decision had been mostly influenced by a strong jobs market. At the time of this reading, markets are pricing in at least one, if not two, quarter point cuts in the next eighteen months.
Despite inflation being weak, the RBA has focused on the jobs market as unemployment continues to fall, but at least one rate cut is expected to take place in 2019. The RBA seems to have finally acknowledged the situation the economy finds itself in, as it slashed its economic expectations for the following months. Actual GDP growth rate in 2018 was 2.3% well below the bank's last forecasts in February of 2.75%. In response, the bank's forecast of growth for the first two quarters of 2019 has been downgraded from 2.5% to 1.7%. In November 2018 growth rates for 2019 were forecasted as high as 3.25%.
Global factors remain as the key driver for the Aussie Dollar over the coming days as markets keep an eye out for developments in the China-US trade talks which deteriorated last week as the US imposed higher tariffs on Chinese imports and continued this week with retaliation from China. As China is an important market for Australian exports, a slowing China could have a knock-on effect on the Australian currency and equity markets.
Party Policies' Effect on Markets
Liberal/National Coalition Party
The current governing Coalition party has focused its campaign on showing that the country is performing outstandingly well under their guidance, with 28 years of uninterrupted GDP growth and on track to deliver the first budget surplus in 12 years in 2019-20. The last contraction to take place was in 1991 and despite the 2008 financial crisis Australia still managed to grow above 2% that year.
But given that voters believe the government is not able to have a meaningful impact on the economy, the Liberal Party is going to have to expand its arguments to convince people that they can make a difference
And latest polls show that they have not quite managed to do just that, as Labor seems to be taking the lead with their firm stance on tackling matters that worry citizens, such as inequalities, raising house prices and excessive banking power.
The banking sector is definitely the one that has most to win (or less to lose) if the Coalition Party remains in government, as both the Labor and Green party have pledged to implement sanctions on this industry. We expect to see a recovery in the financial sector, and post-election rally in both equity markets and the Aussie Dollar.
If Labor wins the elections there will be a lot of activity regarding unions and the imbalance of power as its policies are aimed at boosting wages for the lowest paid.
The Labor Party has hinted that they would apply strict regulations and punishments on big banking corporations like National Australia Bank Ltd, Westpac Banking Group and Commonwealth Bank of Australia. It announced plans for a $640 million levy on the nation's largest banks to support people that have been ripped off by the financial institutions' "predatory practices". If they win, and they stick by their campaign promises, these shares could take a hit putting pressure on the ASX 200.
Another key policy for the Australian Labor Part (ALP) is cutting excess franking credits, a measure that refunds investors any additional tax that has been paid by the company on their behalf when receiving dividends.
A key group that will be affected is superannuation funds, which are mostly attracted to Australian companies that pay fully franked shares. If a fund is in pension phase, it has no tax liabilities and therefore is eligible to receive a full refund of the taxes paid at the corporate level on their dividends. If the ALP reform is implemented, they will not be able to claim net (or excess) franking credits, meaning that they will not receive franking credits at all.
In response to this, companies may release credits ahead of the reform being implemented, either via dividends or share buybacks, which may lead to investors favouring these stocks over growth stocks if Labor is elected.
Regarding taxes, they will be matching the Liberal-National coalition's tax cuts but will direct more money to lower-income citizens. Its plan is to phase out tax breaks for stock market and property investors to help fund its spending plans on health and education, which could be a risky move.
There is a danger that relying on tax hikes for higher incomes will dampen investments. Tax cuts and minimum wages may provide a short-term boost to spending and economic growth, but higher minimum wages could lead to a less flexible labour market and a negative impact for services, retail and construction stocks.
KEY TRADING RESOURCES:
— Written by Daniela Sabin Hathorn, Junior Analyst
Brexit Newsflow and Political Manoeuvres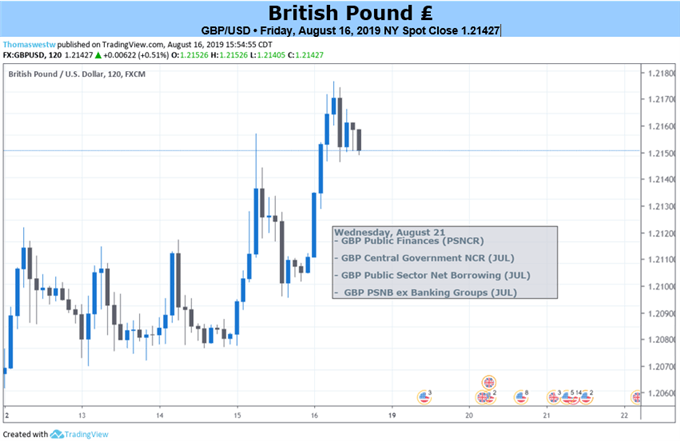 Sterling (GBP) Price Fundamental Forecast:Neutral
Q3 2019 GBP Forecast and Top Trading Opportunities
No UK Data Next Week Will Leave Sterling Vulnerable to Rumor Risk
Sterling has nudged higher over the week, aided principally by slightly better-than-expected wages, jobs and retail sales data. UK inflation also edged higher and in a world without Brexit, these releases would have the Bank of England discussing whether the current monetary policy was appropriate or if it needed to be tightened. However, as has been the case for many, many months, Brexit is still the driver for Sterling and will remain so until October 31.
Next week there is no market moving hard UK data of note, leaving Sterling at risk of Brexit rumors and news flow. The UK market will also be holiday-thinned next week, leaving GBP potentially exposed to outsized moves in limited liquidity markets.
Brexit news flow continues unabated with the latest batch of headlines suggesting that a cross-party alliance of MPs may come together to form a national unity party if UK PM Boris Johnson loses the expected vote of no-confidence likely to be called in early September. The current Labour Party leader has said that he will act as interim PM is this succeeds ahead of an early general election with the Labour Party promising a second referendum. According to reports, four prominent remainer Conservative MPs are involved in talks with Corbyn.
Sterling technical are covered in a different section but the chart below shows a familiar pattern. Since late-April there have been three occasions when moves lower are met with a quick reversal before the overall bearish pattern takes over. Will the current move prove to be the fourth occasion?
GBPUSD Daily Chart (December 2018 – August 16, 2019)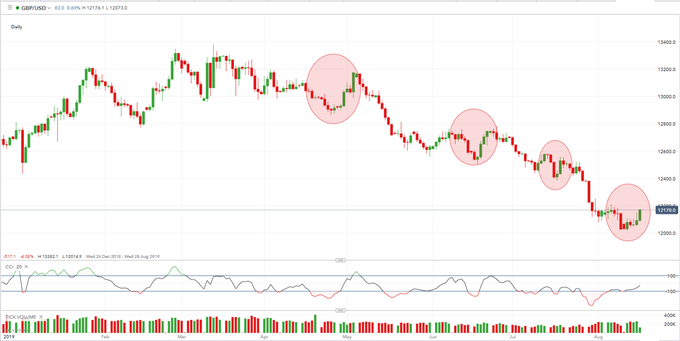 The IG Client Sentiment Indicator shows retail traders are 75.6% net-long GBPUSD, a bearish contrarian bias. However daily and weekly changes suggest that GBPUSD prices may reverse higher.
Traders may be interested in two of our trading guides – Traits of Successful Traders and Top Trading Lessons – while technical analysts are likely to be interested in our latest Elliott Wave Guide.
What is your view on Gold – bullish or bearish?? You can let us know via the form at the end of this piece or you can contact the author at nicholas.cawley@ig.comor via Twitter @nickcawley1.
Crude Oil Price Outlook Bearish, Eyeing January Lows on Long Bets
Crude Oil Technical Forecast: Bearish
Crude oil prices struggled sustaining upside momentum this past week

Technical signals on the daily, 4-hour chart hinting at weakness ahead

IG Client Sentiment offering stronger bearish crude oil contrarian bias
Build confidence in your own Crude Oil trading strategy with the help of our free guide!
Crude Oil Technical Outlook
Crude oil prices struggled to sustain upside momentum this past week as US recession fears plagued risk trends and the sentiment-linked commodity. From a technical standpoint, this falls in line with oil's dominant downtrend since the middle of April when the commodity fell through rising support from the end of last year.
Looking at the oil daily chart, gains during the front-end of the past 5 trading days were tamed by a falling channel of resistance going back to the middle of July (parallel red lines below). Horizontal resistance also held at 57.38, former highs from February. This left crude oil sitting just above the lower boundary of psychological support which is a range between 54.55 and 55.41.
If descending resistance continues to define near-term price action in the commodity, we may see crude oil extend weakness down the road. Prices may eventually end up at the next critical psychological area between 50.41 and 52.08. This range held as support on multiple occasions such as in June and back in January. Meanwhile, near-term technical signals also hint towards downtrend resumption.
Crude Oil Daily Chart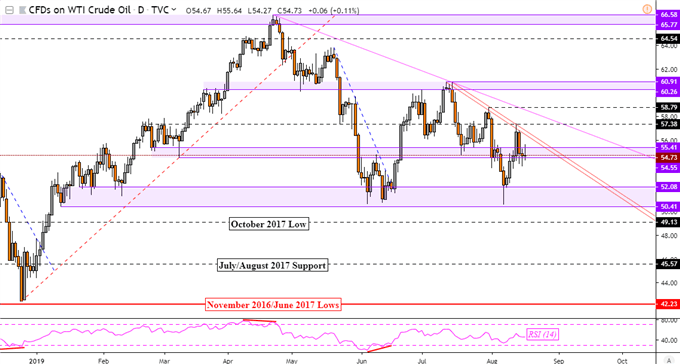 Crude Oil Chart Created in TradingView
Zooming in on the crude oil 4-hour chart below, rising support from August 7 was taken out this past week. As such, a close under 54.55 may pave the way for continued declines. Otherwise, the upside challenge for the commodity is taking out descending resistance from the middle of July which would expose the July 31 high at 58.79 down the road.
For more updates on crude oil, including fundamental developments, feel free to follow me on Twitter here @ddubrovskyFX.
Crude Oil 4-Hour Chart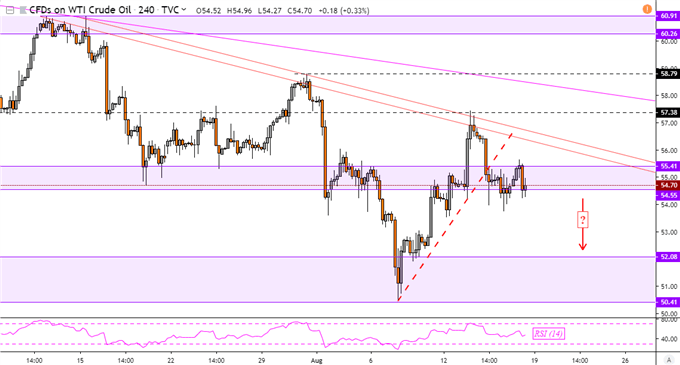 Crude Oil Chart Created in TradingView
Crude Oil Sentiment Outlook – Bearish
Meanwhile, IG Client Positioning is offering a stronger crude oil bearish contrarian trading bias. Traders are further net long on August 16 than compared to the prior day. To learn more about how you can use this in our own trading strategy, join me every week on Wednesday's at 00:00 GMT as I uncover what market positioning has to say about the prevailing trends in financial markets.
Crude Oil IG Client Positioning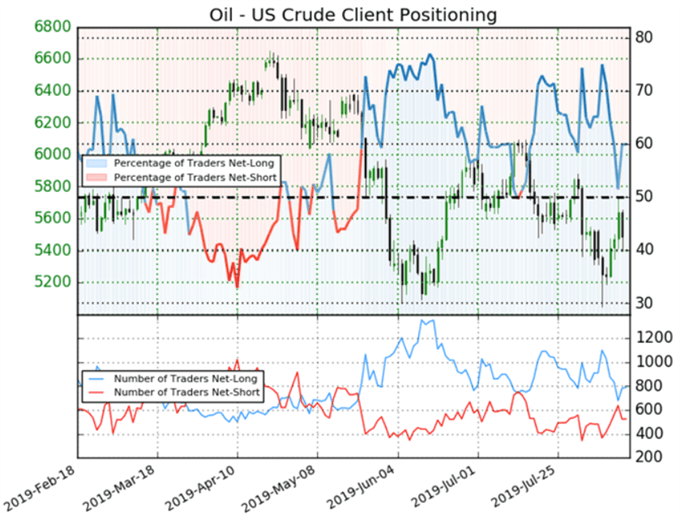 FX Trading Resources
— Written by Daniel Dubrovsky, Currency Analyst for DailyFX.com
To contact Daniel, use the comments section below or @ddubrovskyFX on Twitter
Into the Jackson Hole Vortex
By
Published:

Traders shouldn't be surprised if gold prices spend most of the week trading sideways ahead of the Federal Reserve's Jackson Hole Economic Policy Symposium.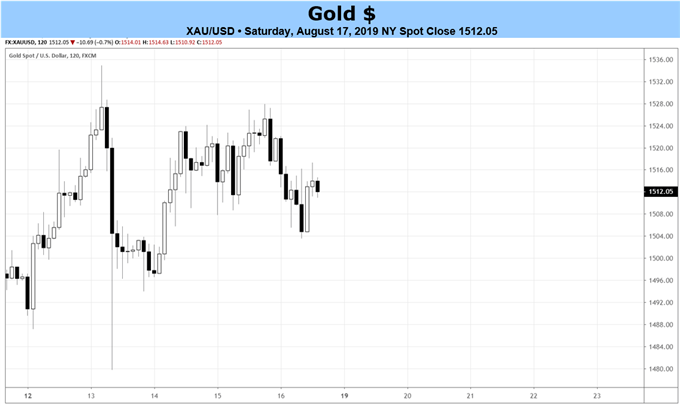 Weekly Fundamental Gold Price Forecast: Neutral
Gold prices (as well as other precious metals) continue to outperform in an environment defined by falling real sovereign yields – that is, inflation-adjusted yields remain in negative territory.

Traders shouldn't be surprised if gold prices spend most of the week trading sideways ahead of the Federal Reserve's Jackson Hole Economic Policy Symposium.

The

IG Client Sentiment Index

shows that gold prices in USD-terms (XAUUSD) may give back some of their recent gains in the days ahead.
See our long-term forecasts for Gold and other major currencies with the DailyFX Trading Guides.
Gold Prices Week in Review
Gold prices, no matter how you measure them, had another good week. Not one major currency gained ground against gold, with gold prices in EUR-terms (XAUEUR) leading the way higher with a 2.11% rally. Now, gold prices in EUR-terms (XAUEUR) are quickly approaching the all-time high established in October 2016; for many of the gold-crosses, fresh all-time highs have already been achieved (gold prices in AUD-terms (XAUAUD), gold prices in GBP-terms (XAUGBP), and gold prices in NZD-terms (XAUNZD) come to mind).
But the central focus of most market participants is gold prices in USD-terms (XAUUSD), and that too produced another strong week, adding 1.11%. Gold prices, regardless of the currency basis, have been on a strong run higher in recent weeks in part to the global monetary response to the US-China trade war; we'll get clarification on the state of global easing this week as central bankers from around the world descend on Jackson Hole, Wyoming for the Federal Reserve's annual Economic Policy Symposium.
Global Trade War Concerns Keep Gold Prices Elevated
Despite improved trading conditions for global equity markets in recent weeks, not much has changed in a positive manner along the US-led trade war front. Sure, there is a détente in the US-China trade war after the US tariffs at a clip of 10% on $300 billion of imported Chinese goods were pushed back from September 1 to December 15.
Yet there is a strong argument to be made with central banks unveiling more accommodative, dovish policy in recent weeks – a trend that is expected to continue – the fundamental backdrop for gold prices remains bullish in the long-term horizon. Falling sovereign bond yields (particularly German Bunds, UK Gilts, and US Treasuries since the start of May) continue to drop lower, and as a result inflation-adjusted yields remain in negative territory – good news for precious metals.
Volatility Tamped Down Ahead of Fed's Jackson Hole Meeting
The Fed's Jackson Hole Economic Policy Symposium this coming week should keep volatility tamped down in the days ahead. Traders typically don't like to stake out significant positions ahead of the Fed's annual summit; indeed, at the end of August, many trading desks have been left absent for summer vacation.
Beyond the prospect of an unforeseen development (see: US President Trump's tweets) in the US-China trade war, the week leading into the Fed's Jackson Hole Economic Policy Symposium is likely to be a quieter one – even if there are several significant pieces of data set to be released.
Other Top FX Events in Week Ahead
Early in the week, on Tuesday, gold prices in AUD-terms (XAUAUD) will be in focus with the release of the Reserve Bank of Australia's August meeting minutes. Gold prices in AUD-terms (XAUAUD) are holding near their all-time highs ahead of the minutes. Elsewhere, the commodity currencies will remain in focus with the release of the July Canada inflation report on Wednesday, drawing attention to gold prices in CAD-terms (XAUCAD).
Elsewhere, gold prices in EUR-terms will come into focus with the release of the August Eurozone PMIs, particularly as odds for more easing from the European Central Bank at their September policy meeting have crept higher in recent weeks.
Net-Long Gold Futures Positioning Just Off the Yearly High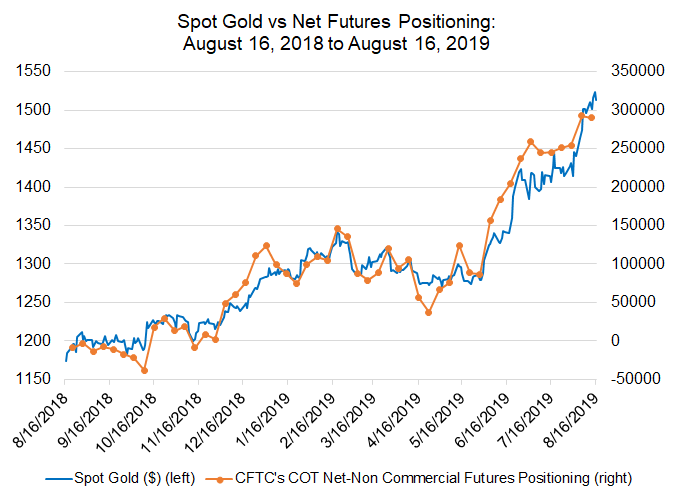 Finally, looking at positioning, according to the CFTC's COT for the week ended August 13, speculators decreased their net-long gold futures positions to 290.1K contracts, down slightly from the 292.6K net-long contracts held in the week prior. The market is still the most net-long since September 2016 despite the slight moderation in bullish positioning.
FX TRADING RESOURCES
Whether you are a new or experienced trader, DailyFX has multiple resources available to help you: an indicator for monitoring trader sentiment; quarterly trading forecasts; analytical and educational webinars held daily; trading guides to help you improve trading performance, and even one for those who are new to FX trading.
— Written by Christopher Vecchio, CFA, Senior Currency Strategist
To contact Christopher, email him at cvecchio@dailyfx.com
Follow him in the DailyFX Real Time News feed and Twitter at @CVecchioFX