A tremendous opportunity at the cross section of two markets
From Zach Scheidt, Editor, The Daily Edge:
Pop quiz – can you name this stock?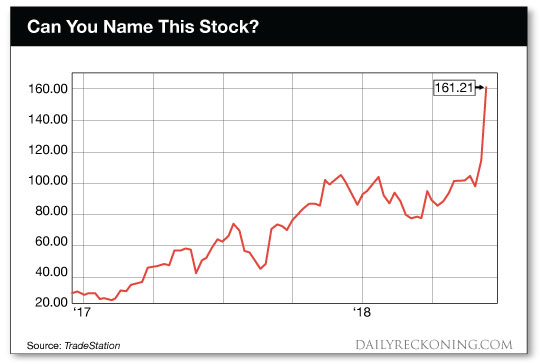 I'll give you a couple hints…
This stock is in the red-hot retail industry.
The company reported tremendous earnings this week.
Strength is being driven by the vibrant U.S. housing market.
Did you get it?
The company is Restoration Hardware (RH), a home furnishing store that has been knocking it out of the park thanks to a convergence of two major trends in the U.S. economy.
If you bought the stock at the beginning of last year, you'd be up 500% on your investment today.
And the best news is that for RH — and so many other retailers in this industry — the fun is just getting started!
Have Money, Will Spend…
This is a great time to be selling luxury products to American consumers.
Ironically, as I write this alert, I'm sitting in my local Starbucks next to a table full of nine different "entrepreneurs" discussing their business of selling luxury health products to consumers in our community.
With unemployment levels at extreme lows, wages ticking steadily higher, and inflation readings well within a "normal" range, Americans just have money to spend!
That's exactly why the consumer discretionary sector of the stock market has been so strong, and why retail stocks like Restoration Hardware are on the move.
Across the board, I'm seeing strength in restaurant stocks, apparel stocks, athletic gear stocks, discount retail stocks, and even auto stocks!
Essentially any investment tied to consumer spending has a very good chance of producing significant gains this year.
Hopefully you've already been paying attention to this area and making money on your investments. After all, we've been pounding the table about retail stocks for months here at The Daily Edge.
Fortunately, even if you've missed out on this ramp in consumer spending so far, there's still time for you to cash in.
Because today, there's an additional trend that's helping to push a specific group of retail stocks even higher.
Compound Your Gains with a Vibrant Real Estate Market
Are you in the market to purchase a new home?
Even if you're not personally looking for a home to purchase, chances are good that you know someone who is. Perhaps even your children or grandchildren are getting ready to make their first real estate purchase.
The housing market in the U.S. has been on fire lately. And that's not about to change any time soon.
Demographic trends are pointing to strong demand for new homes as young families start to move out of rental properties and invest in their own homes. With so many of these families delaying purchases following the financial crisis 10 years ago, there's now a tremendous amount of pent up demand.
Think about your experience the first time you bought a home…
If your family is anything like mine, you probably spent the first year making multiple trips to Home Depot (HD) or Lowe's (LOW), buying furniture and having it delivered, and stocking up on everything from dishes and kitchen appliances to decorative items.
My wife still insists that these are not discretionary purchases, but actual necessities to make our house a real "home."
Just over the past month, we've started to see investors take a renewed interest in home builder stocks. For a while, these investors were more focused on higher interest rates (and the potential for mortgages to become too expensive) than they were on the supply and demand dynamics in the housing market.
That's now looking like a big mistake as homebuilder stocks rally.
Which is why I'm still very bullish on these stocks, as well as the retail stocks that will increase sales as more homeowners start furnishing their new digs.
Here's How to Play It…
We've got an abundance of opportunity tied to both the expanding retail market and the recovering housing market.
Today, you can tap into both of these trends by investing in stocks like Restoration Hardware that fit both the retail market and benefit from purchases that new homeowners are making.
Home remodel stores like Home Depot (HD) and Lowe's (LOW) are in a great environment right now. Not only are people buying tools and fixtures, but more discretionary items like plants, grills, and even luxury appliances are flying off shelves.
When it comes to stocking cabinets and shelves, stocks like Williams Sonoma (WSM)have been booking profits and trading higher. I'd recommend buying any pullback in home decor stocks like this.
And finally, home furnishing stocks offer great value. You may not think of La-Z-Boy (LZB) as a cutting edge retailer, but the company has new product lines that are in line with consumers' evolving tastes.
Don't forget the widescreen TVs these new homeowners will be purchasing to watch sports this fall. Shares of Best Buy Inc. (BBY) have been trending higher, and there are plenty of other consumer electronic choices to consider for your investment portfolio.
In short, there are tremendous opportunities in the cross section between the retail and home buying markets. Picking a handful of stocks in these areas can go far in helping you to build your wealth as the U.S. economy grows.
Here's to growing and protecting your wealth!
Zach
Crux note: It's so easy, an eight-year-old can do it…
That's the "social experiment" posed by one market trader… and the claim he's set out to prove in this presentation. 
No buying stocks… No options trading… But this financial maneuver is good for thousands of dollars in gains. Click here to learn more.

×
Subscribe to Crux
Investors have spoken… It's time for more risk
From Dr. David Eifrig's Health & Wealth Bulletin:
All eyes have been on the 10-year U.S. Treasury yield over the past couple of days.
It recently broke out above 3.2% to a new seven-year high, causing a lot of reaction from the financial media… both positive and negative. The 10-year yield is significant for a couple different reasons…
First, as we talked about back in July, the spread between the 10-year Treasury yield and the two-year Treasury yield are recession predictors.
Second, the 10-year Treasury yield is the benchmark that guides other interest rates. It affects rates on everything from auto loans to home mortgages to consumer and business loans.
Finally, the 10-year yield is a signal of investor confidence. When investors are scared of owning stocks and corporate bonds, they tend to put their money in risk-free assets like government bonds. And as demand increases for government bonds, prices rise – which drives yields lower (bond prices and yields move in opposite directions).
When investors are optimistic about stocks, they don't want to have their money in boring government bonds. Demand for Treasuries falls, and prices fall – which means yields shoot up.
That's what we're seeing today with the 10-year Treasury breaking out to multiyear highs. It shows investors want more risk. They don't want to settle for 2%-3% returns in Treasuries. They want to chase the higher returns they can get in the stock and corporate bond markets.
The chart below shows how much money flows in to and out of U.S. Treasuries on a weekly basis…
Last week, investors pulled $1.6 billion from U.S. Treasuries and $1.1 billion the week before. That's nearly $3 billion, by far the largest two-week outflow since the start of 2018. And according to EPFR Global, investors put $1.2 billion into U.S. stocks last week.
The message is clear… Investors don't care about risk-free assets. They want higher returns. And they think the stock market will deliver it to them.
As yields on Treasuries creep higher to 3.5%, 4%, or even 5%, we may start to see some more folks shift their money back in to these assets. Earning 5% risk-free is hard to turn down. But we may be awhile away from that.
For now, folks want to own stocks. That's bad and good…
It's bad because this is what happens at the end of every bull market. Investors see their friends making tons of money in the stock market and can't stand to sit on the sidelines anymore. They pull money from safe assets and from their savings accounts to plow into equities. This of course, creates a bubble… and we all know how it turns out from there. (Not well.)
We start to see headlines from financial-media sites such as CNBC like this…
And this from Bloomberg…
If you've been following Stansberry Research for long, you know that my colleague Steve Sjuggerud has been pounding the table for folks to buy stocks now because of the "Melt Up" that you see above.
The Melt Up is where we'll see one final surge in the market before it collapses. According to Steve, folks who are invested before the market takes off could make 100% to 500%, if not 1,000% gains.
And that's the good news from folks preferring riskier assets like stocks – massive returns in a short period of time.
Since everyone is demanding higher returns, their money goes into the stock market, which pushes stock prices higher and higher.
The even better news… We're getting close to Steve's Melt Up, but we're not there yet.
Folks are getting more bullish, but we're not at an extreme level of bullishness yet. We hear warnings all the time because of high stock valuations… or warnings about rising interest rates.
This isn't typical top-of-the-market or Melt Up behavior.
Steve firmly believes that the real Melt Up has not started yet and there are still incredible gains to come.
That's why, on October 24, Steve will show you how to cash in on the Melt Up, discuss when the bull market will end, and give away his No. 1 recommendation right now.
Don't miss out on this opportunity… Click here to claim your spot.
Here's to our health, wealth, and a great retirement,
Dr. David Eifrig and the Health & Wealth Bulletin Research Team

×
Subscribe to Crux
An important 'test' for the market
From Justin Brill, Editor, Stansberry Digest:
The broad-market sell-off continued today…
All three major U.S. indexes closed sharply lower again.
The benchmark S&P 500 Index fell 2.1%… the Dow fell 2.1%… and the tech-heavy Nasdaq fell "just" 1.3%.
More important, as you can see in the following chart, today's decline pushed the S&P 500 below its 200-day moving average ("DMA") for the first time since April…
As longtime readers may recall, the 200-DMA is considered a rough gauge of the market's long-term trend. During bull markets, stocks tend to spend most of their time trading above the 200-DMA. During bear markets, they spend most of their time trading below it.
The S&P tested this level three different times following February's "volatility panic," but it never broke solidly below it. In fact, outside of a few days early this year and two days during the "Brexit" panic in June 2016, the S&P 500 has not broken below this level in a meaningful way since the broad market correction in early 2016.
Seeing this support level fail again today is concerning…
But it could simply be another "false" breakdown like those we've seen several times over the past couple years.
Why do we say that? Take another look at the chart above…
At the bottom, you'll see the S&P's relative strength index ("RSI"). This is a simple momentum indicator with values ranging from 0 to 100. Values below 30 indicate an asset is "oversold" and may be due for rally. Values above 70 indicate an asset is "overbought" and may be due for a correction, or at least a pause.
As you can see in the earlier chart, stocks are now extremely oversold. In fact, they're now stretched to the downside to nearly the same degree that they were stretched to the upside back in late January.
This is a bullish sign.
Of course, this doesn't necessarily mean stocks will head higher tomorrow. It's common to see a "divergence" form – where stocks go on to make a new extreme that isn't confirmed by a new extreme in the RSI – before a significant reversal begins. But this reliable indicator says at least a short-term bottom is near.
As always, no single indicator is foolproof. So make sure you continue to follow your trailing stops, just in case. But history is clear: Anyone who panics and sells stocks now is likely going to regret it.
Of course, this isn't the only reason we remain cautiously bullish today…
As regular Digest readers have no doubt become sick of hearing, all of the reliable long-term indicators of stock market, credit market, and economic health we follow remain positive today.
While a broad market correction of 10% or more is always a possibility, these measures tell us the chances of a true bear market or a recession are still extremely low.
So-called "seasonality" could now provide a tailwind as well. As Morgan Stanley analysts explained in a research note today, we're now entering an historically bullish time for stocks…
Seasonality is about to get 'helpful': October is technically a positive month for risk assets, but with some fascinating bifurcation: it often starts badly, but ends strong.
From 1998-2017, the average return over the first 10 days of October was -0.4%. The rest of the month? +2.0%.
Finally, we'll also note that third-quarter earnings season is about to kick off in earnest tomorrow. And analysts are expecting strong sales and profit growth for the third straight quarter.
In other words, if you want to profit from the 'Melt Up,' you must be prepared for more volatility…
Of course, for most investors, this is easier said than done. You're likely to panic and sell too early… or worse, hang on too long.
That's why we're preparing a special event this month…
On Wednesday, October 24, Steve Sjuggerud will sit down with some of the biggest names in finance – in front of a live studio audience – to discuss exactly what you should do with your money during the final stage of this long bull market.
We guarantee this event will be unlike anything you've seen from us before. Whether you're currently leaning bullish or bearish, you don't want to miss it. You'll even get the name and ticker symbol of one of Steve's favorite Melt Up recommendations – a stock that he believes could soar as much as 1,000% in the coming months – just for tuning in. Reserve your spot for free by clicking here.
Regards,

Justin

×
Subscribe to Crux
Another black market is opening up… And it's bigger than cannabis
From Justin Spittler, Editor, Casey Daily Dispatch:
History was made in 2012.
Colorado, along with Washington, became the first states to legalize recreational marijuana.
For many people in Colorado, this was the best thing that ever happened. For others, it was a mistake. And those people will probably never see eye to eye.
Still, there's one thing almost everyone can agree on… and that's the economic benefits of marijuana legalization.
Marijuana legalization has generated billions of dollars for Colorado's economy. It has created thousands of jobs. And it's brought the state much needed tax revenue.
In fact, the state took in almost $70 million in taxes, licenses, and fees from the marijuana industry in 2014. And that figure has only gone up.
Last year, Colorado's government collected $247 million off $1.5 billion in marijuana sales.
In short, Colorado has shown what can happen when a state legalizes marijuana. So, it wasn't surprising that other states followed suit.
Today, 30 states have legalized medical marijuana…
And nine states, plus Washington D.C., have legalized recreational marijuana.
Of course, regular readers know this already. I, along with Crisis Investing chief analyst Nick Giambruno, have been covering the legal marijuana industry for over a year.
But this isn't another marijuana essay. No… I wrote this essay because Colorado's on the verge of legalizing another black market. And just like with marijuana, this presents a huge opportunity for investors.
I'm talking about sports betting…
Until recently, sports betting was illegal in every state except Nevada.
That changed in May, when the Supreme Court struck down a 26-year-old federal law that barred single-game gambling in every U.S. state, except Nevada.
Now, this doesn't mean that the Supreme Court legalized sports betting nationwide. Instead, it gave each state the power to license, regulate, and tax sports betting within its borders.
Seven states—Rhode Island, New York, New Jersey, Delaware, Pennsylvania, West Virginia, and Mississippi—have since legalized sports betting. Another dozen or so states are considering doing the same.
In short, legal sports betting is sweeping the nation just like legal marijuana swept the nation.
And I have good reason to think Colorado will be the next domino to follow.
Walker Stapleton wants to legalize sports betting…
Stapleton is a Republican gubernatorial candidate. And he's pushing to legalize sports betting for a simple reason: He wants to tax the industry. Last month, Stapleton told a group of real estate investors…
Sports gambling is coming to Colorado… I think we should assess a tax on people placing a bet and use that to build up our roads and bridges.
Now, I have no idea if Stapleton will win the election. But it may not matter.
Colorado's state legislature is expected to look at a sports betting bill in early 2019. And that bill is reportedly being "seriously considered."
That's why I think Colorado could legalize sports betting within the next year. But it certainly won't be the last state to do so.
I say this because practically every U.S. state is in dire financial conditions. Just look at the public pension system. It's a ticking bomb.
Everyone knows this. So, don't be surprised if politicians try to buy themselves time by legalizing and taxing sports betting.
But this isn't just an opportunity for desperate governments… It's also a huge opportunity for savvy investors.
A lot of money will flow into legitimate businesses if states legalize sports betting…
And I mean a lot…
The American Gaming Association estimates that the illegal market for sports betting brings in $150 billion every year. That puts it on par with the global marijuana industry.
But even that might be lowballing the market's potential. In fact, Bank of America Merrill Lynch says the illegal market for sports betting is worth $200 billion.
Meanwhile, the research firm Eilers & Krejcik Gaming estimates that the legal sports betting market in the U.S. was worth around $270 million last year.
That means the legal market for sports betting would become 37 times bigger if legitimate businesses captured just 5% of the underground market.
And many of the companies poised to benefit from this are publicly traded.
That means you can enjoy a share in their profits…
In other words, you can profit from the legalization of sports betting by speculating on casino and gambling stocks.
The easiest way to do this is with a fund like the VanEck Vectors Gaming ETF (BJK). This fund invests in 43 casino and gaming stocks. That makes it a relatively safe way to bet on this megatrend.
For even more upside, consider investing in small casino operators. Specifically, focus on operators located in states that recently legalized sports betting… or are likely to.
These are exactly the kinds of companies that E.B. Tucker encourages his readers to buy in his Strategic Investor newsletter…
E.B. has been researching this opportunity for the past six months… And he's found four specific companies primed to soar from this tidal wave of legal revenue.
And each of those stocks are "buys" at current prices. These picks are still flying under the radar today. If you're not a Strategic Investor subscriber, you'll want to sign up before these stocks take off.
And that's not the only massive moneymaking idea E.B. has recently uncovered. He also told his readers about "America's Third Powershift" that's underway. You can learn more – and see how to access all of E.B.'s picks – by clicking here.
Regards,
Justin

×
Subscribe to Crux